Vote For the St. Louis "Karate Kid" to Get to LA!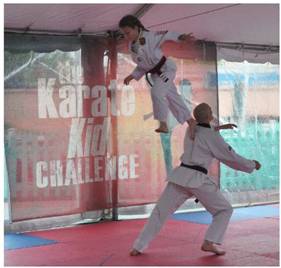 HELP MACKENZIE GET TO LA… vote to make her "The Karate Kid!"
There was a Karate Kid Challenge at Six Flags St. Louis on May 1st, where 11-year-old Mackenzie Loesch and her instructor Thomas Hardin won.
Watch the video of their winning performance and vote for Mackenzie and Thomas at YahooVoteForTheKarateKid.com.
There will be 10 cities featured on the Yahoo! site, and we need your help to make Mackenzie the winner! Voting starts tomorrow today, and will go until Tuesday, May 25th at midnight.  You can vote once per day (per email address).  The top three videos with the most votes will get to attend the premiere of THE KARATE KID in LA and meet the cast!  The video with the most votes will be announced at the premiere, and the winner will get a special screening in their hometown (and more)!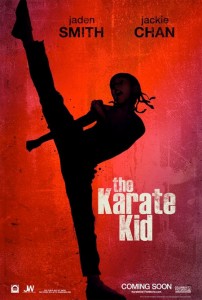 … and DON'T FORGET! "The Karate Kid" starring Jaden Smith and Jackie Chan opens in theaters on Friday, June 11th!
Synopsis:
12-year-old Dre Parker could've been the most popular kid in Detroit, but his mother's latest career move has landed him in China. Dre immediately falls for his classmate Mei Ying – and the feeling is mutual – but cultural differences make such a friendship impossible. Even worse, Dre's feelings make an enemy of the class bully, Cheng. In the land of kung fu, Dre knows only a little karate, and Cheng puts "the karate kid" on the floor with ease. With no friends in a strange land, Dre has nowhere to turn but maintenance man Mr. Han, who is secretly a master of kung fu. As Han teaches Dre that kung fu is not about punches and parries, but maturity and calm, Dre realizes that facing down the bullies will be the fight of his life.