Viral Video of the Day: BP Spills Coffee by UCB Comedy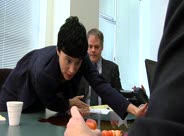 UCB Comedy somehow manages to find humor in the BP oil spill.
For Original comedy videos from the Upright Citizens Brigade Theatre's best improv, sketch and stand-up comedians, visit ucbcomedy.com. Find funny videos, podcasts, jokes, blogs and forums from the leading comedy community. Watch, Share, Upload.
[hdplay id=6 width=595 height=375]