Viral Marketing for "Let Me In" – Homicide Evidence Bag Containing a Bloody Funnel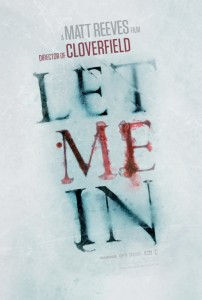 I have recently been awaiting a package for a 4G demo unit I am going to review, so when I received a box in the mail today, I opened it up enthusiastically expecting to see a small modem to take out with me later today.  Although, what I saw upon opening shocked me. What was sitting in the bottom of the box was what looked like a police evidence bag. The evidence bag contained a funnel which had what looked like dried blood upon it. Upon closer inspection of the bag I saw:
Case Number: LA830801
Pouch Number: 0801-005
Type of Offense: HOMICIDE
Description of Evidence: Funnel
Suspect: Unknown
Victim: Unknown
Date and Time of Recovery: 2/17/83, 8:22 am
Recovered by: K. OLSON
Needless to say I was a bit puzzled, and to be honest a little freaked out. The one thing that made me think it was a prank or viral marketing was the fact that the address label on the box said "ReviewSTL" under my name. I figured correctly that it was viral marketing, but I couldn't think of what movie it could be of, but a quick search revealed it was for the upcoming film Let Me In.
It is definitely a very clever marketing tool, and it piqued my interest in the film. It also got me to mention it on my Facebook, where hundreds of people saw a weird status of mine stating what I had just received.  Well done Overture films, you just got more people to stand up and notice your film!
Picture of the "evidence":