Vin Diesel's Fists Will Be Flying Towards You in xXx 3D!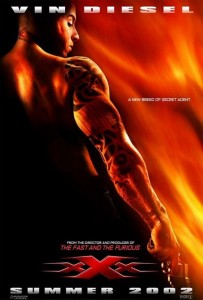 3D was made for one reason. To see Vin Diesel's hulking pecs fly at you from the screen. Luckily for all of you, that dream will be realized when he reprises his role as Xander Cage, which was made famous by his action blockbuster, xXx. I know what you are thinking, "I'm from a red state, I don't support these kinds of shenanigans." Well, it's OK because President Obama and Congress had a rider on the health care bill that guarantees Vin Diesel's national hero status.  (Editors note: No, they didn't….)
In all seriousness, xXx: The Return of Xander Cage has been greenlit, and is aiming for a late 2011 or early 2012 release. (I'm so glad I'll get to see this before the end of the world.!) The film will start rolling once Vin Diesel finishes his other sequel, Fast Five. The film will once again feature Samuel L. Jackson as Agent Augustus Gibbons.
I feel what we did in the beginning of the decade was bring a different attitude to the action movie  and a different kind of hero," director Rob Cohen said in an interview. "With the new 3D instrument and the techniques I can apply, we can create a different kind of cutting-edge experience in 3D by shooting it that way from the beginning the way James Cameron did 'Avatar.' This won't be fantasy characters, it takes place on Earth in real time. That's a new dimension to be explored, and I'm excited."
Does anyone else remember that Vin Diesel not too long ago was too good for sequels? Now that his ego has deflated to the level his career he is sequeling it up. I'm not saying that the man doesn't have his uses in cinema, NASCAR fans need entertainment too. I just have high hopes that they'll use a cigarette as the target for a heat seeking missile again shot from a Sony Handycam missile launcher.  Smoking is dangerous folks.