Video Game Review: AEW Fight Forever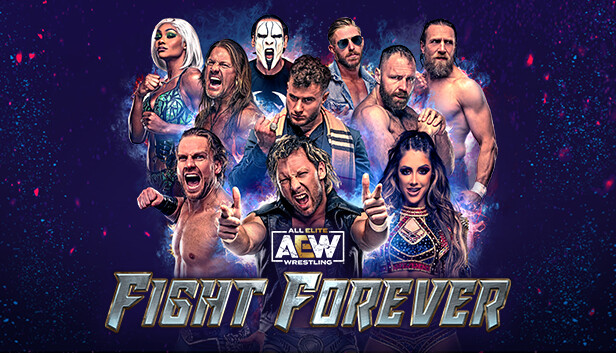 In 2019 when All Elite Wrestling burst onto the scene, nothing in the wrestling industry was hotter. Fans were crazy for the product and with good reason. The product was fresh. Wrestling fans got a number of fresh faces and an alternative to WWE. It was almost like a revolution. From the beginning there was talk of a video game. Four years later that game, Fight Forever, is here. The problem? Well, it just doesn't live up to the hype.
It's not that the game is bad, it's just not as good as fans had hoped. Fight Forever aims to be the alternative to WWE's simulation-based 2K series by offering old-school arcade-style action. While it mostly delivers on that core bullet point, the overall package is far from elite.
Fight Forever's big selling point is that it's patterned after the AKI-developed wrestling games of yesteryear, such as WWF No Mercy and WCW/nWo Revenge. While it's been a while since I've played those titles, those were the classic wrestling games. Fight Forever can't fill the shoes left by those classics, but to be fair, WWE games haven't either.
Here's the positive, Fight Forever is indeed a quicker, more pick-up-and-play-friendly experience. After years of navigating WWE 2K's dense and hard to control control scheme, it's nice to hit a move by simply hitting a button plus a cardinal direction. It was fun building to my signature and finishing moves with the momentum-based offense. It felt really good to just beat an opponent down to the point they can't do their finishing move.
Pulling off striking combos, changing up your offense and taunting also is a plus for whatever wrestler you decide to play as, but it feels like there could have been more. The action is fast-paced and smooth but not without its shortcomings. Much like games of the past, picking up weapons such as a chair is still a pain. Also, switch to manual targeting, as auto is just bad. Due to a lack of a solid in-game tutorial, expect to struggle with the game early on, such as positioning and simple tasks like moving around your opponent.
As far as the type of matches go, it's as expected. Singles, tag team, multi-person, and ladder. We also get the Casino Battle Royale and the Exploding Barbwire Deathmatch. The selection leaves a bit to be desired.
While AEW is fun, it's not great. It's a Mid-card wrestler asking for a main-eventer price tag. I could see the game being worthwhile at maybe $40, but at nearly $70 for the PS5 version, it's a tough pill to swallow.
The game also suffers from a weak roster. Due to the long development, we get mostly 2021 and 2022 wrestlers. The now star of WWE, Cody Rhodes, is even featured. While we get The Elite, Mox, Punk, and Jericho, the game is missing stars like Samoa Joe, Toni Storm and The Acclaimed. I'm just naming a few, there are many more omitted from the game.
The much-touted Road to Elite is also a big swing and miss for the game. It's just very bland and offers just a handful of stories. The Create-a-Wrestler mode offers little to get excited about. The clothing designs are bland and there is no option to share your character online.
In the end, AEW Fight Forever isn't awful, it's just not that good. It's overpriced and underdeveloped. For a game that took so long to make, we were all expecting much more than what was given. It's a decent first effort, but ultimately, the game just feels incomplete and lackluster.
AEW Fight Forever gets a C+.