Unopened Nintendo Game "Stadium Events" Sells For $41,300 on Ebay, Sets New Record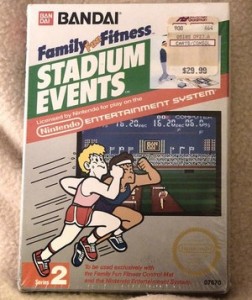 A new record for most expensive video game sale ever has just been set.
An unopened copy "Stadium Events," one of only know of in the world, sold on Ebay  for $41,300! In 1987, Nintendo recalled and destroyed almost all copies of the game.  Only 10 to 20 of them are thought to still exist, and the fact that this one was unopened made it that much more valuable. The original price paid for the game – $29.99!
The previous record for most expensive video game sold was $21,100 –  for "Nintendo Game Challenge."
The fact that the copy of the vintage NES game remained unopened for all of these years is remarkable  The story behind it is even more so.  The seller of the game bought it when it was brand new, but needed a special floor-mat controller to play it.  He  thought it was pointless to open the game without being able to find a controller for it, and kept it wrapped so that he could return it if not.  He never found the controller, but forgot to return the game.  And good thing he didn't.
He found the game earlier this year, and put it up for auction on Ebay – knowing that it might be worth something in it's original packaging.  Never did he expect to fetch this much for the game.  He and his wife plan on investing the money they made.