The Twilight Saga Tour: Historic Union Station in St. Louis
AN ECLIPSE JUST HIT ST. LOUIS!!!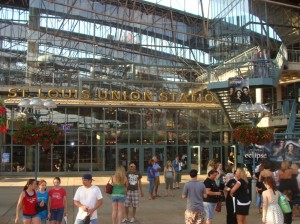 Twilight: Eclipse that is.  Thousands of devoted Twilight fans braved the high temperatures and stifling humidity in St. Louis to show their support of this movie phenomenon. Summit Entertainment chose 12 lucky cities to host these Twilight themed parties in order to thank their loyal fans and introduce the latest film in the series "Eclipse". Each city would have a selected cast member (of course the big three Stewart, Pattinson and Lautner were not available) to do a VIP meet and Greet with selected winners and introduce the Film "NEW MOON".  In St. Louis, we welcomed Jack Huston, nephew of Danny Huston (Wolverine) and award winning actress Angelica Huston. Jack is also the grandson of the world famous director John Huston!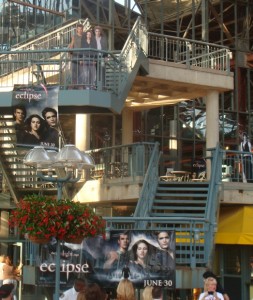 Jack Huston is new to the Twilight series in Eclipse, where he plays Royce King, a really bad guy, that provides a vital piece of history from Rosalie Hale (Nikki Reed) and Dr. Carlisle Cullen (Peter Facinelli) past. Unfortunately he is a one and done character with Twilight, as he is neither vampire nor werewolf.  Jack took over an hour to welcome the lucky VIPs and sign autographs and pose for hundreds of pictures. Jack Huston is one of the nicest guys in the movie business. He then went on to hand out prizes to the crowd prior to the start of the film.
Other activities available to the Twilight fans included a faux red carpet for fans to take pictures with their favorite twilight characters (via cardboard stand up). Live music was supplied by a local band Bitter Pill that covered tunes by the Foo Fighters, Goo Goo Dolls and many more. There was a booth where they would spray you with Vampire "shimmer" so your skin would sparkle like Edward's. There was a henna tattoo station, a psychic and a green screen photo booth where they would transport you to Forks, WA. through the magic of digital photography. Best of all there was FREE POPCORN!!!!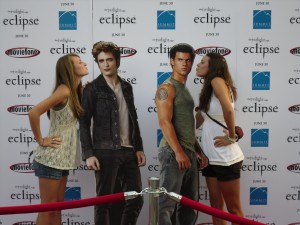 Summit put on an awesome event and I'm sure the thousands that attended would agree. I am sure everyone in attendance raced off following  the New Moon screening to be the first in line to see "The Twilight Saga: Eclipse" next week!
I am Karl, the Flick Fanatic, and even I am looking forward to the latest film in the Twilight series!