'Twilight Saga: New Moon' Breaks Box Office Records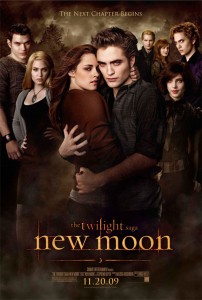 Someone asked me the other day if I was going to give New Moon a good review. At the time I hadn't seen it, and figured I would have to wait and see the finished product. It quickly dawned on me that what I was going to say would not matter.  The series has such a rabid fanbase that I could have created 20,000 Twitter accounts that said 'New Moon Sucks!", and it would not have made one bit of difference.
It looks like I have effectively been proven right. It seems that New Moon has broken the midnight showing records set by Harry Potter and the Half-Blood Prince set earlier this year. It did $26.3 million dollars at 3,514 screens last night. Harry Potter's record set this summer was $22.2 million dollars.  Its total theater count for the rest of the day will be an astounding 4,024 theaters. It still has a bit to go to beat the opening day record set by WB's The Dark Knight which had $67.2 million opening day.
I wouldn't expect New Moon to beat Dark Knight for opening day or opening weekend, but it should have a very large weekend, and it might have a chance of breaking the $100 million dollar mark for the weekend. It should have a better run than Twilight which ended its run with a respectable $192 million dollar mark. Twilight had a good start last year, but fizzled very quickly. New Moon has expanded the fan base, and should see a slightly larger run than the previous film in the series.
New Moon has a lot of competition coming in the next month or so, but its fanbase should keep it alive. My guess is it will end its run somewhere in the $250 million dollar range.
What do you think its run will end at? What kind of numbers will it put up over the weekend? What were your thoughts of the film? Let us know in our forums or the comments section.