Tuesday TV Lineup Includes GLEE, NCIS, THE NEW GIRL (Fall 2011)
Tuesday September 20th brings us the premieres of the majority of the shows that will be dominating our Televisions on our Tuesday Nights.
First of all here's what you can expect on Tuesday Nights

With the knowledge of the line up now you know what to expect on Tuesday Nights but I'm going to look into this a little but more….you know because I know you guys want all the information you can get going into these shows!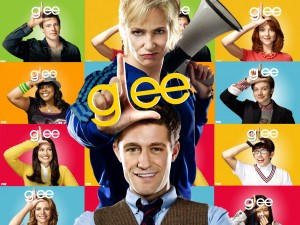 For the most part Tuesday's will have a lot of the normal shows like Glee, NCIS, NCIS: LA, The Biggest Loser, and 90210, but I think I am most looking forward to the 9 o'clock hour because it is all new shows….well other than Parenthood. With the new shows we get the return of Television regulars Sarah Michelle Gellar (Buffy The Vampire Slayer) and Tim Allen (Home Improvement), who are both staying in their comfort zones in their new shows and I am most looking forward to see if they can return to the spotlight that they once had. It will be a little more difficult for Tim Allen to get ratings as he is going up against T.V. heavyweights in the likes of Glee, The Biggest Loser, and Americas Most Watched Show NCIS, so that probably means that Last Man Standing and its counterpart Man Up! will both not last all that long on Tuesday Nights. Ringer has a better chance of lasting a while as it is up against a little less fierce competition and it also reigns on the CW, which is a station that has a tendency to let shows run their course before they pull the plug on them. I am thrilled to see that one of my favorite new shows from last season, Raising Hope, is returning for a second season and I hope they can lie up to the expectations that I have for the show. I am kind of curious to see how Zooey Deschanel does in her first leading role in a television series in FOX's The New Girl and I am a huge fan of Damon Wayans Jr. from his time on Happy Endings.
Here's a little more background on the new shows hitting Tuesday Nights
Show: Unforgettable
Network: CBS
Type: Drama/Crime
Who's in it: Poppy Montgomery, Dylan Walsh, and Kevin Rankin
Synopsis: Unforgettable follows a former New York City police detective who suffers from hyperthymesia, a rare medical condition that gives her the ability to remember everything. She is reluctantly asked by her former boyfriend and one-time partner to join his homicide unit after he asks for help with solving a case. The move allows her to do the one thing she has been trying to remember, that of finding out how her sister was murdered.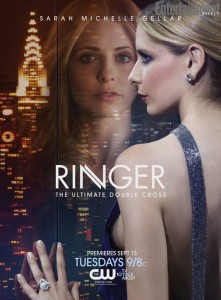 Show: Ringer
Network: CW
Type: Drama/Suspense
Who's in it: Sarah Michelle Gellar
Synopsis: Twin sisters Bridget and Siobhan (both played by Gellar) have been at odds for the last eight years and find that their lives are both unraveling at the same rate. Bridget, a recovering alcoholic, is on the run from the mob after witnessing a murder. She flees to her twin sister Siobhan's home. The sisters seem to be repairing their broken relationship until Siobhan mysteriously disappears overboard during a boat trip the sisters take together.
Show: The New Girl
Network: FOX
Type: Comedy
Who's in it: Zooey Deschanel, Damon Wayans Jr., and Max Greenfield
Synopsis: Jessica Day (Deschanel) is a well-liked, bubbly, and adorable woman in her late 20s who is trying to get over her surprise breakup with her model boyfriend. She eventually finds a new place to stay when she moves in withthree single guys: Nick, a bartender; Schmidt, a professional and modern-day casanova; and Coach, a former athlete turned trainer. Rounding out this unlikely bunch is Jessica's street-smart model friend Cece. Together, they try to help Jessica through this hard time and she learns more about herself as they learn more about their own selves
Show: Last Man Standing
Network: ABC
Type: Comedy
Who's in it: Tim Allen and Nancy Travis
Synopsis: A Comedy about a man who lives in a world dominated by women.
Show: Man Up!
Network: ABC
Type: Comedy
Who's in it: Christopher Moynihan and Dan Fogler
Synopsis: Man Up! revolves around the lives of three guys with questionable childish behavior and lifestyles who decide it's time to do the one thing they had forgotten to do: act like real men. But they need to grow up a little before that can happen, even at their age.
Looking at the line up I'm going to go out on a limb and give my first three to go, the best new show, and  the three most watched show
Dead Shows
#1 Last Man Standing
#2 Man Up!
#3 Body of Proof/Unforgettable
Last Man Standing and Man Up! will get killed by NCIS and Glee in ratings so they don't stand a chance and I think that Body of Proof and Unforgettable will beat up on each other in the ratings and the better show will reign supreme.
I think that The New Girl is going to live up to the high expectations that I have for it and be the Best New Comedy while Ringer will do well with its target demographic and that will make it the Best New Drama.
NCIS will continue to own the night and own Network Television this season. NCIS: LA will come in a close second and Glee will come in a distant third place.
You can expect this and much more when the Fall 2011-12 Season kicks off its Tuesday line-up on September 20th. Make sure you also come back here for My Take on the New Monday Shows (Unforgettable, The New Girl, Man Up!, and Last Man Standing) but for now let me know what shows you are looking most forward to on Tuesday Nights.