TROUBLE WITH THE CURVE Opens September 21! Enter to Win Passes to the St. Louis Advance Screening!
Enter to win a pair of passes!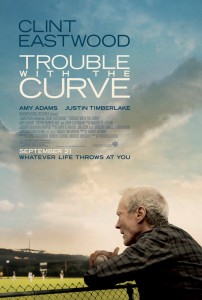 Gus Lobel (Clint Eastwood) has been one of the best scouts in baseball for decades, but, despite his efforts to hide it, age is starting to catch up with him. Nevertheless, Gus–who can tell a pitch just by the crack of the bat–refuses to be benched for what may be the final innings of his career. He may not have a choice. The front office of the Atlanta Braves is starting to question his judgment, especially with the country's hottest batting phenom on deck for the draft. The one person who might be able to help is also the one person Gus would never ask: his daughter, Mickey (Amy Adams), an associate at a high-powered Atlanta law firm whose drive and ambition has put her on the fast track to becoming partner. Against her better judgment, and over Gus's objections, Mickey joins him on his latest scouting trip to North Carolina, jeopardizing her own career to save his. Forced to spend time together for the first time in years, each makes new discoveries–revealing long-held truths about their past and present that could change their future.
Cast: Clint Eastwood, Amy Adams, Justin Timberlake, John Goodman, Robert Patrick, Matthew Lillard, Scott Eastwood, Joe Massingill
Director: Robert Lorenz
---
ENTER TO WIN A PASS FOR TWO!
In order to enter the contest, "like" ReviewSTL on Facebook . Then comment on the official contest page below, telling us why you can't wait to see the movie! While supplies last. Passes are available on a first-come, first-served basis.
Winners will be chosen at random from all entries. Supplies are limited. Limit one (1) pass per person, passes admit (2) two. Sponsor's employees and their dependants are ineligible. Screening is overbooked to ensure capacity. Please refer to passes for any other possible restrictions. NO PURCHASE NECESSARY.
Screening will take place 09/18/12 at Wehrenberg Ronnies 20 Cine (7pm).
---
TROUBLE WITH THE CURVE OPENS SEPTEMBER 21