Toy Story 3 Trailer!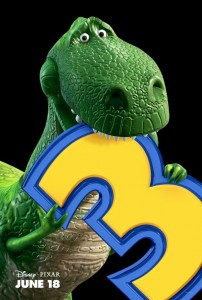 Here is the all new Toy Story 3 trailer that is playing before the Toy Story 3D Double Feature. I gotta say, I'm very excited for this movie. Pixar has yet to let me down, and I don't think they will with this one. I think everyone would be a bit disappointed if they blew this one. Although, with already established characters, and the emotional loss of Andy this one should be pretty good. The trailer looks fantastic. Watch below!
Synopsis:
Andy is now a young adult, departing for college, and his toys, including Woody (Tom Hanks) and Buzz Lightyear (Tim Allen) are being sent to storage. Andy has a change of heart and decides to keep Woody. Before the rest of the toys can be put in the attic, they are accidentally thrown away and are picked up by the garbage men. The toys find themselves at a local day-care center, where they must try to survive the pre-school children. Woody attempts to save his friends and find themselves a new home.
Starring: Tom Hanks, Tim Allen, Joan Cusack, Don Rickles, Wallace Shawn, John Ratzenberger
Directed by: Lee Unkrich
Studio: Disney/Pixar
Release Date: June 18, 2010