TOY STORY 3 and Toys For Tots Team Up This Summer For Toy Drive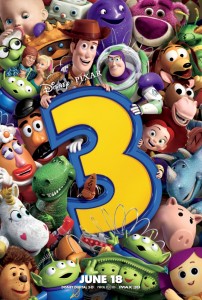 Toys for Tots, a 63-year-old national charitable program run by the U.S. Marine Corps Reserve, is teaming up with the upcoming film TOY STORY 3 for a Summer toy drive.

This June, 24 cities in the United States will be collecting unwrapped toys during promotional events for TOY STORY 3. Their goal is to collect over 16.3 million toys this Summer, breaking the record that was set in 2009. Last year Toys for Tots was able to provide toys to 7.4 million children in over 690 areas around the world. Participating cities for this collaboration with TOY STORY 3 include:
Atlanta, Boston, Chicago, Cincinnati, Cleveland, Dallas, Denver, Detroit, Honolulu, Houston, Kansas City, Los Angeles, Miami, Minneapolis, New Orleans, New York, Philadelphia, Phoenix, Salt Lake City, San Diego, San Francisco, Seattle, St. Louis and Washington, DC.
Bill Green, vice president of marketing and development for the organization, says,
"We are thrilled to be working with Disney-Pixar's TOY STORY 3 on this special summer toy raising event… We are so proud of the fact that the gifts raised in each of the 24 cities will remain in those specific cities and will eventually be distributed to less fortunate children in those communities. It is truly a program where anyone who donates a toy is really donating a smile to a child in their own hometown."
For more information about the Toys for Tots collaboration with TOY STORY 3, visit toysfortots.org. TOY STORY 3D opens in theaters everywhere June 18!
---
ABOUT THE MARINE TOYS FOR TOTS PROGRAM:
Toys for Tots, a 63-year-old national charitable program run by the U.S. Marine Corps Reserve, provides happiness and hope to disadvantaged children during each Christmas holiday season. The toys, books and other gifts collected and distributed by the Marines offer those children recognition, confidence and a positive memory for a lifetime. It is such experiences that help children become responsible citizens and caring members of their community. Last year the Marine Corps fulfilled the holiday hopes and dreams of 7.4 million less fortunate children. Toys for Tots relies on individual donations as well as support from local businesses and national corporations. For more information, visit www.toysfortots.org.
ABOUT "TOY STORY 3"
"Toy Story 3" welcomes Woody (voice of Tom Hanks), Buzz (voice of Tim Allen) and the whole gang back to the big screen as Andy prepares to depart for college and his loyal toys find themselves in… day care! These untamed tots with their sticky little fingers do not play nice, so it's all for one and one for all as plans for the great escape get underway. A few new faces—some plastic, some plush—join the adventure, including iconic swinging bachelor and Barbie's counterpart Ken (voice of Michael Keaton), a thespian hedgehog named Mr. Pricklepants (voice of Timothy Dalton) and a pink, strawberry-scented teddy bear called Lots-o'-Huggin' Bear (voice of Ned Beatty). Directed by Lee Unkrich (co-director of "Toy Story 2" and "Finding Nemo"), produced by Pixar veteran Darla K. Anderson ("Cars," "Monsters, Inc."), and written by Academy Award®-winning screenwriter Michael Arndt ("Little Miss Sunshine"), "Toy Story 3" is a comical new adventure in Disney Digital 3D™ and IMAX® 3D. Become a fan on Facebook: facebook.com/pixartoystory