TITANIC Released Today on 4 Disc Blu-ray / DVD Combo! (9/10)
Available for the first time on Blu-ray!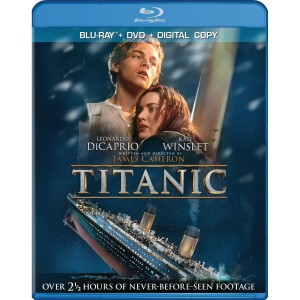 Experience the film that won 11 Academy Awards, and was nominated for 3 more, like you have never seen it before. Titanic is being re-released for the first time in breathtaking high definition and 3D on Blu-ray today (Monday, September 10). The 4-disc set includes the 1997 film in stunning high definition, along with over 6 hours of bonus content, including:
Reflections on Titanic (new)
Titanic: The Final Word with James Cameron (new)
30 deleted scenes
60 behind-the-scenes featurettes
and much more!
There is also a 4-disc 3D Blu-ray / Blu-ray combo pack available for those with 3D capable televisions and blu-ray players.
Click here to purchase the 4-disc Blu-ray combo / 4-disc 3D Blu-ray Combo over 40% off today!
About the Blu-ray™/DVD:
Presented in a four-disc 2D Blu-ray/DVD combo pack with Digital Copy or, for the ultimate experience in fully immersive 3D, in a four-disc Blu-ray 3D and 2D combo pack with Digital Copy, this high-definition presentation of TITANIC is a must have for film fans' home media collections. Both sets feature more than 2 ½ hours of new bonus footage never-before-released on disc, including a fascinating in-depth exploration of the film with James Cameron, as well as documentary footage produced by National Geographic with James Cameron that brings the world's leading RMS Titanic experts together to solve the lingering mysteries of why and how the "unsinkable" ship sank.