"Thoroughly Modern Millie" Opens the Muny Season with Charm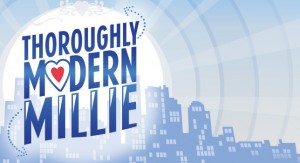 The Muny is a unique experience.  There really is no other venue like it.  Sitting under the stars, in beautiful Forest Park, with a cool breeze blowing through, audiences get to see top level performers who have won Tony and Emmy Awards.  If you are a fan of musical theater, whether it be casual or die hard, you owe it to yourself to frequent the Muny this summer.
The Muny in Forest Park opened its 94th season last night and showed exactly why one of the most unique theater venues in the country has lasted so long.  "Thoroughly Modern Millie" entertains audiences from start to finish with spectacular dance numbers, beautiful singing, and plenty of laughs.  If this is a taste of what is to come for the rest of the season, I can't wait to make a trip to Forest Park each and every week.
Millie is a small town girl who moves to the Big Apple.  She quickly decides to lead the life of a "modern" woman, and seek a marriage that is a good business venture and the love will maybe come later.  Millie, broke with no job, stays at a hotel full of actresses run by Mrs. Meers who lets the girls stay sometimes rent free.  But their rent free stay may come at a price.  Millie continuously runs into Jimmy, a smooth talker who is with a different woman every night.  Millie, with the help of Jimmy, learns how to lead a life of true happiness.
The dance numbers and comedy are what stand out the most in this musical.  The choreography on the tap numbers, particularly the opening number of Act 2, are truly fun to watch.  The entire cast is so great that it makes the audience want to dance in their seats, which I saw firsthand from some sitting around me.  And the comedy is great.  Beth Leavel steals the show as Mrs. Meers.  She is hilarious from start to finish, through song and dance.  The audience just couldn't wait to see her enter the stage once more.
My only complaint is that Act 1 feels quite long.  This is because it is.  Clocking in at nearly an hour and a half, I was left looking at the clock a couple of times waiting for the intermission.  Not that the show is boring or not entertaining.  I just think 15 to 20 minutes could have been cut off.  In contrast, the second act flies by and does not feel like an hour.
Despite its title, "Thoroughly Modern Millie" is an old fashioned musical where the heroes win, the villains lose, and true love prevails.  This show is a perfect example why millions of people have gone to the Muny for almost a century.  If you are looking for an entertaining night of song, dance, and comedy, this will definitely fulfill that desire.