Thomas Wallner Films Scenes From Upcoming Documentary "TRAPPED" at Petropolis in Chesterfield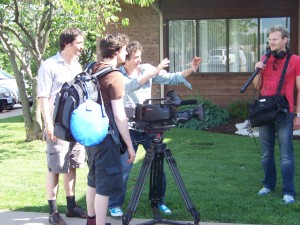 It's not every day that a movie is filmed in Chesterfield, MO.  But yesterday was one of those days, and one of the locations of an upcoming documentary called "Trapped" happened to be Petropolis Pet Center.
Director Thomas Wallner and his film crew arrived late yesterday afternoon to film scenes for his latest project. "Trapped" is a High Definition feature length documentary, produced in Canada, Germany and Switzerland that will be premiere in Europe and North America on the 10th anniversary of 9/11. Wallner has won multiple Emmy Awards, and has written such films as "Hana's Suitcase", "Mozartballs" and "Beethoven's Hair." The film was one of few films to receive funding from Sundance out of 800 submitted projects to the Sundance Documentary Fund.
Part of the documentary will touch upon Diane's life after her military service, and what she want's to do now that she is a civilian. She has a fondness for animals, and hopes to one day open her own Pet Hotel. Filming took place at Petropolis yesterday, where she researched what makes a pet care facility successful. Many of the scenes revolve around a tour of the facility, and how the animals interact and behave in a social setting.