Theatre Review: The Muny Strikes Gold With a 'Paint Your Wagon' Update You Should Rush To See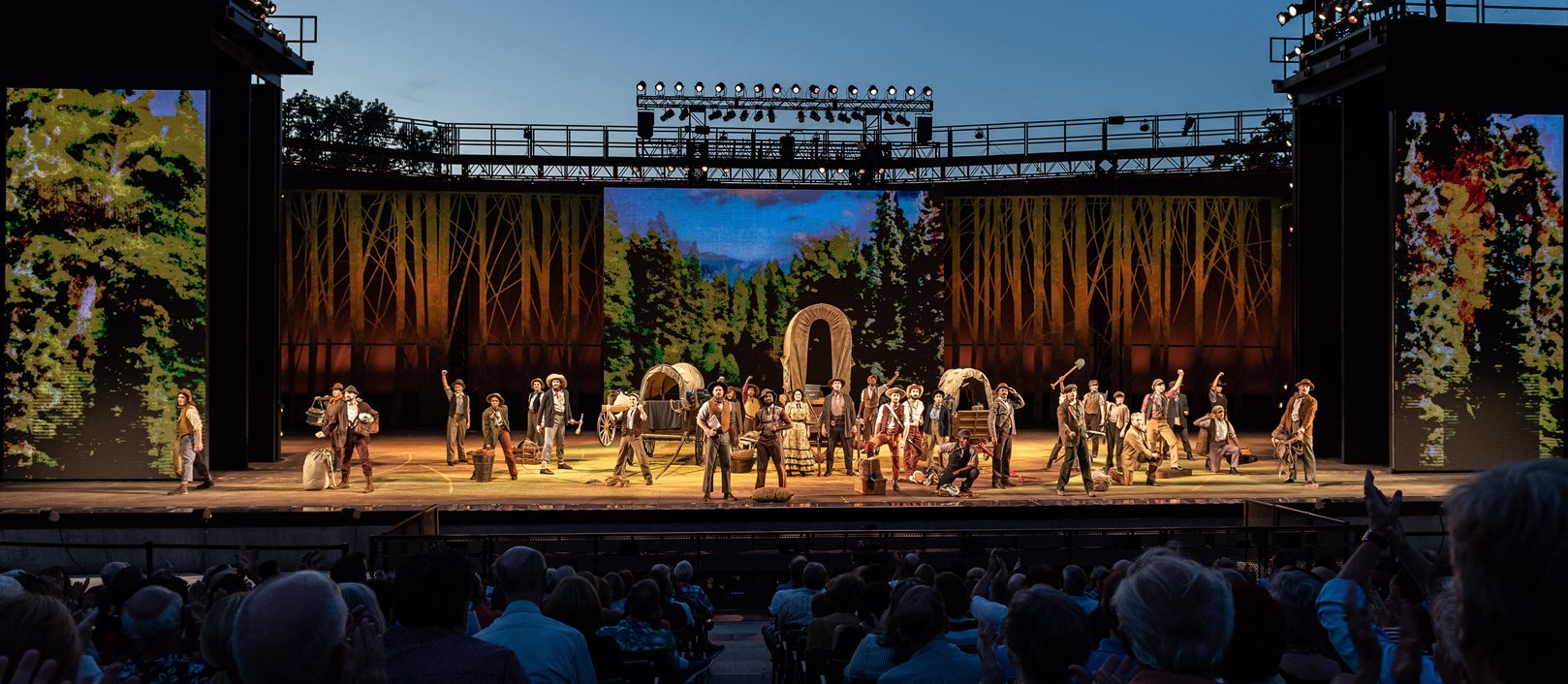 Alan J. Lerner and Frederick Loewe never reached the heights of Rodgers and Hammerstein, but they managed to crank out quite a few classics – like Brigadoon (1947), My Fair Lady (1956), and Camelot (1960).
Their followup to Brigadoon (considered to be their first hit) was Paint Your Wagon in 1951. Set in the 1850s against the backdrop of the California gold rush, the musical features memorable songs like "They Call the Wind Maria," "Wand'rin' Star," and "I Talk to the Trees."  The Muny even staged a production in 1956. Yet the show is one that went widely unproduced for decades, due to the tangled love story of buying and selling wives – as well as the unrealistic depiction of mostly white prospectors.
There was a film adaptation in 1969 starring Clint Eastwood and Lee Marvin, but it was considered both a critical and financial failure.
Fast forward to recent years, and playwright Jon Marans (Old Wicked Songs) has virtually re-written the entire book – creating a more accurate depiction of the era, along with tackling topics that are still relevant today like racism, immigration, and sexism. All of this is packaged into a wonderfully entertaining musical, with the classic songs reworked to better support the story.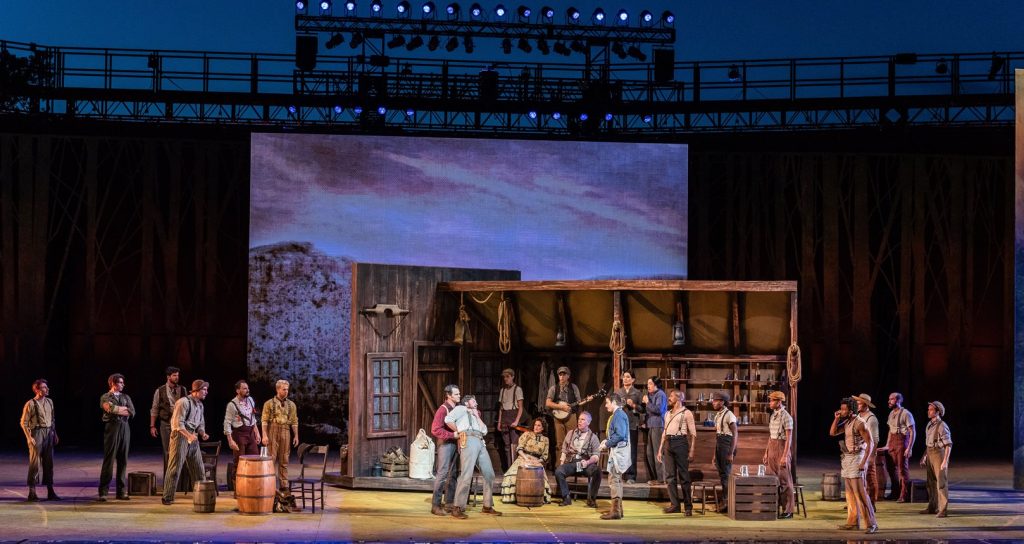 Ben Rumson (Matt Bogart) is a failed bar-owner who is heading west like everyone else with hopes of striking it rich. He meets Armando (Omar Lopez-Cepero) along the way, and the two of them partner up in No Name City to start digging. There they are introduced to William (Bobby Conte Thornton), an Irishman who said goodbye to his wife and young daughter; H. Ford (Rodney Hicks), a freed black man from New York who comes from a well-educated and successful family; Jake (Preston Truman Boyd), the son of a plantation owner, and his slave Wesley (Allan K. Washington); Chinese brothers Ming (Austin Ku) and Guang Li (Raymond J. Lee) who buy Jake's old claim; and the abusive Craig (Michael James Reed) to his wife Cayla Woodling (Mamie Parris).
Eventually Ben buys Cayla to free her from Craig (part of the leftover plot from the original show, but handled much better here with Cayla encouraging it to get away from her awful husband), they eventually marry – and shortly thereafter discover gold. The newlyweds send for Ben's daughter Jennifer (Maya Keleher) and she is introduced – along with the audience – to a bustling new town full of people, gambling, and promise. But soon greed blinds desperate men, and things take a turn for the worse in the newly coined Rumson City.
Paint Your Wagon features a terrific cast, led by the charming Matt Bogart and Mamie Parris. Along with Omar Lopez-Cepero, I haven't seen as delightful of a trio since Don, Cosmo, and Kathy in Singin' in the Rain.  Their big number at the end of ACT I is "Gold Fever," with the three of them terrifically juggling gold nuggets while dancing and singing around the stage. Bogart and Parris have great chemistry, while Lopez-Cepero has the energy that makes it impossible not to smile when he's around.
It isn't all fun and games though, as Ben and Cayla are forced to deal with some serious issues in ACT II. Cayla is a new step-mother to Jennifer, who struggles with the idea of her father remarrying and moving on after her mother's death. Meanwhile Ben can't ignore the idea of his daughter finding a love of her own, while also fighting to keep his business and city from descending into chaos. Bogart is especially fantastic during "They Call the Wind Maria."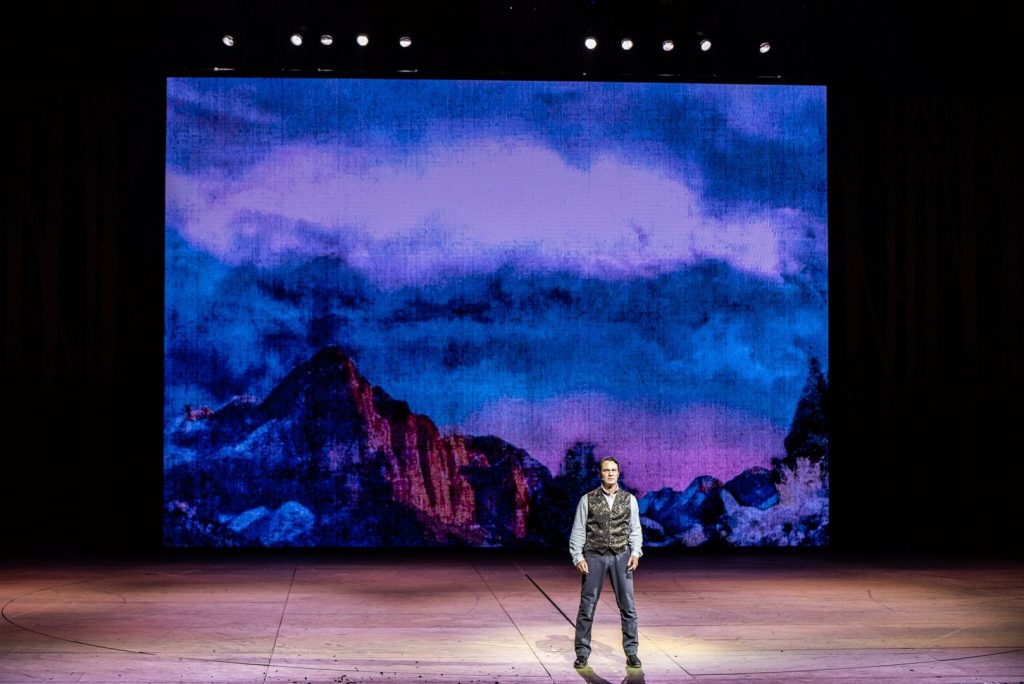 Hicks and Washington are both terrific as their characters form a father and son-like relationship. Ford helps Wesley realize his potential and guides him toward becoming a free man throughout the show. There is an especially moving moment near the end of ACT II which I won't go into detail about, but both actors are phenomenal in the scene.
Boyd, Reed, and Thornton all do well in the more villainous roles, showing off various degrees of complexity when it comes to good and evil. It's intriguing to watch as the bad guys are presented in a range of evil, from despicable to desperate. Thornton's character is especially complex, and the actor conveys his struggle very well.
Ku and Lee are tasked not only with playing characters who are viewed as outsiders, but who also must struggle with their own ideas of family and tradition. Ming and Guang travel to America with dreams of becoming successful and taking care of their family. But their priorities start to shift away from one another, and they're forced to deal with that while also contending to be accepted by the others in town. The actors give us two of the most heart-wrenching performances of the evening.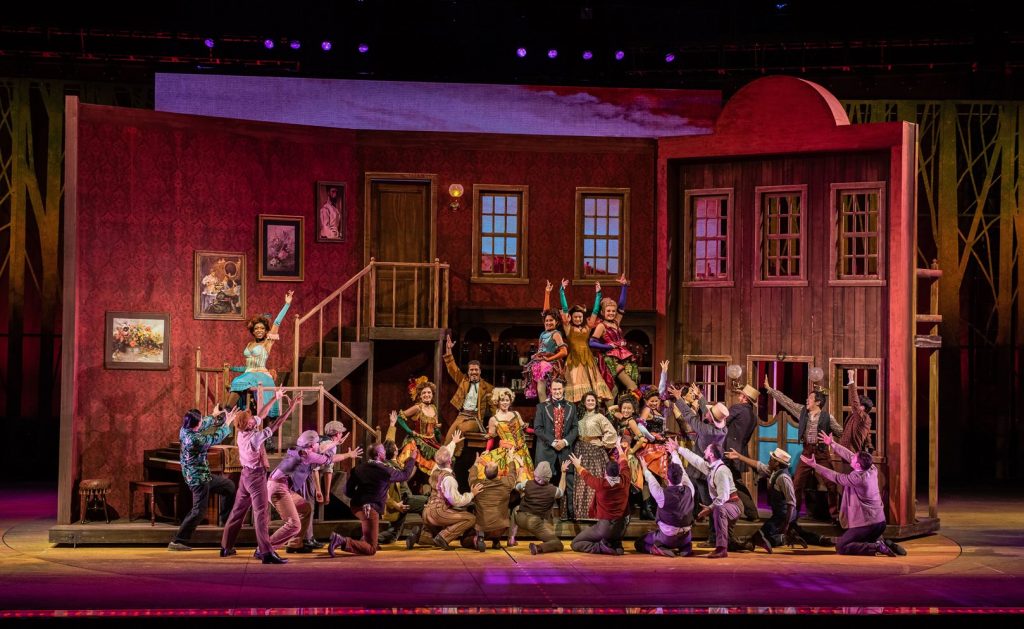 Michael Schweikardt's beautiful scenic design pairs wonderfully with the costumes created by Amy Clark. From the opening scene, full of wagons and towns as the characters are headed out west, everything feels authentic to the California Gold Rush. Rumson City is realized with The Muny's trademark magic they are adored for, and a stand-out moment is when a wagon of showgirls is pulled on-stage by none other than two majestic Clydesdale horse. The arrival of the animal actors received roaring applause, as did their exit after waiting for their wagon to be unloaded. All of this set to John Lasiter's impressive lighting design makes for quite the evening.
Directed and choreographed by Josh Rhodes, this newly-imagined version of the show is fantastic from start to finish. Knowing little about the original version, aside from some basic plot points and characters, I wasn't sure what to expect. But trusting in The Muny, I knew there would be something special there. Jon Marans has taken the terrific songs and almost completely re-imagined the plot to use them in the best way imaginable. The orchestra, conducted by Sinai Tabak, sounded wonderful as they surely made some new Lerner and Loewe fans on a beautiful summer evening in St. Louis.
Even if you have seen a previous version of the show (including the film), there's a good chance you haven't seen it like this. Updated in the best ways possible for a more accurate portrayal of the era, along with a compelling story and characters, The Muny's production of Paint Your Wagon is a new take on an old classic that you won't want to miss.
See Paint Your Wagon through August 2. Tickets are available via MetroTix. For more information, visit Muny.org.