Theatre Review: Passionate and Political, Opera Theatre St. Louis' TOSCA Refreshes a Classic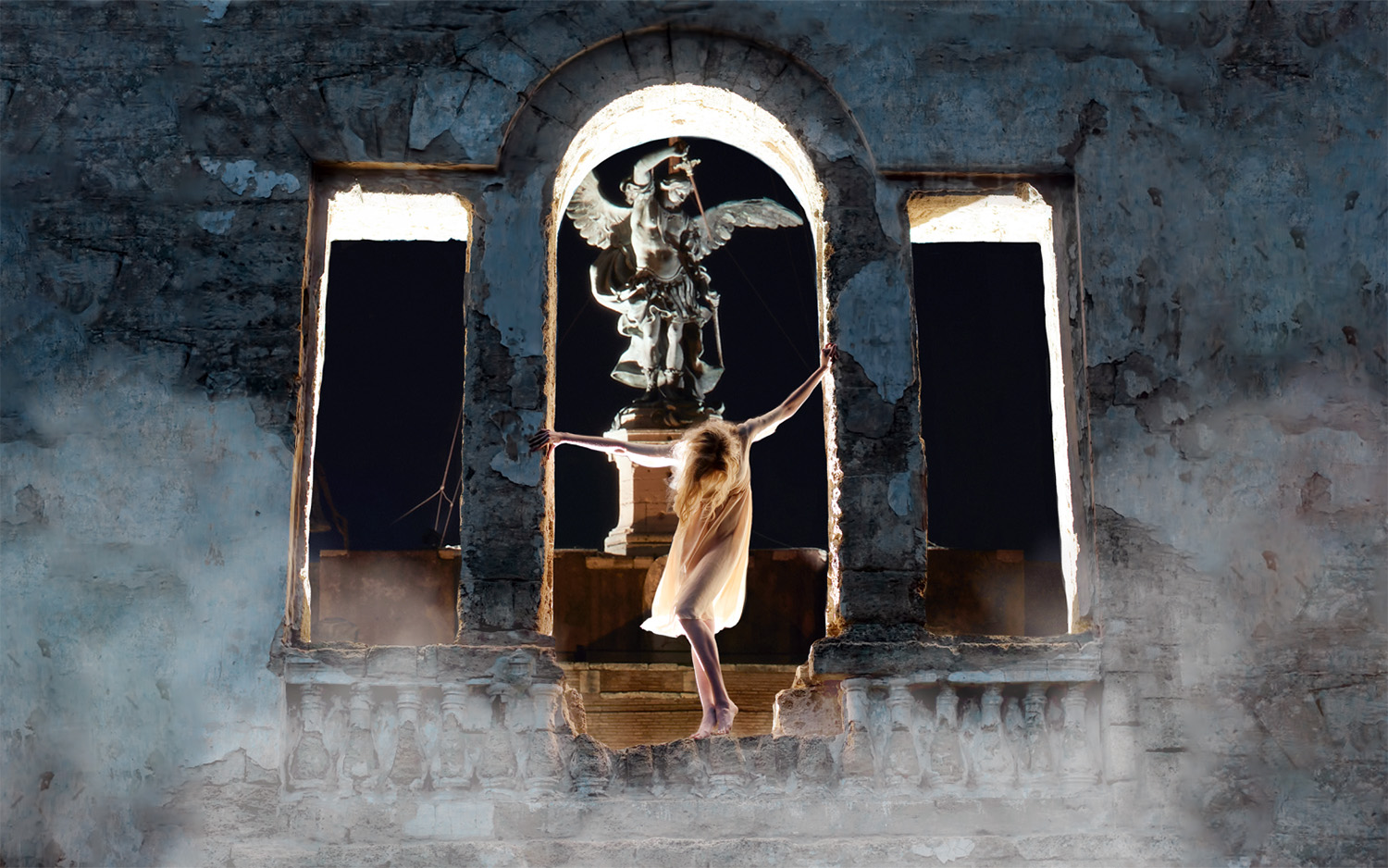 There is not much color in Opera Theatre St. Louis' production of Tosca. But that does not mean it is drab.
Relying on minimalist lighting, projections and powerful singing, stage director James Robinson has accentuated the powerful drama of Puccini's opera and taken a cue from Orson Welles, giving audiences a stark and sleek presentation that fully focuses attention on the compelling characters onstage.
Puccini's themes of tyranny, political intrigue and corruption have not vanished over time. For this adaptation, those ideas are heightened through the costumes, staging and lighting used by the production team. As a result, OTSL's Tosca is just as much an opera about oppression as it is about love.
Tosca is set in Rome during the Napoleonic age. It opens with Angelotti, a political dissident on the run, seeking safety in a church, where the renowned artist Mario Cavaradossi works on a new painting. A sympathizer to revolution, Cavaradossi agrees to help his surprise visitor, despite the peril it will place him in if he is discovered.
Doggedly on Angelotti's tail is the unscrupulous Baron Scarpia, the head of the state police whose corruption and brutality know no bounds. Deducing that Cavaradossi is connected to the escaped prisoner, Scarpia turns his attention to Cavaradossi's lover, the famed singer Floria Tosca.
Hunting Angelotti after his breakout, the despot sees an opportunity to pursue his desires for Tosca while also restoring justice to the region. Knowing that Cavaradossi's adoration of his beloved Tosca motivates his actions, the ruthless Scarpia seeks to crush his enemies and satisfy his insatiable lust.
The skullduggery of Puccini's vile policeman serves as a blueprint for future rogue lawmen, including Welles' Quinlan in Touch of Evil and Hugo's Javert in Les Misérables. However, Scarpia's penchant for violence and aptitude for manipulation are unmatched.
Using his nemesis' passion to his advantage, Scarpia marshals his resources to charge Cavaradossi for treason. Knowing this will make Tosca an emotional wreck, he plots a diabolical scheme to satisfy his desires.
The most famous singer in Italy, Tosca is a force of nature. Independent and ferociously devoted to her beloved, she seeks an audience with Scarpia to plead for his freedom.
Playing into his dastardly plan, her emotions are crushed, and her hopes are defeated after Scarpia refuses to free him unless she gives in to his lecherous cravings.
This indecent proposal sets a series of deadly events in motion. Backed into a corner, Tosca uses her own guile to deal with her sleazy adversary.
Meanwhile, Cavaradossi believes her actions will spare his life. Unfortunately, the exuberance of their reunion is short-lived, as they meet a tragic ending.
Katie Van Kooten's Opera Theatre debut as Tosca is spellbinding. Carrying the complexities of her character effortlessly, this riveting soprano gives a performance that serves as one of the season's highlights.
Robert Stahley's commanding arias highlight his stunning OTSL debut. A prodigiously talented performer, he gives Cavaradossi an emotional gravitas that sparks the production's most intense moments.
Another fresh arrival is Hunter Enoch. Playing Puccini's heavy with great vigor, his sneering and snarling resonates with audiences who loathe Scarpia from his arrival onstage through his unfortunate demise. It is not easy playing the villain, but Enoch brings the heat with an astounding performance. Serving as the catalyst for the drama, he holds his own, matching Van Kooten and Stahley's vocal potency.
Also noteworthy amongst a talented ensemble is Joseph Park as Angelotti. This bright newcomer uses his rich voice and charisma to deliver a captivating debut performance as a rebel whose resolute convictions propel the political turmoil that envelops Tosca and Cavaradossi.
Conductor Daniella Candillari is the perfect accomplice for Robinson. Leading members of the St. Louis Symphony Orchestra through heightened crescendos and soft melodies that underpin the tension occurring above the pit, her virtuosity breathes new life into a classic score in an artistic triumph that dazzles the audience.
Last staged by Opera Theatre of St. Louis over two decades ago, Tosca was in need of some renovation. Thanks to Robinson, choreographer Sean Curran and set/costume designer Allen Moyer, entranced onlookers experience an eye-popping opera that utilizes digital projections, quixotic scoring, sparse sets and somber color palettes to heighten the heartbreak onstage.
The second production of the 2023 season, Tosca is emotionally draining and flabbergasting affair that transforms one of the greatest operas in the traditional canon into a nourishing spectacle of sight and sound.
Tosca runs through June 25th at the Loretto-Hilton Center on the campus of Webster University. Productions at Opera Theatre St. Louis are in English with musical accompaniment from the St. Louis Symphony Orchestra. For more information on programming or the 2023 season, visit opera-stl.org.