Theatre Review: NINE Showcases Talented Cast and Emotional Journey of Self-Discovery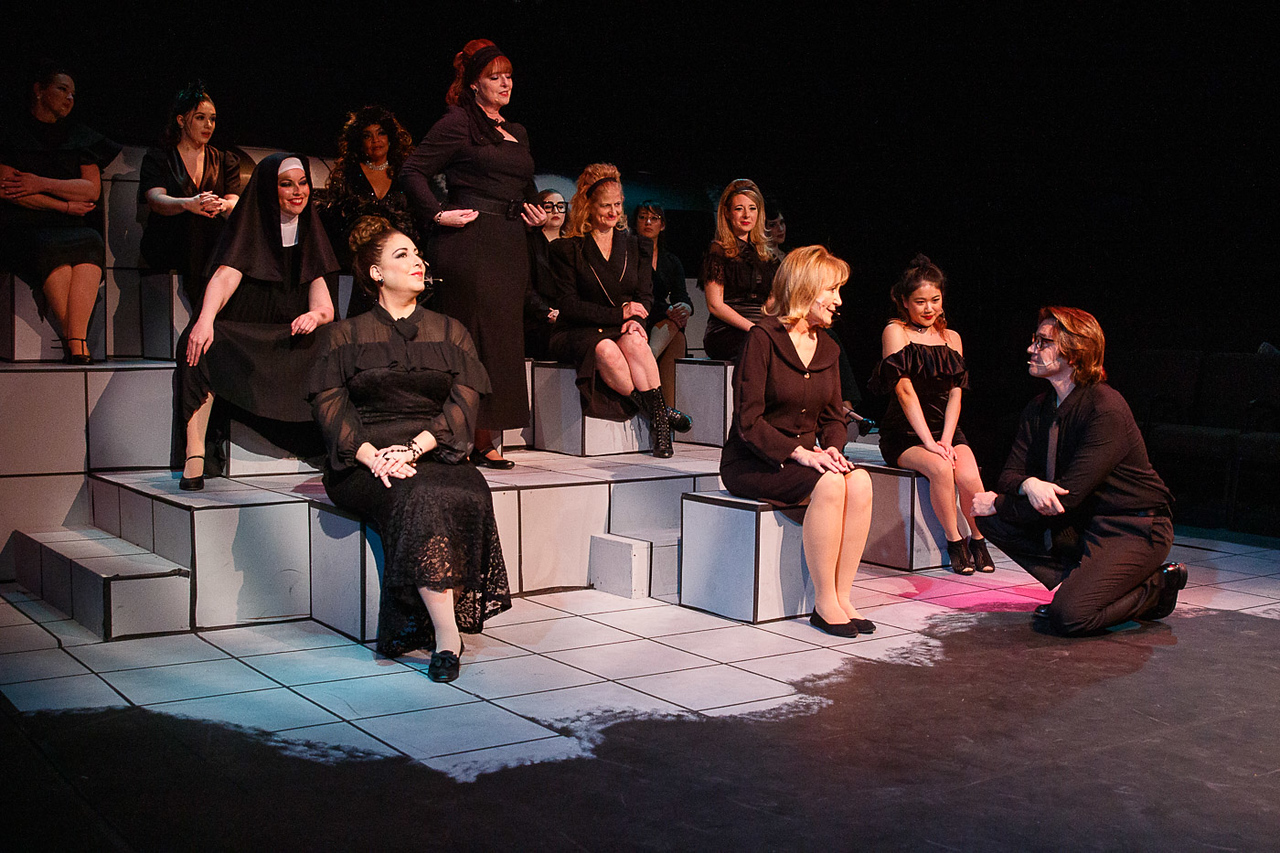 Based on Fellini's incredible 1963 film 8½, NINE is the latest musical production from New Line Theatre. Adapted for the stage by Maury Yeston (music and lyrics) and Arthur Kopit (book), the Tony Award-winning show takes the audience on a powerful journey of self-exploration and introspection through the mind of an artist.
NINE is the semi-autobiographical story of Guido Contini, inspired by real-life filmmaker Federico Fellini. In the show, Guido Contini (Cole Gutmann) is a celebrated film director who is struggling to find an idea for his next film, while avoiding problems with his marriage to Luisa (Lisa Karpowicz) and negative reviews. In a last-ditch effort to save his marriage and career, Guido books a trip to a Venician spa where he is forced to confront the ghosts of his past, as well as the women of his present. We experience these interactions through a blurred combination of reality and visions. They include his mistress Carla (Sarah Wilkinson), muse Claudia (Ann Hier Brown), mother (Stephanie Merritt), producer Liliane LaFleur (Kimmie Kidd-Booker), and Saraghina (Sarah Birch) – a prostitute from his youth who taught him about love ("Be Italian"). Kat Bailey, Kathleen Dwyer, Brittany Hester, Kay Love, Stephanie Merritt, Julia Monsey, Gillian Pieper, and Alyssa Wolf round out the talented cast.
Gutmann makes his New Line debut, delivering a tremendous performance as the troubled director. The actor conveys the character's inner turmoil through powerful vocals and nuanced body language, leaving nothing on the table after this tour de force. His interactions with the women who had a profound impact on his life are unforgettable.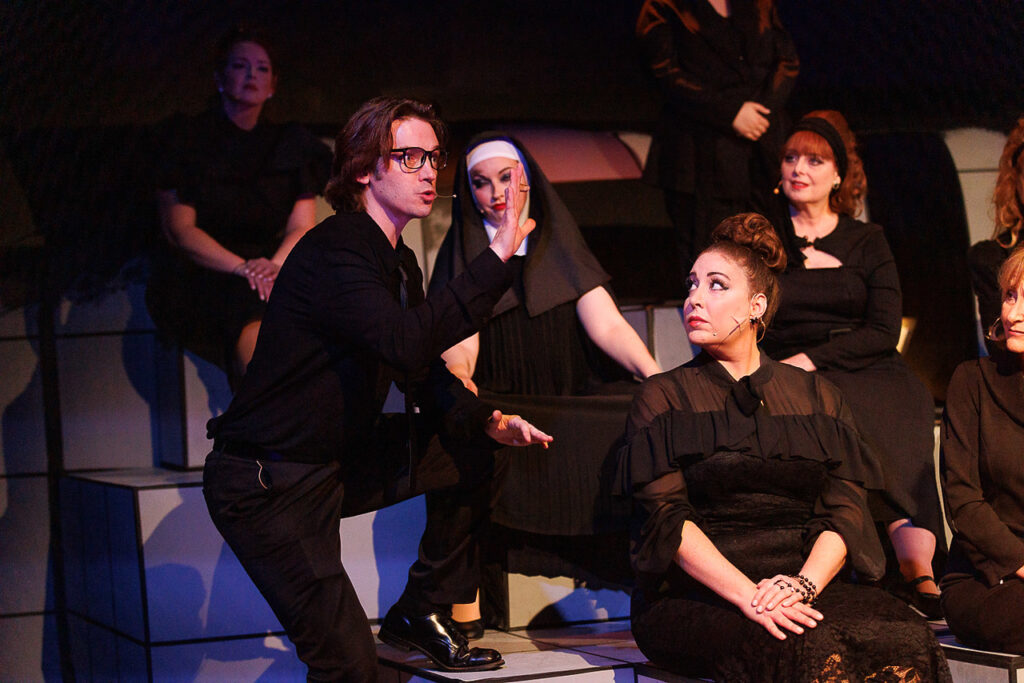 The impressive cast showcases the talents of 13 amazing actresses who play the women in Contini's life. Lisa Karpowicz brings a commanding presence as his wife, Luisa, and sounds great as she delivers an emotional performance. Sarah Wilkinson's marvelous rendition of "A Call from the Vatican" had the audience erupting with applause, while the seductive number also garnered several laughs through her understanding of physical comedy.
Ann Hier creates an emotional and dynamic performance as she sings "Unusual Way," describing Claudia's relationship with Contini. Stephanie Merritt puts her impressive vocal talents on display as Guido's mother, interjecting her thoughts about her son throughout the show.
Kimmie Kidd-Booker sounds magnificent, and also lends her comedic talents to the character of Contini's producer, Liliane LaFleur. She is wonderful during "Folies Bergère," performing with bravado and breaking into a bit of an improvised comedy routine that had the audience in stitches.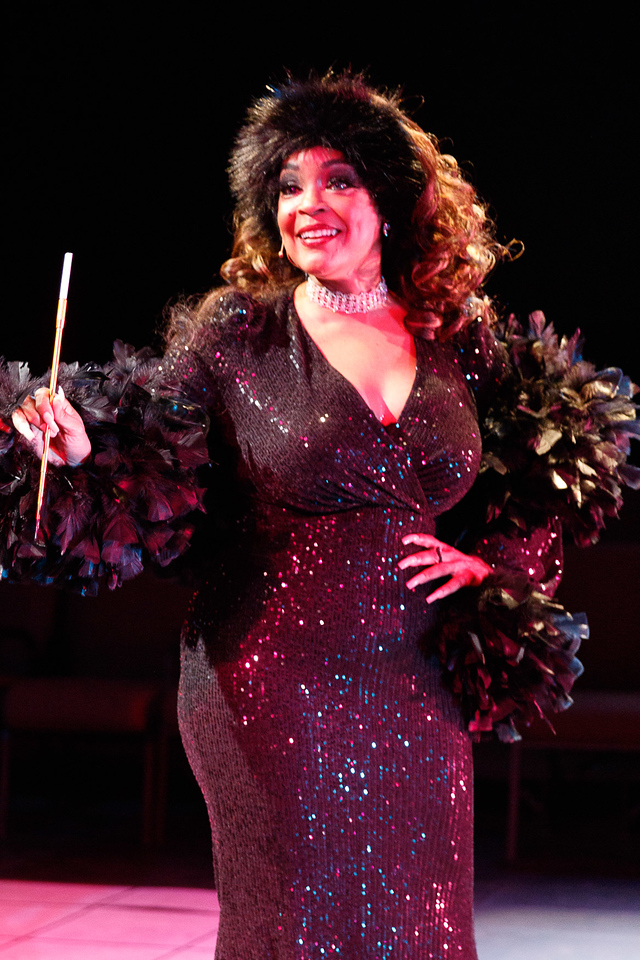 One of the highlights of the show is the number "Be Italian," where Sarah Birch gives a passionate and emotional performance as Saraghina. This memorable song explores Guido's childhood and where he formed his idea of what love is – providing insight into how his relationships have failed him in the present day.
The entire cast is truly fantastic, performing co-director Chris Kernan's bold and expressive choreography – an integral part of the show's storytelling. Contini's state of mind is conveyed through these movements, and much is said without having to speak a word. Kernan, along with co-director Scott Miller, stage the show in a way where it's easy for the audience to keep track of everything going on, even when there is a lot happening all at once. Full use is made of Rob Lippert's multi-leveled stage, where boxes are used as seats that also move to show proximity between characters. This is especially noteworthy when Contini's mistress scoots closer to his wife after a seductive telephone call, where the body language and staging say it all.
Maury Yeston's music is a beautiful blend of Italian melodies and Broadway energy. The opening number immediately hooks the audience, as all thirteen of the women in the cast harmonize for "Overture Delle Donne." It is a beautiful moment as Contini conducts, foreshadowing the way his interactions with them will orchestrate pivotal events in his life. There is a great balance of heartfelt, emotional songs ("Guido's Song," "My Husband Makes Movies") with more fun and lighthearted fare ("Grand Canal"), as the show never ceases to entertain. The New Line Band, directed by Jenna Lee Moore, sounded phenomenal all evening. Kudos to sound designer Ryan Day for expertly blending together all the music and vocals.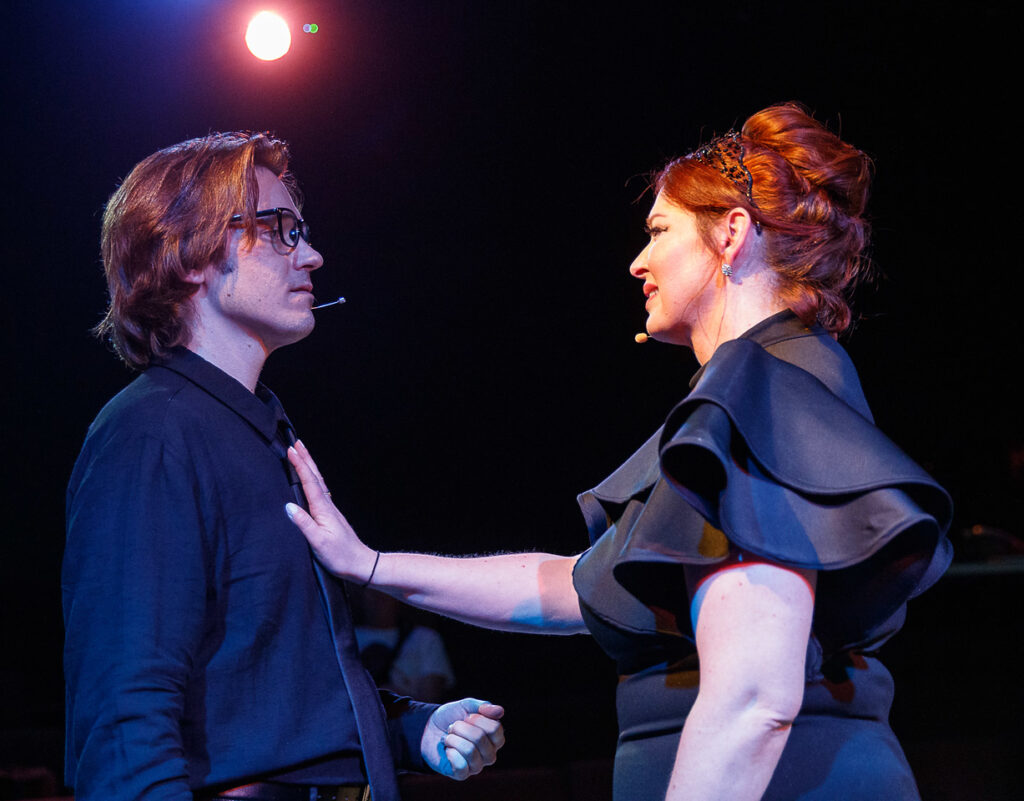 The costumes designed by Sarah Porter are beautiful, transporting the audience to 1960s Italy. Not only do they set the time and place, but can be transformative for the characters – like when Saraghina ditches her habit and sings her song to Guido. From elegant and seductive dresses to more reserved blouses and suits, the wonderfully-crafted outfits add an extra layer of depth to the characters and story. And Matt Stuckel's lighting design ensured every detail received the audience's attention.
NINE is a fascinating look inside the mind of an artist, and both the inspiration and demons they face throughout their career. Filled with wonderful melodies and terrific performances, it's an entertaining introspective that will keep audiences engaged from start to finish. You don't have to see the original film to enjoy it, but chances are that you will want to by the end of the show.
New Line Theatre's production of NINE is now playing at The Marcelle, Thursdays-Saturdays, through March 25. For tickets and more information, visit NewLineTheatre.com.
Photos: Gerry Love