Theatre Review: Grand Production of 'Evita' Opens The Rep's 52nd Season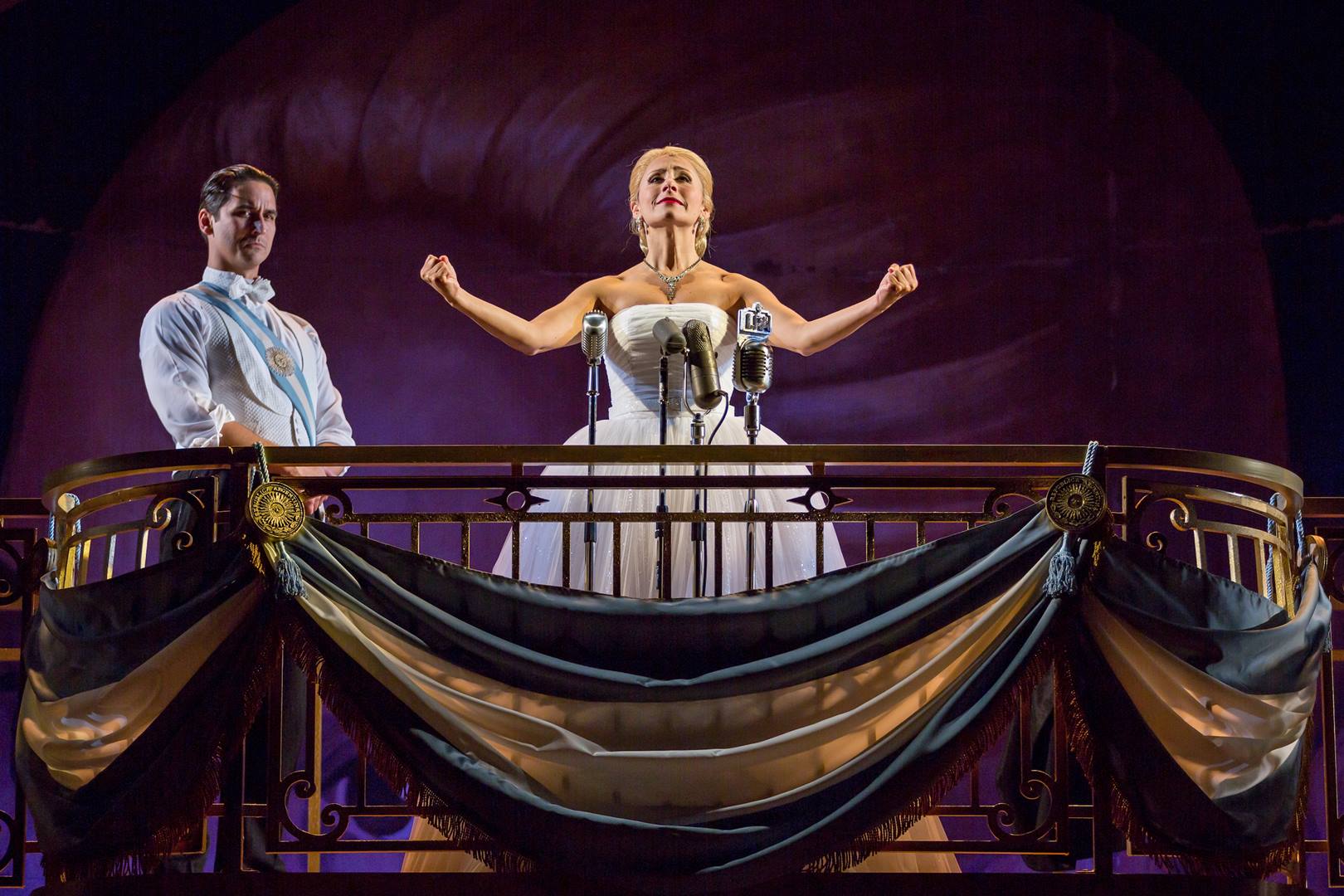 Evita is the musical story of Eva Perón, an aspiring actress who became the First Lady of Argentina and a spiritual leader for the people. Created by the legendary duo of Andrew Lloyd Webber (music) and Tim Rice (book and lyrics), the show has captivated audiences all around the world since its debut in 1978. The Repertory Theatre of St. Louis has staged a magnificent production to open their 52nd season, directed by Rob Ruggiero and choreographed by Gustavo Zajac.
Michelle Aravena stars as Eva, who we follow as she tries to break into show business at an early age. She becomes a star, and eventually meets and marries Juan Perón (Sean MacLaughlin) – who is elected President of Argentina with her by his side. Eva was a symbol of hope for Argentinians, and was especially beloved by the working class, women, and the elderly. To this day, Evita remains a part of the country's beliefs and ideals.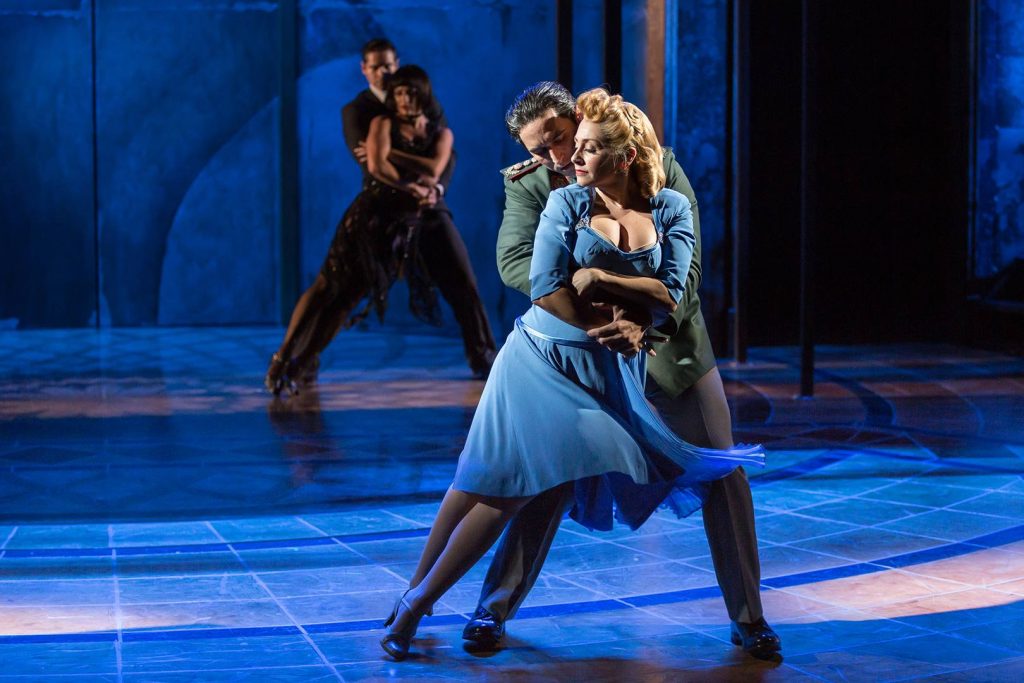 Aravena is fantastic in the role, as she embodies everything that makes Evita an icon. Her singing and dancing are fantastic, shining with numbers like "Buenos Aires" and "Goodnight and Thank You." And of course, there is the number which everyone knows and became more of a hit than even the show's creators ever expected.  Aravena brought down the house with her rendition of "Don't Cry For Me Argentina," which had the collective audience captivated as they sat gazing in wonderment. It was the moment we all knew was coming, but could not possibly prepare for how beautiful it would be.
The show is narrated by Che, played by Pepe Nufrio. The actor is tremendously talented as he takes us through the life of Evita, starting with her death in 1952 ("Requiem" and "Of What A Circus") and traveling back to the beginning to tell her story. Nufrio has a charisma that leaps off the stage, and a beautiful singing voice to match. His song with Aravena in ACT II, "High Flying, Adored" is wonderful. Not only does he help the audience understand what is going on over the span of nearly two decades, but keeps things quite entertaining as well. His performance is charming and heartfelt from beginning to end.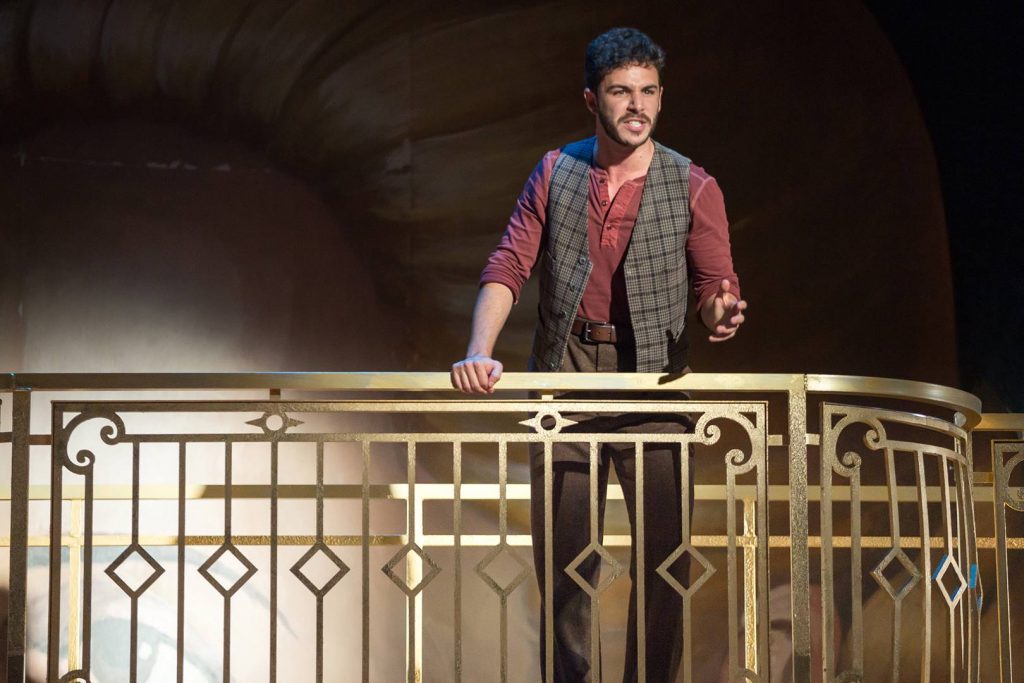 MacLaughlin is formidable and captivating as the leader of Argentina, Juan Perón. We see him defeating his enemies in "The Art of the Possible," and then falling in love with Eva in "I'd Be Surprisingly Good For You." The actor is great living at both ends of the spectrum and has wonderful chemistry with Aravena.
The choreography by Gustavo Zajac is magnificent, using every inch of The Rep's beautiful stage to its fullest potential. This cast of twenty-one actors fills the stage, comprised of two levels, and creates quite the spectacle. Zajac made sure that the movements were authentic to Argentinian dance, introducing many elements including folk dance. It all adds to the authentic feel of the country and time period, which the show excels at delivering.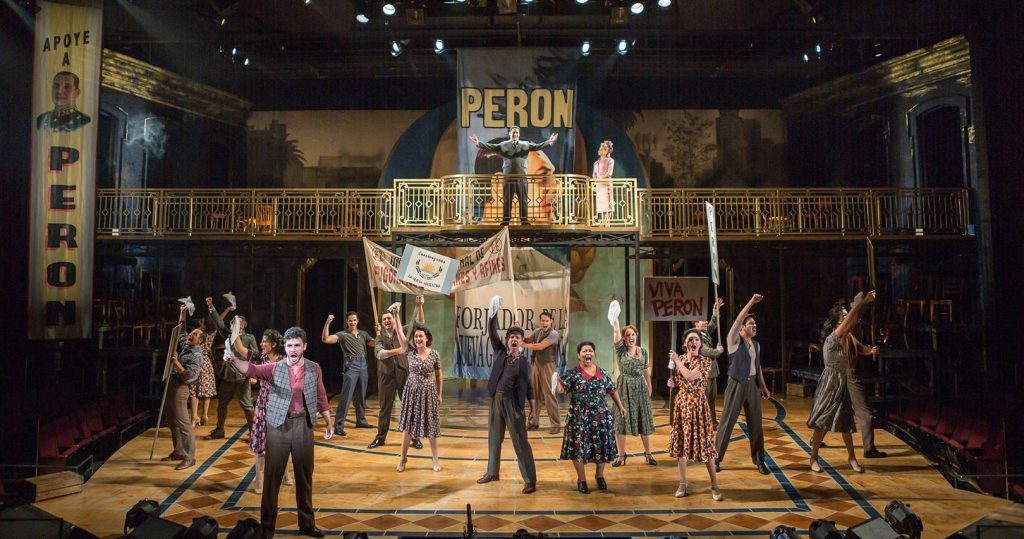 Scenic designer Luke Cantarella does a phenomenal job with the set, taking the audience to the Argentina of the 1930s through the 1950s. With the beautiful tile floors, gorgeous backdrops, and a spectacular mural of Evita as the centerpiece – the set is amazing. Eva and Juan Perón give their speeches from the second story of the stage, decorated by a golden railing, creating a realistic feeling of talking to the people of Argentina. The stage also features a rotating platform, which is incorporated seamlessly into the show.
There is no question that Andrew Lloyd Webber is a musical genius, and the music in Evita is no exception. This production incorporates a twelve-member orchestra, lead by Charlie Alterman, which sounds fantastic. The music is so moving and powerful, and is sure to stay with you for days after the show. I personally have not been able to stop thinking of it, and these musicians have done a terrific job.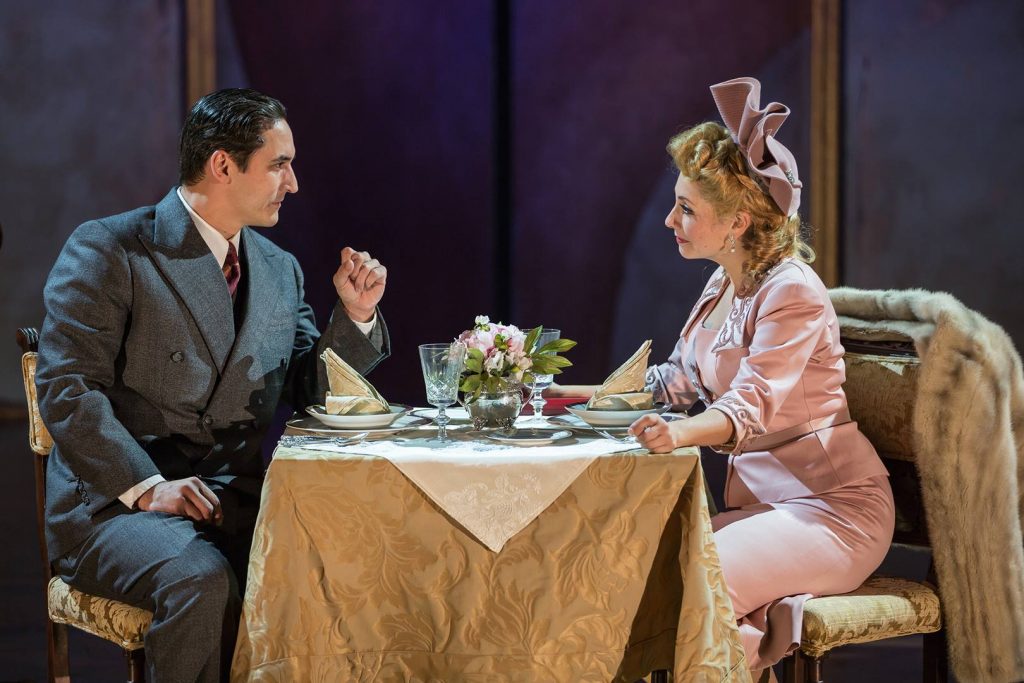 This production of Evita is a must-see, and a terrific way to kick off an exciting season at The Rep. Full of great songs, terrific music, and memorable performances – there is no question as to why this show has lived on for decades. It is a fascinating story, about a cultural icon who has impacted many generations and generations to come.
See Evita at the Repertory Theatre of St. Louis, now through September 30. Tickets are available at repstl.org, and range from $29 TO $102. For more information, visit RepSTL.org.