Theatre Review: 'A Doll's House Part 2' Continues 140-Year-Old Story at The Rep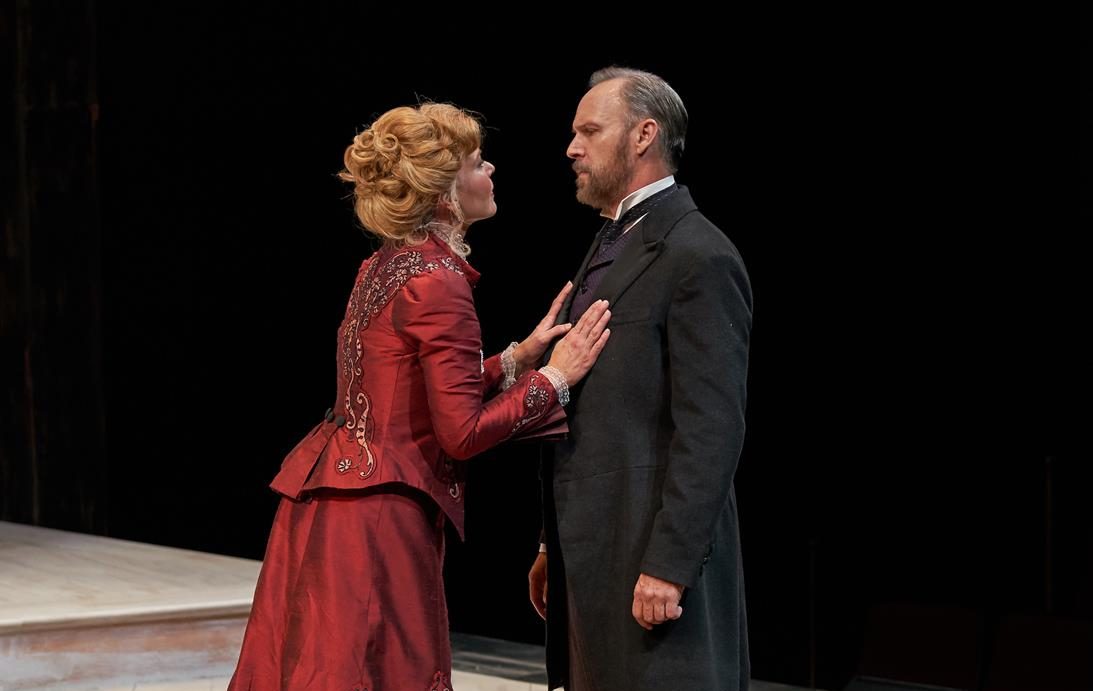 It isn't often that we get a direct sequel to writing from nearly 140 years ago. Yet that is exactly what audiences have in store for them as they see A Doll's House Part 2 at The Repertory Theatre of St. Louis.
Written by Henrik Ibsen, A Doll's House premiered in Denmark in December of 1879. The story deals with the marriage of Nora and Torvald Helmer, which progressively breaks down throughout the play and eventually leads to Nora's departure. For all these years, her fate has remained a mystery. That is until Lucas Hnath wrote the sequel which debuted in 2017, taking place 15 years after the events of the first play. We finally get to find out what Nora has been up to all these years, and how Torvald and their family have managed without her.
The show begins as the family's nanny and general caretaker Anne Marie (Tina Johnson) receives a visitor at the door. It is none other than Nora (Caralyn Kozlowski), who wrote ahead of her arrival, yet didn't mention the matter of her visit. Eventually, the truth comes out about what she's been up to all these years, and now Nora needs the help of both Anne Marie and Torvald (Michael James Reed). Because of the way she left her children, Nora is reluctant to see them while she is in town. Yet when she doesn't get far with Torvald, she is left with asking for her daughter Emmy's (Andrea Abello) assistance. More and more surprises unfold, as we watch this broken family try and work through their differences and years of pain.
The entire cast is excellent, comprised of only four actors. Kozlowski is phenomenal as the strong-willed and opinionated Nora. Her thinking for the 1800s is very progressive, and she is not afraid to voice her opinions on men and marriage. It is quite enjoyable watching her pitch these radical ideas to Anne Marie, who tries her best to hold her own in the conversation. The two play off one another excellently and are always fun to watch interact.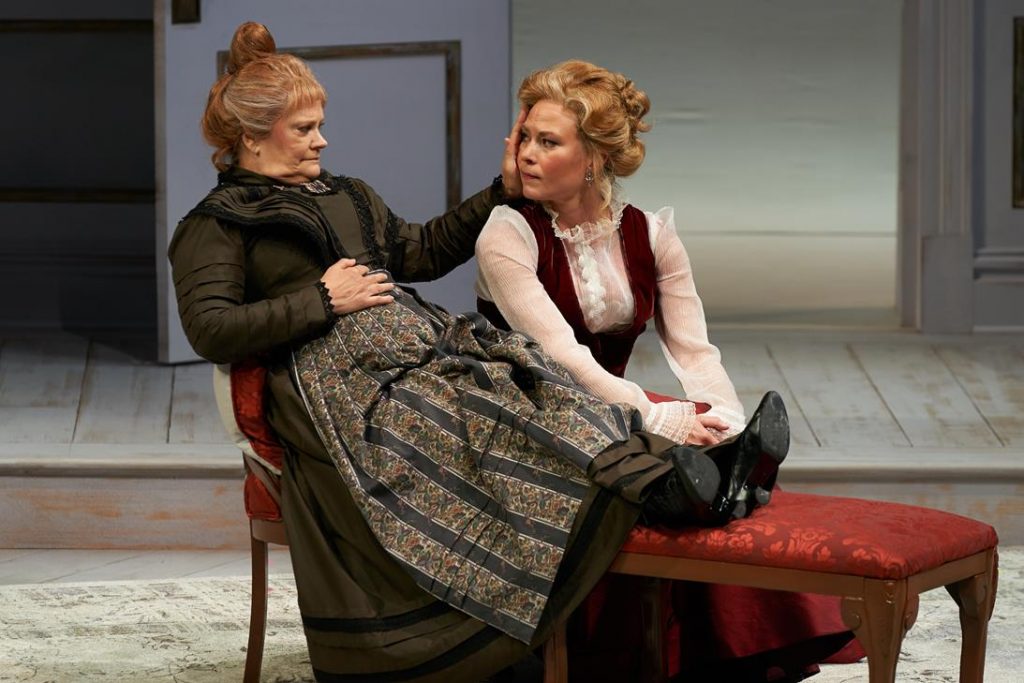 Johnson's character accounts for much of the comedic relief in an otherwise mostly serious show, and it is much welcomed by the audience.
Kozlowski and Reed put on terrific performances as they go head to head, trying to win the argument over who was right and who was wrong in their marriage. Fifteen years of pain, anger, and everything in-between are unloaded during the intermission-less play. Both actors are phenomenal, never ceasing to convince the audience of their characters' pain.
Andrea Abello is terrific as Emmy Helmer, who is intelligent and wise beyond her years. Her mother leaving at a young age forced her to grow up quickly, and help to take care of her father and brother. She is also very strong-willed like her mother, and like Nora never is afraid to say what is on her mind. Abello may share less stage time than the other actors, but she is a delight to watch whenever she is on.
Theatergoers can always count on fantastic set designs from The Rep, and this show is no exception. Scott C. Neale is responsible for building the Helmer household, which makes use of limited space to create the illusion of a much larger living area. The opening of the stage runs parallel to the design of the auditorium and fits in perfectly. The cast moves around chairs and other furniture in-between scenes, and the room transitions smoothly as the play goes on.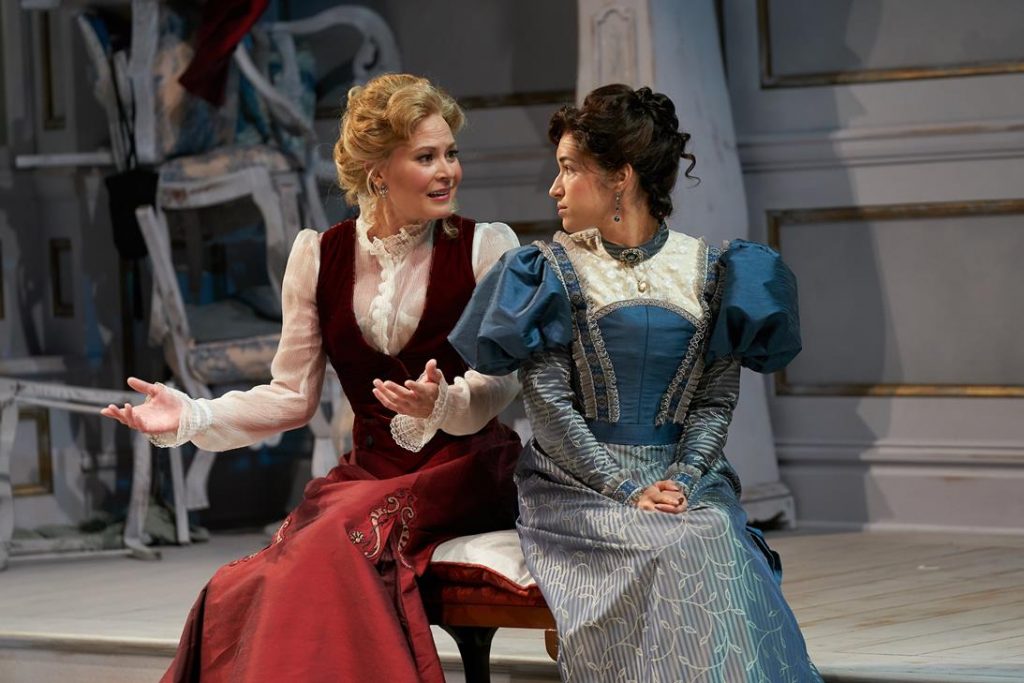 The costumes, designed by Victoria Livingston-Hall, are beautifully crafted – especially the outfit worn by Kozlowski. Throughout the play, Nora strips of layers of her elaborately designed dress – simultaneously lightening the burden of carrying years of unspoken emotions.  All of the dresses and suits are authentic to the time period and look fantastic.
It isn't necessary to have seen the play or the 1973 film adaptation (starring Anthony Hopkins and Claire Bloom) to enjoy A Doll's House Part 2. It is fairly easy to understand what happened 15 years ago within the first fifteen minutes of the play, and from there it is a compelling story full of wonderful performances. Under the direction of Timothy Near, the show has a lot to say and, even though it takes place in the late 1800s, manages to speak to issues that are relevant now. It may have been a long time to wait for the rest of the story, but audiences will find that their patience has paid off.
See A Doll's House Part 2 at The Repertory Theatre of St. Louis, now through November 4. Tickets are available at RepSTL.org, and range from $19 TO $92.
Photos by Peter Wochniak.