Theatre Review: 'Born Yesterday' Ends Rep's 51st Season With Smarts & Laughs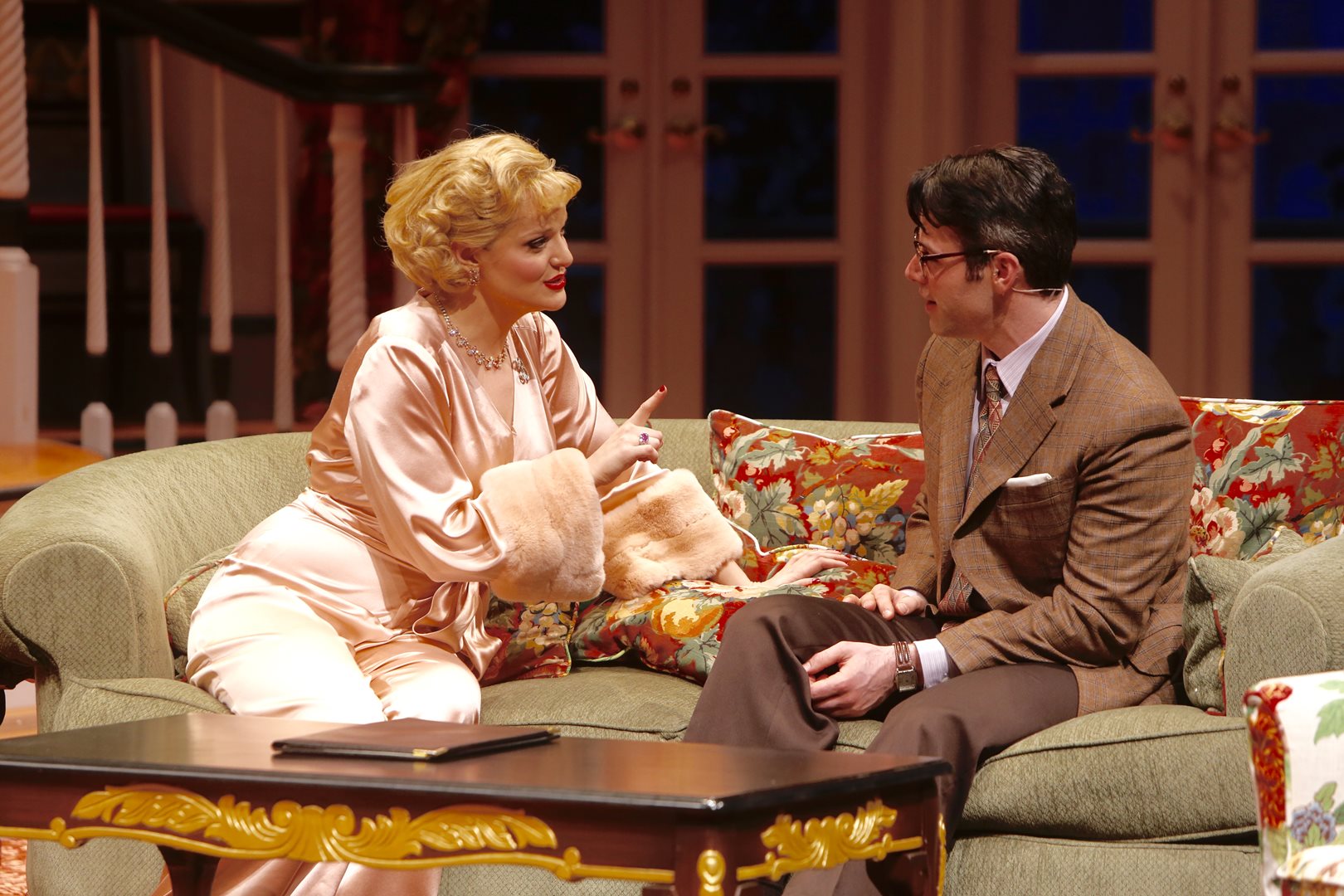 It's amazing how a work of art can seem just as relevant today as it did when it was created decades ago. Although it can seem a bit unsettling when it has to do with our country, and our lives, it is impressive how such a smart piece of work can stand the test of time. Born Yesterday opened on Broadway over seventy years ago in 1946, written by Garson Kanin. It was adapted into two films (1950 and 1993), and is now playing The Repertory Theatre of St. Louis. And had I not known of the show's history, I would have believed it was "born yesterday" as well.
Businessman Harry Brock (Andy Prosky) just arrived in Washington, D.C., on a mission to make friends with politicians that will help his junk business. Along for the ride is his girlfriend Billie Dawn (Ruth Pferdehirt), a former actress who isn't the brightest bulb in the box – yet claims that she likes "being dumb." After an embarrassing meeting with a senator and his wife, Harry's lawyer Ed Devery (Ted Deasy) suggests that Billie needs an education in how to act while in the Capitol. But when he hires reporter Paul Verrall (Aaron Bartz) to educate his strong-headed ladyfriend, Harry gets much more than he bargained for.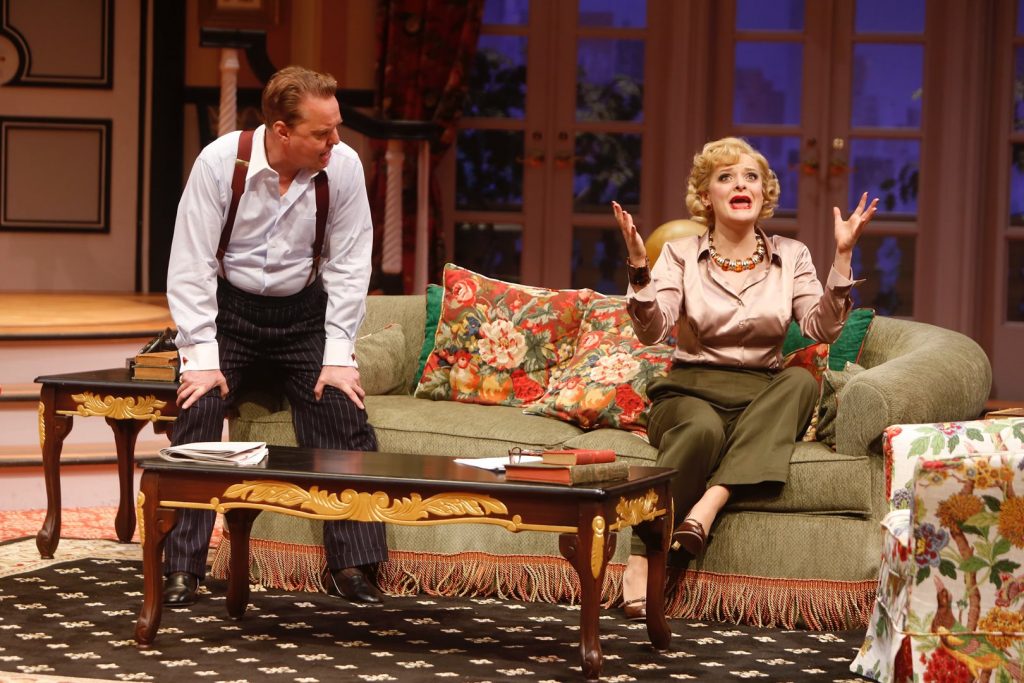 The Rep's production of Born Yesterday features a jaw-dropping set that will wow audiences from the moment they enter the auditorium. The beautiful hotel room set was designed by James Morgan, who has many impressive credits on and off Broadway. Paired with lighting design by Mary Jo Dondlinger, the breathtaking design made a wonderful playground for the colorful characters.
The show is full of excellent performances, but without a doubt, it is Ruth Pferdehirt who steals the spotlight whenever she is on stage. Pferdehirt is charismatic and hilarious as Billie, a woman who has been happy just being Harry's girlfriend until now. Her portrayal of the character is perfection, delighting the audience as she struggles with newspapers, books, dictionaries – and all of the other tools which progress her newfound knowledge. Her chemistry with Aaron Bartz as Paul Verrall is off the charts, as their relationship undergoes its entertaining metamorphosis. Bartz is charming, witty, and plays the educated journalist very well.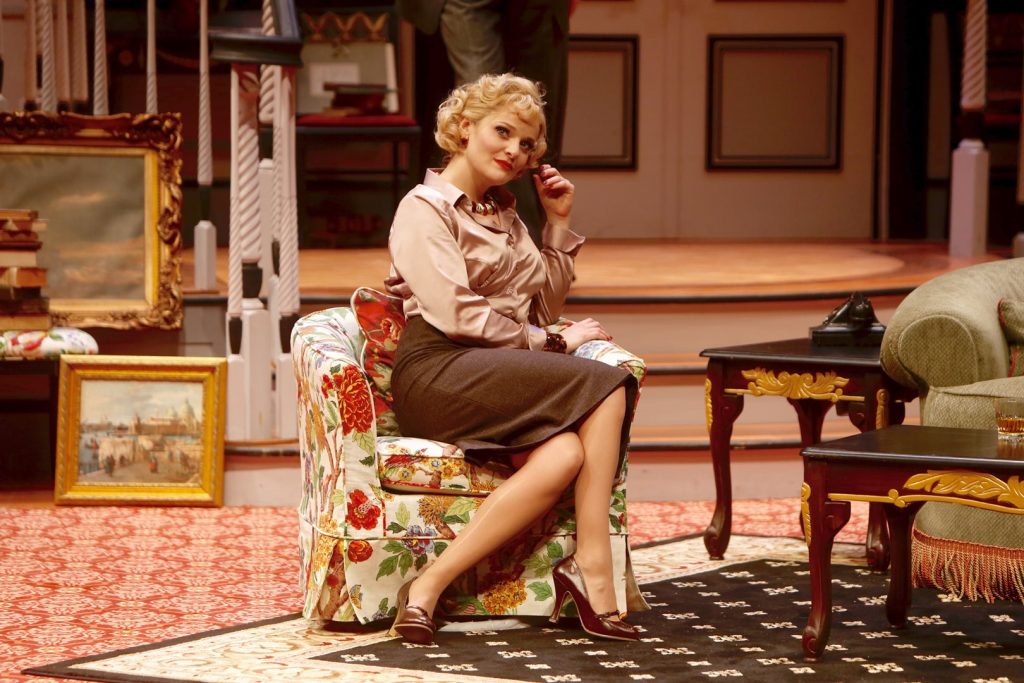 Andy Prosky is wonderful as the abrasive, condescending Harry Brock. Harry is a hard-working, hard-headed businessman with new money – and doesn't quite fit in among his peers. Prosky does a great job of playing a thug who tries to strongarm his way through Washington. Randy Donaldson plays his cousin Eddie, who acts as his muscle and jumps every time he barks. The way he plays the submissive character is very believable, clearly used to being intimidated into doing whatever his cousin tells him to.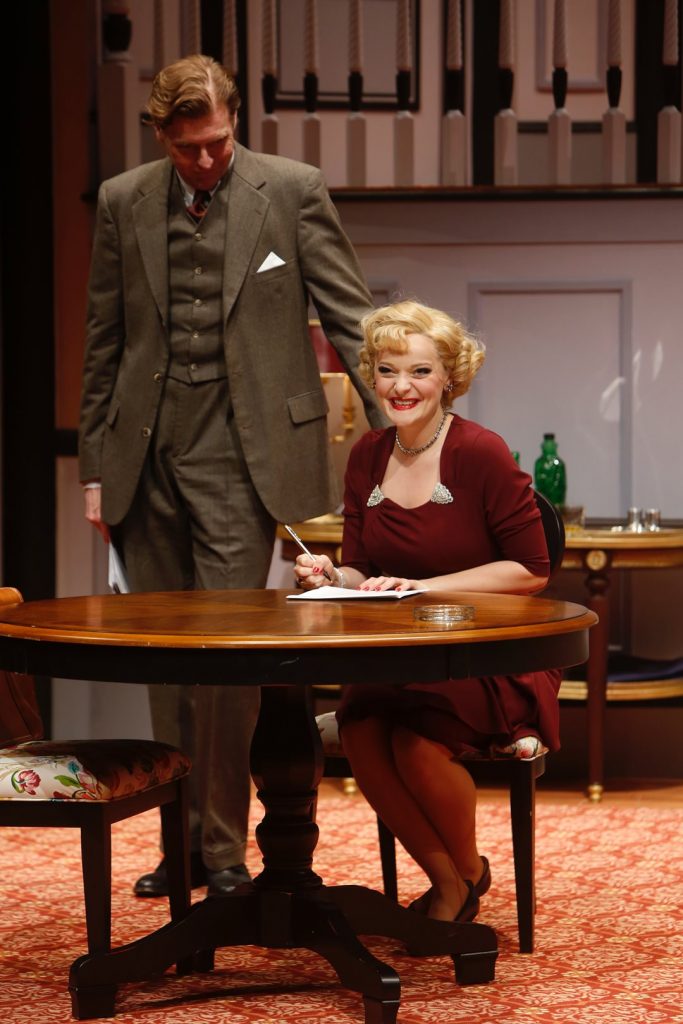 Lawyers usually get a bad rap when it comes to their portrayal in film and on-stage, and Ed Devery (Harry's partner in crime) doesn't do the profession any favors. Ted Deasy is great as the weasely lawyer who will do and say anything to keep his client happy. Ed advises Harry on his every move while in D.C., including getting Paul to tutor Billie. Deasy plays the alcoholic attorney with panache, as the character drinks away whatever remaining dignity he has left.
Director Pamela Hunt returns to The Rep (where she has directed ten shows since 1983) for the first time since 2011 (Beehive). Hunt's talent and experience pay off, as the show comes to life just as masterfully as ever. There is a great balance between the seriousness and humor of what's taking place, and the director brings out the best in her actors. No matter how funny things get, the performances are always taken seriously and it pays off in a big way.
As the United States and our politicians are no strangers to corruption, it's as perfect a time as ever for Born Yesterday. This witty satire tackles subjects that feel all too familiar, while administering plenty of laughs through fantastic performances. It's the best of both worlds, as you'll have a great time out and still stop to think along the way.
Born Yesterday closes The Rep's 51st season, March 16 – April 8. Tickets range from $18.50 – $89, and are available here.  For more information about the show, visit repstl.org.
Photos by Jerry Naunheim, Jr.