Theatre Review: 'Avenue Q' is All Laughs With No Strings Attached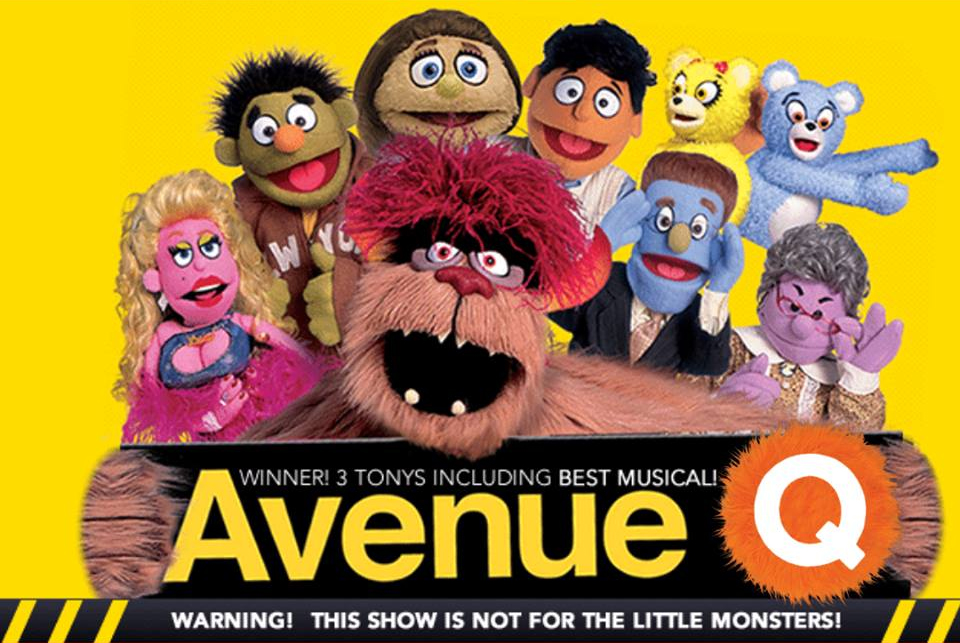 For the first time since the national tour in 2010, the three-time Tony Award-winning musical Avenue Q is back in St. Louis – and better than ever!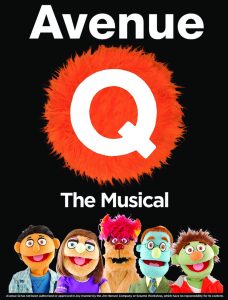 Playing now at The Playhouse at Westport Plaza through March 3, this is one of the funniest shows you can see at the theater. And although it is mostly comprised of cute-looking puppets, be warned – this show is not for kids! And for a night full of laughs for adults, that is what makes it a must-see.
After arriving in New York, fresh-faced college graduate Princeton (Andrew Keeler) starts on Avenue A and works his way down until he finds an apartment to rent on Avenue Q. There he meets a lovable cast of characters: Brian (Brett Ambler), Kate Monster (Jennifer Theby-Quinn), Rod (also played by Keeler), Nicky and Trekkie Monster (Kevin O'Brien), Christmas Eve (Grace Langford), and Gary Coleman (Illeana Kirven).
Yes, Gary Coleman is the landlord of Avenue Q.
The characters don't hold back when it comes to singing about their lives on Avenue Q. Songs like "It Sucks To Be Me," "Purpose," "Everyone's A Little Bit Racist," and "The Internet Is For Porn" are just a few of the early ones that have the audience rolling before intermission. If the titles aren't enough of a giveaway for what you are getting into with this show, let me put it this way: it isn't for the easily offended. The words "political correctness" never make it past the entrance to the theater, so if that isn't for you – be warned.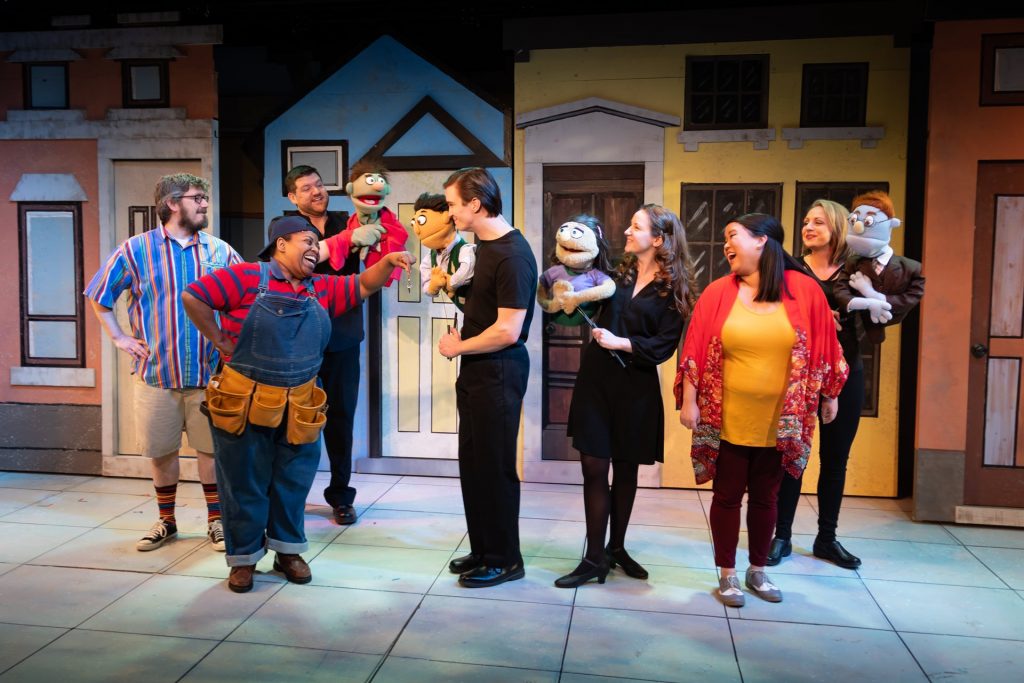 Avenue Q is written in the vein of shows like The Book of Mormon (which also features songs by Robert Lopez, and was created by Trey Parker and Matt Stone), or Mel Brooks' famous comedy Blazing Saddles. There is something in it to offend everyone, and nobody is off limits. But for adults who can keep an open mind and just sit back and laugh endlessly, the musical is an absolute blast!
Again, this is a show that has "Mature Audiences: Full Puppet Nudity" on the promotional material. And that warning goes along with one of the most hilarious parts (think the movie Team America: World Police, also created by Parker and Stone, if you have ever seen it).
The cast is extremely talented, with all of the puppeteers playing multiple characters while singing and acting. The way they bounce back and forth between characters, often times handing off a puppet to one another, is extremely impressive. Sometimes they will be voicing one puppet while another actor does the movements, and at the same time controlling a puppet of their own. They make it look easy, and that is not a simple task.
Keeler and Theby-Quinn are great together, as they convince the audience that a relationship is blooming between Princeton and Kate Monster. Both have terrific voices, and are a delight to watch throughout the entire performance. Although they might be considered the "leads" if you had to pick them, the entire cast shines and are fantastic.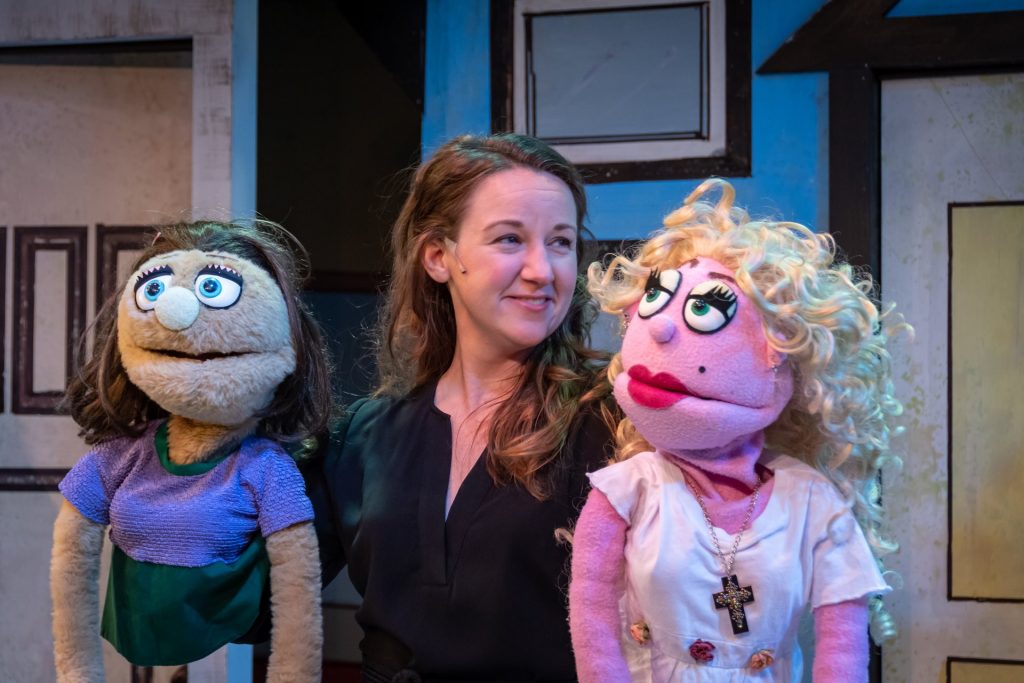 I also have to mention how great Theby-Quinn is at portraying Lucy, a character who tries to get between Princeton and Kate Monster. It's great watching her as she switches between the two characters with the help of April Strelinger (who also plays "Mrs. T" and one of the Bad Idea Bears – along with controlling half of Trekkie Monster).
The human cast does a great job interacting with the puppets, their character never eluding to the fact that there is a puppeteer beside the character they are speaking to (or often singing with). Ambler has a seemingly endless amount of charisma as Brian, the unemployed stand-up comedian, as does Kirven as TV's Gary Coleman. And the wonderful Grace Langford is Brian's wife – Christmas Eve.
With terrific songs by Robert Lopez (Book of Mormon, Frozen, Coco) and Jeff Marx, and a hilarious book by Jeff Whitty (Bring It On The Musical), Avenue Q is one of the most entertaining shows you could possibly see at the theater right now. It has been nearly a decade since this delightful show has been in town, and you certainly won't want to miss it while it is here. And after seeing it, you'll most likely want to catch it again, and again.
See Avenue Q now through March 3 at The Playhouse at Westport Plaza. Tickets range from $50-$75, and are available via MetroTix. For more information, visit the official Playhouse website at playhouseatwestport.com.