Theatre Review: "Anything Goes" at New Line Theatre (March 1-24)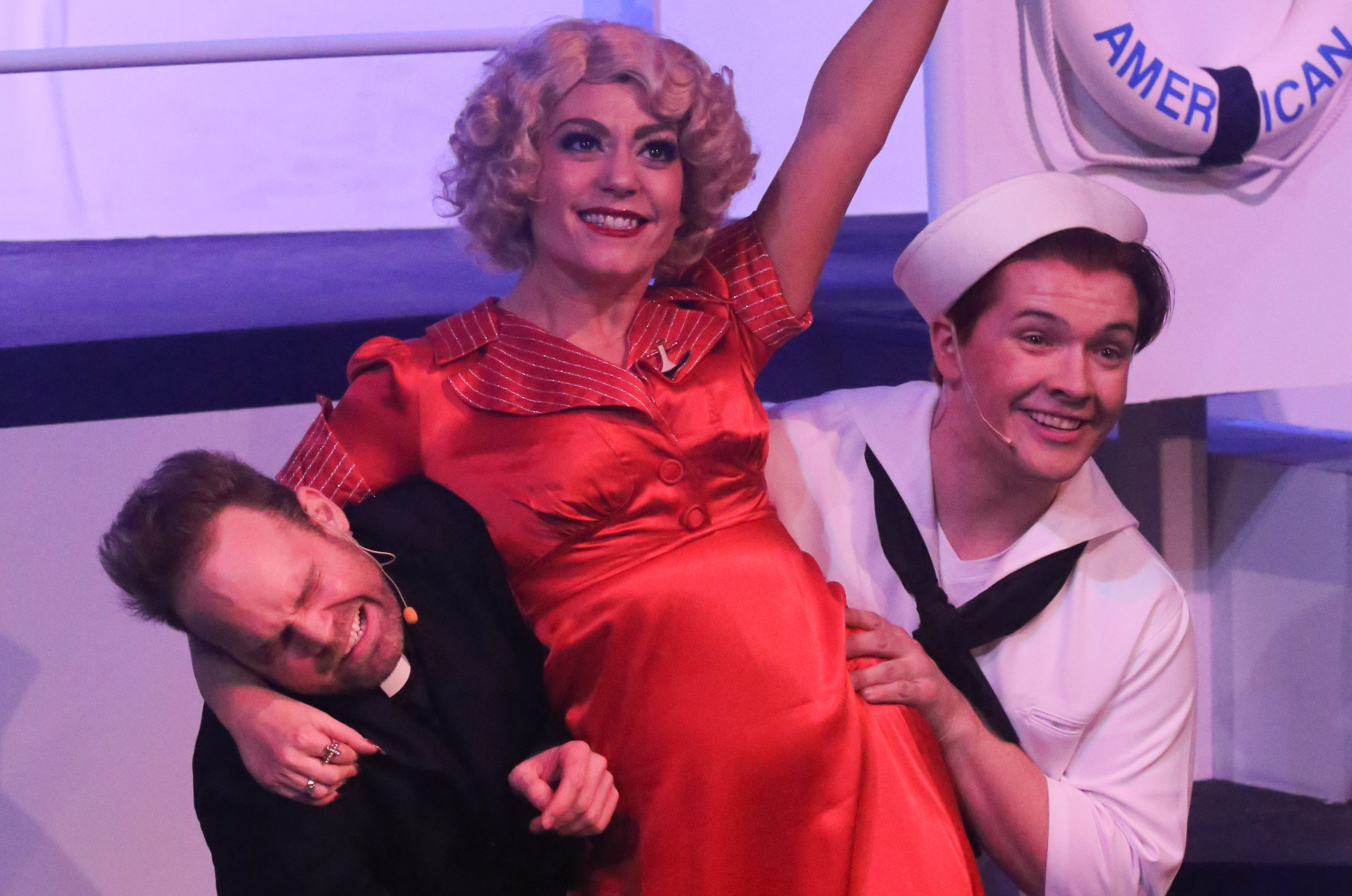 Anything Goes is a musical packed full of terrific songs and memorable moments. The music and lyrics are by Cole Porter, while Howard Linday and Russel Crouse (The Sound of Music) are responsible for re-writing the book by Guy Bolton and P.G. Wodehouse.
There are four versions written for the stage: 1934, 1962, 1987, and 2011. Three films have been adapted from the show: one in 1936 starring Bing Crosby and Ethel Merman (who played Reno in the original Broadway production), a 1954 version starring Frank Sinatra and Ethel Merman produced for the "Colgate Comedy Hour," plus a 1956 film starring Bing Crosby and Donald O'Connor – with different characters, a different plot, and different songs.
The 1936 film is a fairly faithful adaptation of the original show from two years earlier. The Sinatra film is similar, yet condensed into an hour. I've also seen the 2011 revival, which was really good. And now, thanks to New Line, I've finally had a chance to see the 1962 Off-Broadway version. From my experience and research, this is absolutely the best version of the show.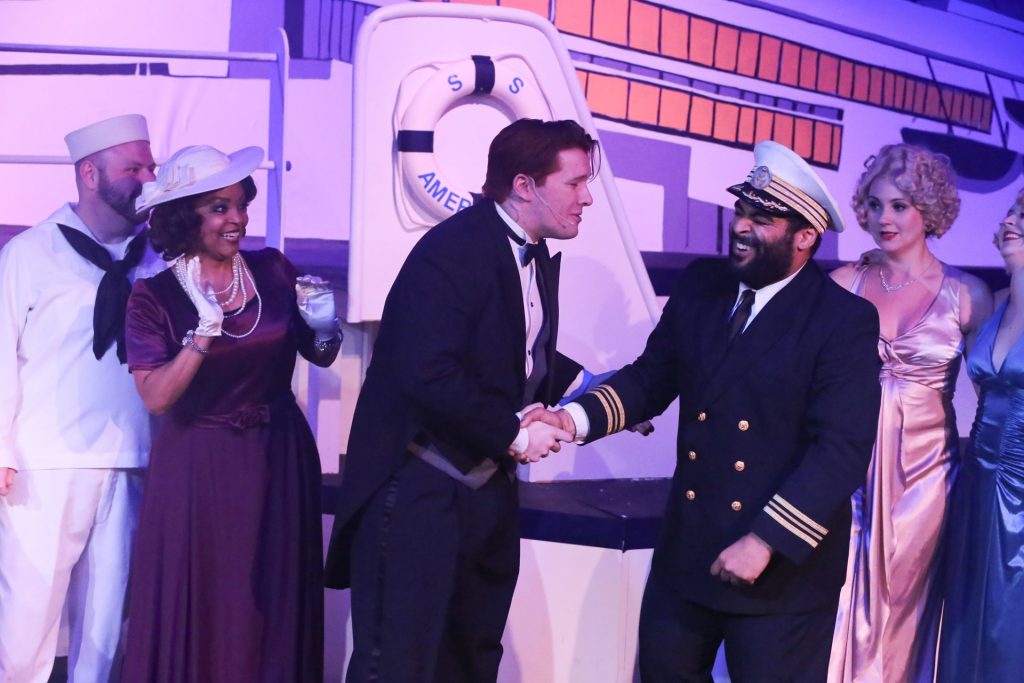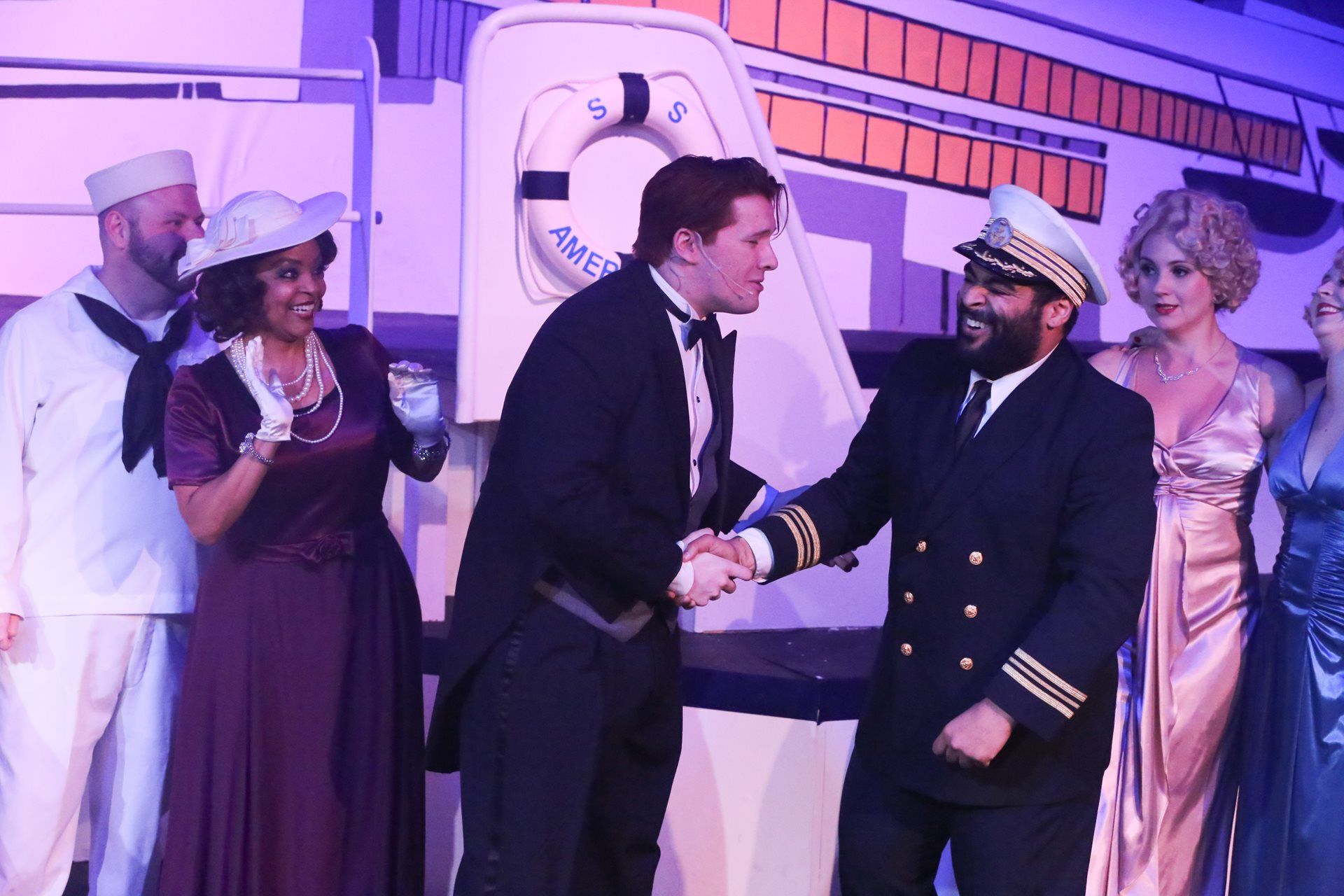 The Anything Goes that opened last weekend at the Marcelle Theatre includes several updates to the libretto added from the films, as well as many fantastic songs from other Cole Porter musicals. The '62 version brings in "It's De-Lovely," "Friendship," "Let's Misbehave," and "Take Me Back to Manhattan" to the show – all welcomed additions. It also includes "Heaven Hop," which is a great dance number.
While Billy Crocker (Evan Fornachon) prepares his boss Mr. Whitney (Jeffrey M. Wright) to set sail for London, he runs into his friend Reno Sweeney (Sarah Porter) – a popular nightclub singer – and her "angels" (Michelle Sauer, Larissa White, Alyssa Wolf, and Sara Rae Womack). Reno tries to convince Billy to set sail, but he declines. That is until he notices Ms. Hope Harcourt (Eileen Engel), a woman he spent an unforgettable night with, is boarding the ship. Although he discovers she is set to be married to Sir Evelyn Oakleigh (Zachary Allen Farmer), he decides to sneak on board to win her over with the help of two criminals on the run: Moonface Martin (Aaron Allen) and Bonnie (Sarah Dowling). Always the joker, Billy uses his knack for disguises and accents to work his way around the ship to win over Hope before it's too late.
The show takes place aboard the S.S. American, an impressive set designed by Rob Lippert. The ship had my full attention from the moment I entered the auditorium, utilizing the entire length of the room. The New Line Band is cleverly placed at the bow of the ship, where conductor Nicolas Valdez plays piano and leads his band of sailors. Lippert is a brilliant designer, who has been delighting audiences at New Line for several years with his creations.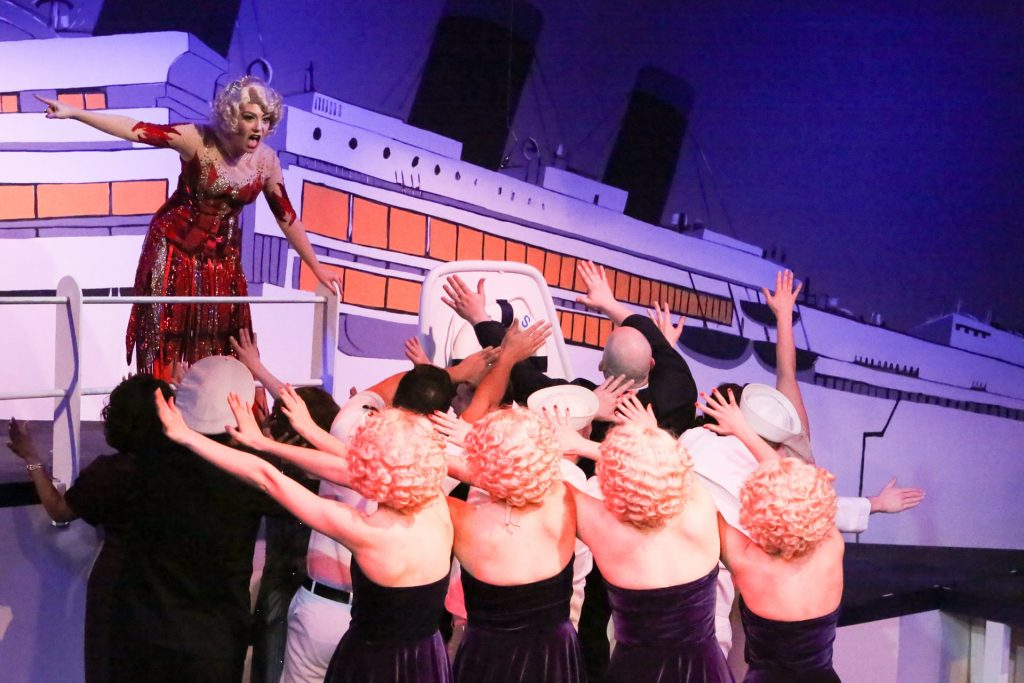 Directors Scott Miller and Mike Dowdy-Windsor have a gift for finding the most talented performers for their productions, and this show is no exception. The entire cast of Anything Goes is simply marvelous. The talented Evan Fornachon, who wowed audiences in New Line's Heathers and American Idiot, is perfect as Billy Crocker. The character was originally written to utilize the talents of comedian William Gaxton, which included many characters and disguises. Fornachon is able to quickly change his appearance and accent, putting on a hilarious performance while outsmarting his fellow passengers. He also has a great singing voice, as evidenced in "All Through The Night."
Eileen Engel and Zachary Allen Farmer are fantastic as the couple engaged to be wed. Although the two characters couldn't seem more wrong for one another, Hope feels obligated to her pushy mother (played by Kimmie Kid-Booker) and Evelyn is honor-bound to his betrothed. The two actors play off one another very well, creating many dry laughs as the audience continues to root for Billy and Hope. Meanwhile, Reno becomes smitten with Evelyn – yet can't seem to break through his humorous misunderstanding of American colloquialisms. Engel excels at playing the sweet bride-to-be, struggling with a choice that will shape her future. And Zachary Allen Farmer is terrific as always, masterfully delivering the proper accent for the English lord.
The immensely talented Sarah Porter shines as Reno Sweeney. The radiant actor has the voice of a nightingale, flying audiences to the moon as the evangelist turned nightclub act. Her performance of "You're the Top" with Evan is so much fun, and I love when she sings "I Get a Kick Out of You." This version of the show is the only one which puts the song toward the end of ACT I, where all of the others start with it. This version takes on a completely different meaning, and has a much greater impact as the audience realizes what Reno is struggling with. And of course,  Porter sings the title song, "Anything Goes," which is wonderful.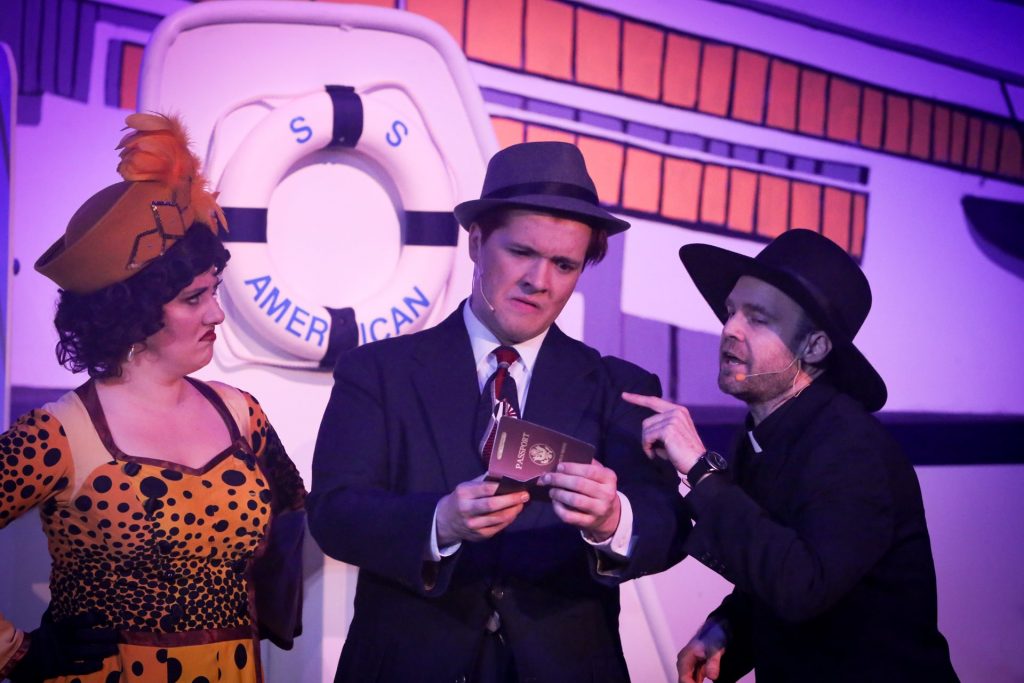 Aaron Allen and Sarah Gene Dowling light up the stage whenever they appear as "Public Enemy 13" Moonface Martin and Bonnie. Allen is absolutely hilarious as the slow-witted gangster, continually causing the audience to erupt with laughter. I can't imagine better casting for the character, and Allen's performance is to die for. He gives a fantastic rendition of "Be Like the Bluebird," which still has me smiling just thinking about it. Meanwhile, Dowling is downright delightful as his partner in crime, trying to keep him on track long enough to stay out of jail. She is able to switch between hard-nosed thug and radiant chorus girl without ever skipping a beat. It is impossible not to smile as she delights the crowd with her adorable performance of "Heaven Hop," as she tries to fit in with the Reno's angels.
Speaking of the angels, all four of the women are wonderful as they sing and dance around the ship throughout the show. Each of them (as Purity, Chastity, Charity, and Virtue) bring something different to the table, and it is fun to watch for all of the differences in their personalities. Not only are they talented performers, but are also responsible for quite a few laughs. It's the little things, like watching Larissa White slowly raise her dress to show off her leg for Billy, which make the show even funnier.
Jeffrey Wright starred in the first show I ever saw at New Line, High Fidelity, and instantly became one of my favorite actors to look for. After several great performances with New Line, it has been a while since I have seen him in one of their shows. His long-anticipated return quickly exceeds expectations with his comedic portrayal of the arrogant businessman Mr. Whitney. His gruff delivery and harsh attitude are turned up to 11, making it is so much fun watching him do what he does best. Once the character loses his glasses and hits the bar, Wright is at his finest.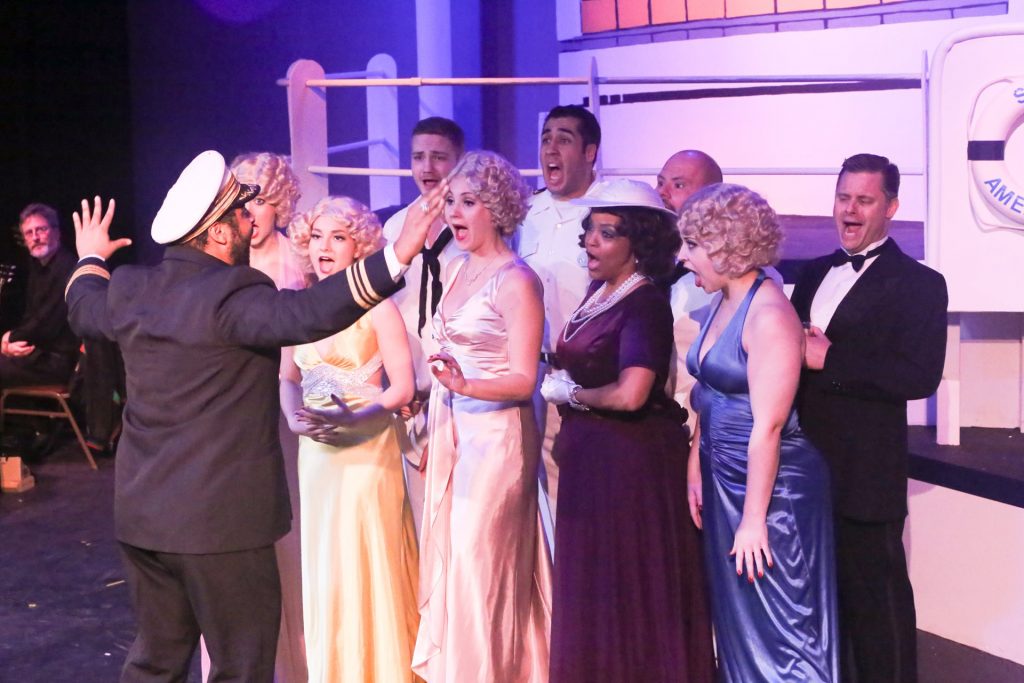 Dominic Dowdy-Windsor plays the friendly Bishop who is mistaken for one of the criminals early on in the show. He then returns as the captain of the ship and is great as always. Will Pendergast is solid as both a reporter and the Purser who is trying to track down the disguised gangsters for the rest of the voyage. Meanwhile, Jason Blackburn and Clayton Humburg are fun to watch as sailors who interact with the angels and keep the ship sailing.
The New Line Band sounds great as they honor Cole Porter with their performance of his best work. And the cast looks great as the dance to the terrific choreography of Michelle Sauer and Sara Rae Womack. Everything about the show is extraordinary, and I couldn't wipe the silly grin off my face until long after the final number. New Line has yet another hit on their hands, as they introduce audiences to a version of Anything Goes that they are not likely to have seen before. And in my opinion, the very best version possible.
The New Line Theatre production of Anything Goes plays the Marcelle Theatre March 1-24, Thursday through Saturday evenings at 8pm. Tickets are $20 for adults and $15 for students/seniors, available through Metrotix.  For more information about the show, visit newlinetheatre.com.
Photos by Jill Ritter Lindberg.