THE TOWN OPENS SEPTEMBER 17 NATIONWIDE.
Enter for your chance to win a pass, good for two!
Synopsis: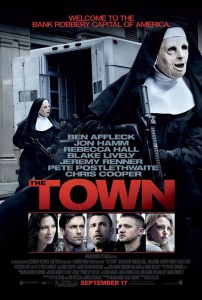 Doug MacRay is an unrepentant criminal, the de facto leader of a group of ruthless bank robbers who pride themselves in stealing what they want and getting out clean. With no real attachments, Doug never has to fear losing anyone close to him. But that all changed on the gang's latest job, when they briefly took a hostage–bank manager, Claire Keesey. Though they let her go unharmed, Claire is nervously aware that the robbers know her name and where she lives. But she lets her guard down when she meets an unassuming and rather charming man named Doug not realizing that he is the same man who only days earlier had terrorized her. The instant attraction between them gradually turns into a passionate romance that threatens to take them both down a dangerous, and potentially deadly, path.
In order to enter the contest, become a fan of ReviewSTL on Facebook and suggest ReviewSTL.com to all your friends (click the "suggest to friends" link on the left side of the page). Then post a comment on the ReviewSTL fan page telling us why you want to see the movie! NO PURCHASE NECESSARY. PLEASE REMEMBER TO READ THE RULES!
SCREENING IS MONDAY, SEPTEMBER 13.
Good luck! We hope to see you at the movies!
[hdplay id=137 width=595 height=375]