THE TOURIST Opens DECEMBER 10! Enter to Win Passes to the St. Louis Advance Screening!
THE TOURIST OPENS DECEMBER 10 NATIONWIDE.
Enter for your chance to win a pass, good for two!
Synopsis: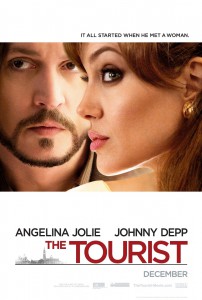 During an impromptu trip to Europe to mend a broken heart, Frank unexpectedly finds himself in a flirtatious encounter with Elise , an extraordinary woman who deliberately crosses his path. Against the breathtaking backdrop of Paris and Venice, their whirlwind romance quickly evolves as they find themselves unwittingly thrust into a deadly game of cat and mouse.
Starring: Angelina Jolie, Johnny Depp, Paul Bettany
Directed By: Florian Henckel von Donnersmarck
In order to enter the contest, become a fan of ReviewSTL on Facebook and suggest ReviewSTL.com to all your friends (click the "suggest to friends" link on the left side of the page). Then post a comment on the ReviewSTL fan page telling us why you want to see the movie! NO PURCHASE NECESSARY. PLEASE REMEMBER TO READ THE RULES!
SCREENING IS THURSDAY, DECEMBER 9.
Good luck! We hope to see you at the movies!
[hdplay id=212 width=595 height=375]