THE SQUARE Opens This Friday, May 14 at the Tivoli Theatre in St. Louis! Win a Pass to Watch the Film!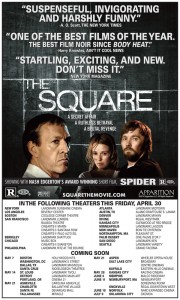 THE SQUARE opens at the Tivoli Theatre in St. Louis Friday, May 14th!
Enter for a chance to win a pass to see the movie during it's run of engagement, and a poster signed by the director!  In order to enter, simply leave a comment below stating why you are excited about seeing the movie! Winners will be chosen and notified via e-mail. NO PURCHASE NECESSARY.
SYNOPSIS:
A stylish, twist-filled film noir, THE SQUARE centers on an adulterous couple whose scheming leads to arson, blackmail and murder. THE SQUARE is the first feature from Australian stuntman-turned-director Nash Edgerton and his brother Joel who co-wrote and stars in the film.
Escaping the monotony of a loveless marriage, Raymond Yale becomes entangled in an affair with the beautiful and troubled Carla. Ray's moral limits are tested when Carla presents him with the proceeds of her controlling husband's latest crime. This is their chance: Take the money and run… If only it were that simple.
The seed is planted and Ray, fearing he will lose his love, engineers the plan. Hiring the professional arsonist Billy becomes a fatal error, and the plan goes horribly wrong. Alarm bells sound and suspicions are raised but, miraculously, the dust looks to settle. After all… Nobody knows.
Then the first blackmail note arrives.
The couple's nerves are tested as both Carla's husband and the mystery author threaten to throw open their secret… With the blackmailer's deadline approaching, they are going to find out just how far they are willing to go for love.
Nash Edgerton's short film SPIDER, a festival-circuit runaway hit, will be shown preceding THE SQUARE.