'The Smurfs 2' Opens July 31! Enter to Win Passes to the St. Louis Advance Screening!
Enter to win a pass for two!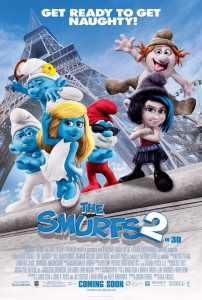 In this sequel to the hybrid live action/animated family blockbuster comedy The Smurfs, the evil wizard Gargamel creates a couple of mischievous Smurf-like creatures called the Naughties that he hopes will let him harness the all-powerful, magical Smurf-essence. But when he discovers that only a real Smurf can give him what he wants, and only a secret spell that Smurfette knows can turn the Naughties into real Smurfs, Gargamel kidnaps Smurfette and brings her to Paris, where he has been winning the adoration of millions as the world's greatest sorcerer. It's up to Papa, Clumsy, Grouchy, and Vanity to return to our world, reunite with their human friends Patrick and Grace Winslow, and rescue her! Will Smurfette, who has always felt different from the other Smurfs, find a new connection with the Naughties Vexy and Hackus? Will the Smurfs convince her that their love for her is True Blue?
Cast: Neil Patrick Harris, Brendan Gleeson, Jayma Mays, Hank Azaria, Katy Perry, Jonathan Winters, Christina Ricci, JB Smoove, George Lopez, Anton Yelchin
Director: Raja Gosnell
The Smurfs 2 opens Friday, July 31!
Use the contest app below to "like" ReviewSTL on Facebook – then tweet, share, or comment for additional entries!
Winners will be chosen at random from all entries. Supplies are limited. Limit one (1) pass per person, passes admit (4) four. Sponsor's employees and their dependants are ineligible. Screening is overbooked to ensure capacity. Please refer to passes for any other possible restrictions. NO PURCHASE NECESSARY.
Screening will take place Sunday, July 28 at at Regal Gravois Bluffs (1pm).