THE RAMS HAVE A NEW OWNER!!!!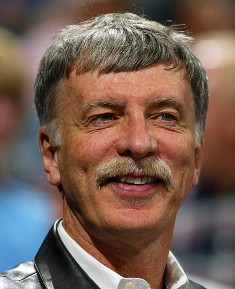 YES ST. LOUIS WE HAVE A NEW OWNER OF THE RAMS…STAN KRONKE!
 The NFL owners unanimously approved Stan Kronke as the seventh majority owner in the 73 year history of the Rams. Stan was a minority owner of the team with Goergia Frontiere (wife of late Carrol Rosenblum) until her death in 2008. When Chip Rosenbloom and Lucia Rodriguez, Georgia's children announced they would be selling the team, Stan stepped up to purchase the additional 60 percent for an estimated $450 million dollars.
 Kronke is a billionaire from Columbia Missouri and his wife Ann is the heir to Wal-Mart franchise. Together their net worth is around $6 billion dollars. Kronke is also owner of the Denver Nuggets, Colorado Avalanche andPepsi center in Denver, Colorado. This made for a small hurdle Stan would have to clear before he could own the Rams. The NFL states the following  "No person who owns a majority interest in, or has direct or indirect operating control of an NFL member club, may own or acquire any interest in a club in another major team sport (baseball, basketball, hockey), except for a club located in: a.) his/her NFL club's home city, or b.) a non-NFL city that is not a potential NFL city." 
To make this loophole go away Stan will transfer majority ownership of the Nuggets and Avalanche to his son Josh Kronke.
Bottom Line: What does this mean for you, the St. Louis Rams fans? You finally have a local, stable and successful owner in place that will invest money into the team and franchise. stan was the principal figure behind the constuction of the new Russell training facility for the Rams. Kronke will be in the building for the games and here to run the team. It also means that all the cries for the team to return to the left coast will finally go away, The Rams are in St. Louis for good! Next up for Stan, the dome…renovate or rebuild.
LA fans I think Jacksonville will be available for about a buck following this season!
I am Ram Man, saying THANK YOU STAN!!!!!!  And I will see you in the endzone!