The Magnetic Fields Create A Strong Attraction at City Winery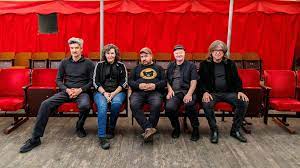 The Magnetic Fields two-night residency at City Winery was more of a marathon than a series of concerts. Playing thirty songs from across their catalog in around ninety minutes, the five-piece unit never mistepped in delivering their unique brand of punchy and quirky melody driven compositions.
Known for their tongue in cheek lyrics that range from the macabre, hysterical, whimsical, and catchy, the band's mordant front man, Stephin Merritt, seldom adheres to the traditional rules of live performance. Instead he presents is songs with simplicity, allowing their pathos, humor, and melancholy to take hold over snappy melodies.
Case in point, the first night's proceedings of their City Winery gigs where the audience saw several aspects of the singer's live persona. Generally, matter of fact, Merritt at times appeared disaffected, while at other times, he was jovial. Firing off quips that adeptly framed the selections performed, he and his bandmates were pleased with the receptive crowd. The light mood was infectious, causing Merrit to be more engaging then he was at previous shows at The Pageant and The Sheldon.
Although brief, his remarks about the songs he wrote provided insight into his creative process. An exceptional songwriter with a gift for expressing many feelings in few words, Merritt's songs alternated from heartbreaking tunes to devious digs and jabs at his subjects.
As witnessed in the opener Castles of America, follow up, I Don't Believe in the Sun and subsequent gems like Andrew in Drag, The Book of Love, Have You Seen It in the Snow, Papa Was a Rodeo, and (I Want to Join A) Biker Gang, Meritt is an entertainer with a gift for making crisp songs that induce singalongs and toe taps.
The Magnetic Fields other vocalist, Shirley Simms, was also in top form. Equally as sardonic as her counterpart, she is a worthy accomplice. Her vocals on Kraftwerk in a Blackout, The Day the Politicians Died, and Quick! were exquisite.
Joining Merritt and Simms in the intimate City Winery setting was cellist Sam Doval, instrumentalist Chris Ewan, and fellow Figures on A Beach cohort Anthony Kaczynski on guitar. Kaczynski delivered one of the evenings best highlights with the up-tempo The Luckiest Guy on the Lower East Side.
Armed with over three decades of skilled musicianship and a sly wit, The Magnetic Fields first night at City Winery featured a tight set that captivated their audience. Stephin Merritt's vocals were flawless, and his band nailed the landing.
Topping off the evening was an exhilarating encore with Merrit promising songs about dead animals before launching into A Chicken With Its Head Cut Off, the lively 100,000 Fireflies and the evening's finale, It's Only Time from their epic 69 Love Songs.
The Magnetic Fields may have packed light for their two-night stayover at City Winery, but the surreptitious orchestral pop they brought along was all they needed to beguile those catching their finely crafted set.
---
For more information on The Magnetic Fields, visit houseoftomorrow.com.