"The Losers" HD Trailer Starring Jeffrey Dean Morgan and Zoe Saldana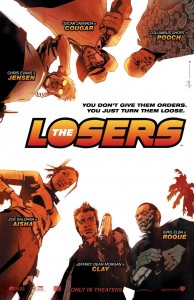 Talk about a trailer that has everything! It has great tunes from Eagles of Death Metal, a hot looking Zoe Saldana, Chris Evans looking like a prat, and a bad ass Jeffrey Dean Morgan, who is starring in yet another DC Comics movie. I've only ever read the first arc of The Losers, but it seemed interesting and Vertigo comics have rarely let me down. This film on the surface seems to share a lot with The A-Team, both are elite units who become outlaws who fight against injustice, etc. I'm hoping these surface issues won't stop people from seeing both. Now that Zoe Saldana is a recognizable face due to Avatar, it might have a slightly better chance of not being a dud at the box office. Director Sylvain White doesn't give me a lot of hope though, with credits that include a shoddy sequel to the I Know What You Did Last Summer series, and Stomp the Yard. We will see how it holds up to the competition in April.
Synopsis:
A highly skilled CIA team is attacked by their own agency and left for dead. They set out to learn why they were betrayed, and to avenge the wrong, as well as other injustices they encounter.
Starring: Jeffrey Dean Morgan, Idris Elba, Zoe Saldana, Holt McCallany, Chris Evans
Directed by: Sylvain White
Produced by: Peter Berg, Kerry Foster, Akiva Goldsman
Genres: Action/Adventure, Thriller and Adaptation
Release Date: April 9th, 2010 (wide)