Interview: Jeff Hobson Returns to The Fabulous Fox With THE ILLUSIONISTS (Oct. 5-7)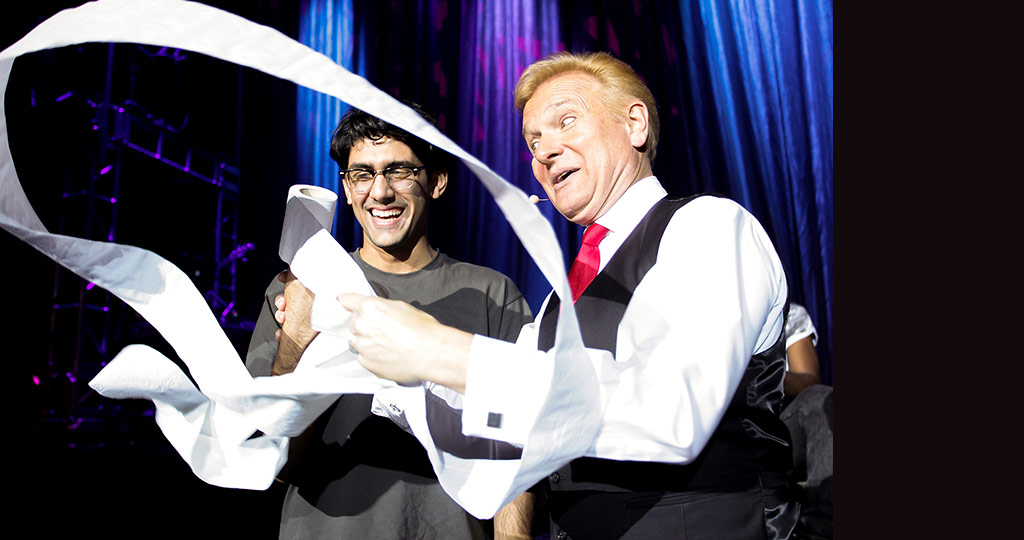 The Illusionists: Live From Broadway is an incredible magic show, which is constantly evolving and traveling all around the world. The show features five of the greatest illusionists on Earth, who rotate between Broadway, domestic, and international tours of the show. This Friday through Sunday (Oct. 5-7), The Illusionists returns to The Fabulous Fox Theatre for four spectacular shows!
We had the opportunity to chat with Jeff Hobbs – "The Trickster" – about his career in magic, working with the other illusionists, and what makes their show so special.
Jeff's love of magic began when he was only seven years old.
"I saw a magician at my school, and ever since that moment I knew what I wanted to do for the rest of my life," he said.
He was performing shows in his garage for other children in the neighborhood by age 11.
"And then at twelve, somebody offered me $5 to perform at their daughter's birthday party. So then it started, and I became one of the busiest magicians in the Metro Detroit area by the time I was a teenager. I never had an opportunity to do anything else, and I love it. I'm basically living the dream, so it's a beautiful thing."
Jeff's act incorporates a strong comedy element, and he says that naturally evolved since the beginning.
"I was a class clown when I was a kid, always getting into trouble. Being the one with the biggest mouth, and always trying to make the girls laugh. At the same time, I had this interest in magic. They were separate for a few years until I was about 19, where I started merging the comedy and magic together. And next thing you know, that's my thing – a humorous take on magic. There are some guys who do it seriously, like David Copperfield and the like… but me, I never take myself seriously. I think laughter is just as necessary as our wonderment of life. So magic provides the wonderment,  and hopefully I can provide a few jokes, and you get two for the price of one with me."
Jeff and the other illusionists in the show rotate between the domestic and international tours, as well as their home on Broadway.
"At any one time, there's three, four, or five shows running – depending on the season. For instance, this tour is a few months, and then a few people get together with another tour and go to Kuwait and the Middle East for a while. Then at the beginning of December, part of us go to Broadway, part of us go overseas to Europe, and part of us will be in Australia – where I'll be for about six weeks… So there are a number of shows that we do, and we all sort of mix and match."
No matter which show you see, you get a variety of illusionists. In addition to Jeff (The Trickster), the tour coming to the Fox Theatre includes Darcy Oake (The Illusionist), Jonathan Goodwin (The Daredevil), An Ha Lim (The Manipulator), and Chris Cox (The Mentalist). And don't worry, even if you've seen the show before, you'll most likely see a new illusionist and new illusions.
"The entertainers and illusionists I know are always working on something new. I have a few new pieces of magic for the season that I'm doing. So everyone sort of does their creativity throughout the year, and puts it in [the show]. We all try and keep it fresh, and there's never the same type of magicians in every show. In other words, this season we have a few that we've never had before. I think the producer mixes and matches, and always keeps it fresh, which is great for all of us."
Jeff doesn't really mind referring to what he does as "tricks," since after all, he is The Trickster. But if you are seeing an illusionist creating a huge, beautiful work of art, you may want to call it an "illusion."
"The semantics is all over the place. When you hear The Illusionists, 'well, is an illusionist a magician, or slight of hand artist?' And it is sort of semantics. You can call it a trick, but it almost sounds devious when you call it a trick. Which is probably why they call me The Trickster, because I do pickpocket people… But you might not want to call something that's a beautiful piece of poignant magic like what Kevin James does, or maybe our manipulator does with cards… That's sort of a beautiful side of magic. So you wouldn't want to call that a trick. You would probably call that an illusion, or magic… But what I do pretty much are tricks." 
When asked what sets The Illusionists apart from other magic shows out there, Jeff had this to say,
"First and foremost, it's a fast moving show. We don't give people much time to think. We hit you right off the bat, and we move at a pace where just when you're awestruck with one piece of magic – boom! We move on to a different magician, and a different pacing, and you're already on to the next piece. So I think the pace at which it moves is one, and also the variety makes it great. You're not looking at one magician, you're looking at five. And they're all doing their 'A' material… We're very proud of the template that we've created!"
See The Illusionists – Live From Broadway this weekend at the Fabulous Fox Theatre in St. Louis (4 shows, Oct. 5-7). Tickets range from $29 – $95, and are available via MetroTix. For more information, visit fabulousfox.com or the official tour website at theillusionistslive.com.