Movie Review: THE HOLDOVERS Starring Paul Giamatti, Dominic Sessa, Da'Vine Joy Randolph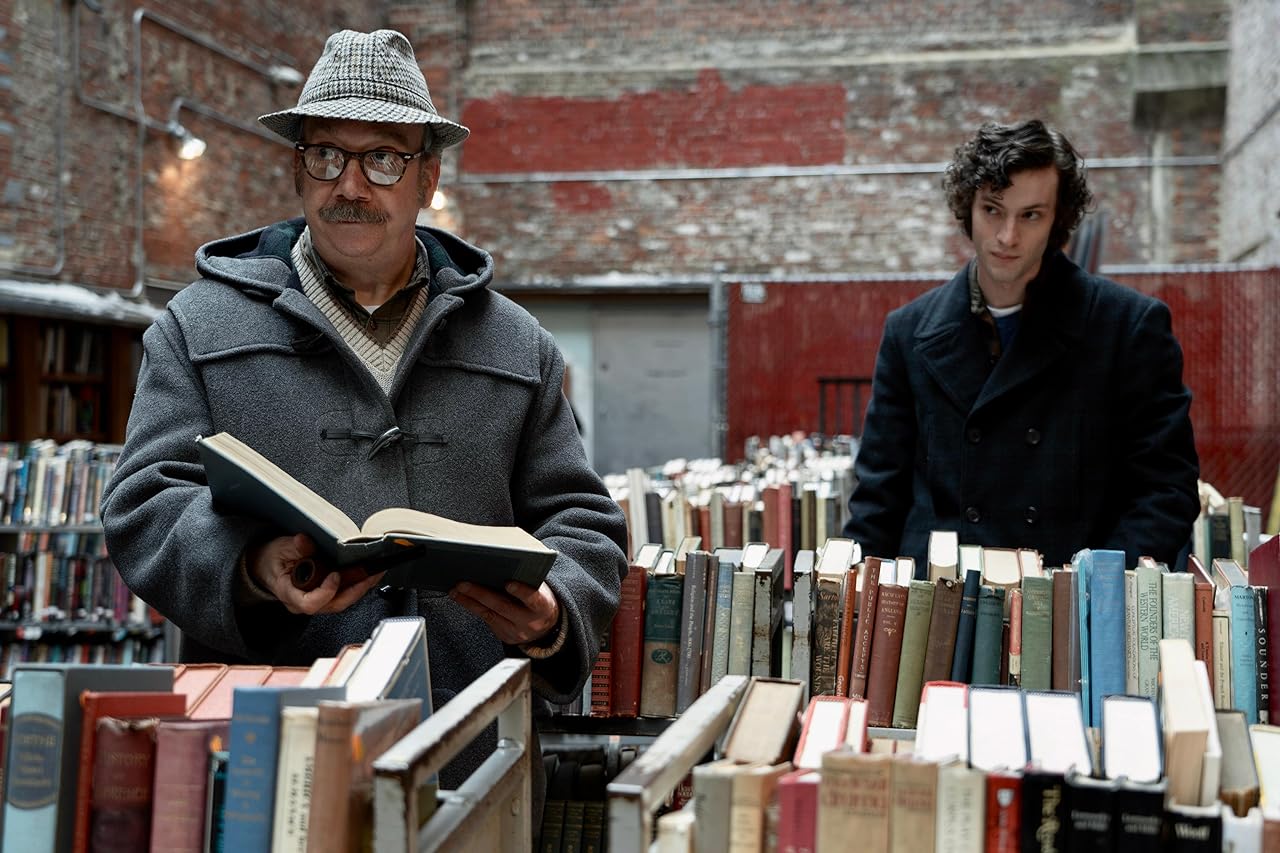 There is a moment in Sideways towards the end of the film where Paul Giamatti's character, Miles, encounters his ex-wife at a wedding. It's obvious that he's still in pain but trying to put on a facade. While making small talk and catching up, he makes a light comment about going to the reception and drinking some champagne, to which she replies that she's pregnant. It's a seminal moment, that instant where we see Paul's character react internally while doing everything physically to keep from breaking down as his world is falling apart; for me, it was an absolute master class in acting, and it solidified Sideways's place near the top of my list of favorite movies.
And now, almost 20 years later, Giamatti is reunited with the director of Sideways, Alexander Payne, in a new project, The Holdovers. If you haven't heard a ton of information about the movie, you're probably not alone. Set in 1970 and filmed with a 70s-era budget of just $200k, The Holdovers feels decidedly analog in a digital world, beginning with an older style of credits. But it's the first film that Payne and Giamatti have worked on since Sideways, and it was well worth the wait.
The bulk of the film takes place at the fictional Barton Academy, one of those prestigious boarding schools in the northeast like Phillips or Deerfield that would cost more than half of my yearly salary to send my (as far as I know) hypothetical children there. Paul Hunham (Giamatti) is the type of history teacher that everyone hates: his lesson delivery is dry, he's a firm and unforgiving grader, and he expects work to be done over Christmas break, when students head home or on vacation with their families. Although respected for his intellect, most of the students and other faculty can't stand him, and after one of the other teachers fakes a family illness, Paul is told he's stuck supervising the unfortunate students who are unable to leave. While initially there are five such students, four of them are able to get away, leaving only Paul, Angus Tully (Dominic Sessa, in what I believe is his film debut), a gifted yet troublesome junior, and Mary (Da'vine Joy Randolph), the school's cook.
The film covers the two weeks of winter break as the three get to know each other better. They attend a Christmas party thrown by Lydia (Carrie Preston), a worker at Barton who encounters Paul and Angus at a local restaurant where she works part-time during the winter break. The next morning, Angus convinces Paul to drive to Boston, while Mary goes to stay with her sister.
I mentioned Sideways earlier, and it's rather fitting, as besides the lead and director, there are a few other parallels to it as well. Paul is a single high school teacher in the process of writing a book. In addition, he also has an attraction to a local woman working part-time as a waitress, Lydia. And much like Miles, Paul knows his best days are probably behind him, toiling at his job while being a bit reliant on alcohol.
This isn't a total remake of Sideways, though, and that's probably a good thing. Although Miles brilliantly underwent some extensive character development in Sideways, his best friend in the film remained stoic and intransigent in his ways. It's a bit different in The Holdovers, though, as Paul and Angus not only learn about each other, but they learn to rely on each other. When Angus, Paul, and Mary venture out into town and later into Boston, Angus does what he can to protect Paul's job; meanwhile, Paul tries to impart what wisdom he can on Angus, the only student in his class to get above a C on their last exam, but is one mistake away from being sent to a military school. Paul learns of the tragic story behind Angus's family and why Angus had nowhere to go over break; while he doesn't try to become a father figure to him, he at least wins him over with friendship by telling him an old secret that would put his career at risk.
The true strength of the film lies not only in its well-written dialogue, but in the strong combined performances of the three main characters. Giamatti is an industry veteran who's produced some incredible work, and this may be his finest work yet. I imagine the boarding school environment was somewhat familiar to Paul, as he attended an elite boarding school himself (Choate Rosemary Hall) before attending Yale, and his father, the late A. Bartlett Giamatti, was president of Yale before becoming the commissioner of baseball. But he's truly exceptional in roles like this and Sideways, and perhaps this is the film that finally nabs him an Oscar.
Giamatti may be the marquee star, but Da'vine Joy Randolph and Sessa more than hold their own. Da'vine has done some exceptional work in the past, and she absolutely crushes it as Mary, a grieving mother who recently lost her only son, a Barton graduate. The story of her taking the job only so Curtis could receive a top-tier education, only to have him drafted and sent to Vietnam because they couldn't afford college tuition, was absolutely heartbreaking. There's one scene in the film where Mary transitions flawlessly from drunkenly crying to stern mother mode in an instant and I absolutely loved it.
Sessa, on the other hand, gives no impression at all that he's a rookie to the film industry. Physically, he resembles the lovechild of Adam Brody and John Francis Daly; he's got Daly's looks, but Brody's height, hair, and voice. But when it comes to acting, he is his own person, and he absolutely shines in The Holdovers. Angus runs the gamut from being charismatic to brilliantly manipulative to dejected, uncertain teenager, and Sessa nails it all. He's got a tremendously bright future ahead of him.
Clocking in at just over two hours, it's lengthy enough to provide some illustrious details while avoiding being so long you start looking around for a bucket or hoping for an intermission. I will be interested to see just how well it does in the theater; given the time setting, it might have been perspicacious to release the film even closer to Christmas, but that's nitpicking. The Holdovers is an absolute masterpiece, strongly in the running for the best film I've seen this year. Don't be shocked if you hear its name often mentioned during awards season. I know I'll be cheering for it.
The Holdovers gets an A.
---
Director Alexander Payne will receive the SLIFF Lifetime Achievement Award before a screening of The Holdovers on 11/14 at the 32nd Annual Whitaker St. Louis International Film Festival. For more information on SLIFF, visit cinemastlouis.org.