The Films of 2009: A Year in Review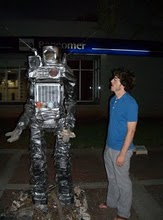 So why now? It's March weren't you supposed to put lists out a couple months ago? Well I don't, and haven't, and the 09 film year isn't over till the Oscars are passed out if you ask me. I also feel like lists made at the end of the year are not allowed enough time to breath and made on too many gut feelings. Waiting a couple months allows me to not only digest these films a little longer but maybe even see it one more time. It also allows you to look at films outside the end of year crush of films and the hectic nature of trying to see as many things as possible while also trying to list them. If you have read one of these from me before this is not news to you, but for any new readers I just wanted you to give a picture of where I am coming from.
So a couple random awards:
Best Scene of the Year:
Dr. Manhattan's Origin in Watchmen. The music, the imagery, the editing, the effects, you learn so much about a character in a few minutes in one of the most elegant moments of this comic adaptation. Full of suspense and wonder it's almost a mini-movie inside this epic tale that not only teaches us everything we need to know about the character but also shows us why the world is the way it is in this alternate universe. Say what you want about the film but I haven't met anyone who didn't think this scene is great.
Some Other Highlights: The Drug Montage in Observe and Report, Expectations vs. Reality in (500) Days of Summer, Married Life in Up, Cove Slaughter in The Cove (incredibly affecting), The Goy's Teeth in A Serious Man, The Cannibal's Basement in The Road (creepiest scene of the year), Car Bomb in The Hurt Locker, The Battle of Pandora in Avatar, Breaking In to MTU in District 9, Chapter 1 in Inglourious Basterds, Running the Waves in Ponyo, The Camera/Credits in The Hangover, Guggenheim Shoot Out in The International, Slow-Mo Sex Opening in Antichrist, Warehouse Explosion in Sherlock Holmes
Worst Movie of the Year:
I Love You Beth Cooper-Chris Columbus hit a career low in this un-humorous, not sexy, clichéd and stupid high school movie that missed the mark at every single turn. I don't know how I sat through this thing and Hayden Panettiere's side boob couldn't even do anything to help this movie. Just an unequivocal disaster and there wasn't a single movie that came close to this for me. Avoid at all costs.
Dishonorable Mentions: Drag Me to Hell, Ninja Assassin, Monsters vs. Aliens, Dance Flick, 2012, Year One, Knowing
Most Overrated Film of the Year:
Drag Me to Hell, what movie was everyone that liked this watching. This movie is widely regarded as a hell of a good time and one of the better films of the year to a lot of people and I just don't know what they saw. The ending was brilliant, but beyond that I just don't see the draw to watching gross stuff repeatedly being shoved down a helpless and undeserving girl's mouth? I just don't get it and I thoroughly loathed this movie; which says a lot about I Love You Beth Cooper awfulness.
Some Movies I Wished To See But Didn't: The Last Station, Broken Embraces, The Informers, Two Lovers
For more of my favorites in the year, (i.e. Actors and so forth) check out my Oscar Predictions/Wishes.
Also of note, The Brothers Bloom, would have been a top 10 film this year, but since I saw it in 08 and put it on that list already I will leave it out here. Make sure to check it out though as it was one of the best films officially released in 2009.
Ok, onto the list. I saw 128 movies this year and I am basically going to cover every movie I kind of wanted to say something about; so there are quite a few here. They are all worth checking out if you ask me. 2009 was a great year for movies and while there weren't a whole lot of A+ movies there were plenty of solid A, A-, and B+'s. So anyways, on with the list…
The Also Ran's: Roughly in order of preference but these could be mixed up a bit I'm sure.
9
It's a bit all over the place but beautiful visuals, an original vision, and some awesome set pieces are to be found in this post-apocalyptic, steam punk, animated flick from Shane Acker, Timur Bekmambetov, and Tim Burton.
State of Play
Russell Crowe and Ben Affleck's political and journalistic thriller is fast paced and full of fine acting that while solid all around doesn't have anything to set itself apart from the pack. This is also another stellar entry from The Last King of Scotland and Touching the Void director, Kevin Macdonald.
Duplicity
Clive Owen and Julia Roberts star in this unique corporate spy thriller that has a fantastic ending and a great group of actors having a blast in this playful twisting caper. Paul Giamatti and Tom Wilkinson also shine as the two rival CEO's in the picture and chew up the scenery around them.
Bad Lieutenant: Port of Call – New Orleans
Nic Cage and Werner Herzog make an in spirit sequel that is insane and often times hilarious and it includes one of my favorite lines of they year, "Shoot him again, his souls still dancing." A weird and trippy detective story that goes all over the place with a fantastic turn by Cage in the lead role.
Cold Souls
This odd comedy is for anyone that is a fan of Paul Giamatti or a Charlie Kaufman script as it is clearly inspired by those artist. Giamatti also stars as "himself" and he has his soul removed to help him better prepare for a play. Dark humor and weirdness ensues, including a mix up with the Russian black market soul trade. Yeah, if that last sentence freaked you out be sure to stay away.
Sherlock Holmes
Downey Jr. and Law rock in this fun mystery/action flick that rarely cheats and moves along at a blistering pace. Guy Ritchie dials back on his exuberent style but plays enough of his cards to keep things interesting and visually stimulating along the lines of his other work. Let's just hope they get Brad Pitt to play Moriarty in the sequel!
The Hangover
Very funny and a blast to watch with an audience, many will hail this as the comedy of the year. I enjoyed the hell out of it for it's originality but for all the craziness going on it didn't jump to the next level for me; very good though and I am glad it made stars out of Bradley Cooper, Ed Helms, and Zach Galifianakis.
Thirst
This original vampire story from Chan-wook Park is one of the best of the recent bunch and is a bit behind Let the Right One In for top prize in the new vampire film renaissance; lots of original elements here that freshen up the genre though and another great film out of the excellent Korean director.
Nine
For some reason this film was panned and bombed at the box office but I don't think it really deserved to. A great cast, a great story, sure the music could have been a bit better but it made do. Plus, Daniel Day Lewis? Can't go wrong there and Rob Marshall should keep his head up because his film got a pretty bad shake if you ask me. Plus, the women are worth the price of admission alone and all look sexy as hell.
Sugar
This wonderful little look at minor league baseball through a fish out of water player from the Caribbean is full of heart and is as honest of a film you will find on this list. Sugar is a great sports movie about much more than just the sport with a great character study at its heart.
The Imaginarium of Doctor Parnassus
Terry Gilliam's weird and bizarre fantasy gives us a great turn by Heath Ledger through a world of original vision that Gilliam lovingly and erratically guides us on a tour into his imagination. The film is probably the weirdest on this list, probably almost too weird for most, but if you are willing to dive head first into it there is plenty to be rewarded.
The Soloist
Another film written off by most, The Soloist, is a great story of friendship and mental illness that while it has no real resolution or structure stands on its great work by its leads Jaime Foxx and Robert Downey Jr. and the unlikely bond that they make. Joe Wright continues to show he is one of the top working directors here and this deserves a bigger audience than it received.
The Messenger
This intimate portrait of families dealing with the notice of the loss of their sons, wives, husbands, and daughters from a military death notice officer is terribly sad, honest, and poignant look into the psyche of a soldier; featuring some amazing work by Woody Harrelson and Ben Foster.
The Secret of Kells
This Irish animation fable is full of beautiful and inspired animation that infuses a bunch of styles into a solid, if familiar, tale that mixes fantasy with folklore and successfully captures the spirit of history. An odd/rushed coda spoils the end a hair but there is plenty of imagination and wonder before hand to make up for this.
Whatever Works
Woody Allen's latest casts Larry David in the Woody role and the results are great. The film is full of classic Allen angst, plenty of crotchety comments from David, and is another classic New York comedy from the prolific director.
Coraline
Henry Selick's adaptation of Neil Gaiman's creepy little fable is a beautiful piece of animation and is one of the prettiest stop motion films to come out yet. The 3-D in the theater was the best I had seen up until that point and this fairy tale will become a classic for future generations of children.
Julie & Julia
Meryl Streep knocks it out of the park here as Julia Child, but Amy Adams half of the story is almost as compelling, but everything we get with Streep and Stanley Tucci will stand as some of the most romantic characters of the year. And oh man the food, don't come hungry because you will be starving at the end of this after looking at all the delicious food they make.
New York, I Love You
This second entry in this anthology series has just as much heart and romance as the first and less misses as well. Creating more of a natural narrative to the collection of the short films helps a lot as well and anyone who liked Paris je t'aime needs to check this out ASAP.
Sin Nombre
This dark tale about immigrating into America and the Mexican gangs system is full of surprises, twists, and turns and is full of characters that you become compassionate for even if you have no way to relate to them. This one might have moved up as well had I seen it again.
The Top 33:
33. Mary and Max
I just reviewed this recently, but this affecting stop motion tale about long distance pen pals tells a story we have never seen before and is rather adult for the medium. Telling the tale of Mary, a young Australian girl, and Max, a lonely New York man as they exchange letters through the years yields surprising antidotes and wonderful bits of humor. Added to this is a wonderful performance by Phillip Seymour Hoffman as Max who is unrecognizable and is creates an original character in Max.
32. Zombieland
Woody Harrelson owns this movie, but an amazing cameo, and great work by the other three leads make this film more than a one man show. Light on scares and high on laughs this is an excellent companion to Shaun of the Dead. As much homage and respect to the zombie genre is to be had here even when they are poking a little fun and this makes for a movie that works as an excellent comedy and as a great Zombie movie on top of that. But humor is first and foremost here, so don't let your fear of fear scare you away from this enjoyable picture. (There is some gore to get through though in the first half hour, you were adequately warned)
31. Harry Potter and the Half Blood Prince
The sixth entry into the Harry Potter franchise is its least action packed, but is it's funniest yet, and gets us to know our three heroes a great deal while setting up the pieces for the final chapter of the series. This film could have been higher if it wasn't for me taking issue with some adaptive choices to the ending by going against everything we know about the Harry Potter character and his head strong nature. Other than this it is top notch stuff all around as usual from this amazing Harry Potter team.
30. Whip It
Drew Barrymore's directorial debut is a fun and funny look into the rise of a young roller derby star and features a great lead performance from Ellen Page. Barrymore surrounds Page with a bevy of talented women that are all having a blast racing and beating each other up on the track and capturing the fun of the film and the sport. Barrymore proves to be a very fine director as well and I can't wait to see what she does next as she is one of quite a few stellar directorial debuts in this busy year.
29. Gomorrah
This Italian mob import is probably too close to truth than we would like to believe and while full of unknown actors manages to impress on almost every level. Similarly structured to say Traffic or Babel, we follow four or five stories that are closely intertwined and run the gambit of every level of organized crime in a community that doesn't let anyone out of their grasp from the life. Inspired by countless true stories and horrible situations, this tale of fiction opens our eyes to real problems in Italy which only enhances the drama of this great film.
28. The Girlfriend Experience
Steven Soderbergh's "other movie" from this year was one of his experimental types and it works wonderfully. Bringing porn star Sasha Grey seemed like a gimmick casting but her background works wonderfully for the role and she creates a wonderful character that is both believable and nuanced. The films editing and storytelling nature are also a marvel as we jump in around the timeline of the picture, slowly revealing the full story and accompanying scenes gain more and more weight as later scenes in the film illuminate earlier ones. I can't recommend this picture enough and I hope that Soderbergh's continued experiments are as strong as this one.
27. Bronson
The story about the England's most expensive and violent criminal must be seen to believe and features one of the finest performances of the year in Tom Hardy as the title character. The film is insane, well Bronson is insane, and watching him work through his prison misadventures, taking guards hostage, getting beat to a pulp, trying to function in society, or aspiring as an artist it's hard to believe this true tale. Tom Hardy has made himself a name to be remembered and director Nicolas Winding Refn's follow up, Valhalla Rising is one to watch for this year and already has a number of raves attached to it, and I hope these two work together again soon.
26. Avatar
James Cameron's film is a technical marvel with a familiar story that, while solid, keeps this film back from being higher on this list. The effects and technology on display are the best we have ever seen in a film and the use of 3-D shows the true potential of the format in modern cinema. This film is Cameron's and the world he has created is one of the most original and engaging to hit the screen in some time. Luckily his actors do some excellent work with and without digital make-up with Zoe Saldana leading the way as Neytiri; if she was in make up she would be nominated for an Academy Award. Can't wait to see where Cameron takes us next.
25. The Young Victoria
This period piece is full of plenty of costumes and period drama, but they keep the film feeling fresh and contemporary by integrating wonderful modern camera work and music integration. Emily Blunt is great as the young Queen, commanding a strong presence on the screen and is believable in every aspect of the role. She is also surrounded by a top notch cast with Paul Bettany leading the way as her chief advisor and I wish we had more time with him in the picture. They need to keep pumping out period movies along these lines because Pride and Prejudice, Marie Antoinette, The Duchess, and now The Young Victoria are ushering in a new and better way to do these sometimes stale genre.
24. The Hurt Locker
Kathryn Bigelow crafts an intense and realistic experience that puts you on the edge of your seat in all of the set pieces and features some great acting work by everyone involved. While all of the bomb scenes are incredible, a few of the in between scenes do drag a bit and two odd detours into the surrounding Iraqi cities don't quite gel with the rest of the action in the film. With all this said, these duller moments are only dull in comparison to the bomb scenes that you want to get back to ASAP. On a second viewing these down time scenes do play a lot better and help you to get to know the characters and all of the actors beyond Renner, who is fantastic in this picture, deserve accolades for being great, especially Anthony Mackie who isn't getting enough praise in the mainstream press.
23. The Baader Meinhof Complex
This epic film follows a group of young German fundamentalists/terrorists from their upstarts in the 60's and all the way through their leaders ends in the 70's. Serving as a fun history lesson, we follow these real life characters all over the world fighting over countless causes and they are wrapped up in a number of memorable events over the course of the decade plus the film covers. From the Munich Olympics, the Stockholm hostage incident, and the Lufthansa hijacking, this film's subjects are involved in all of these incidents in one way or another. The film plays with a bunch of genres and shows how radical protest against a cause used to mean more than a Tea Party Rally. Political intrigue and a bit of a look behind the terrorist curtain the film is a fairly objective look at the lives of these radicals that will have you riveted.
22. Departures
2009 winner of the Academy's best foreign language film it hit the states this year and is a wonderful character study and a look into a world that few of us thankfully have to experience. Following a young man who takes up work with a funeral preparer in a small Japanese town, the film is full of sad, touching, and humorous moments both in the workplace and the home life of this young man who can't find his way. One of the most honest stories of humanity you will find available in recent years it is a film that allows you to look at life from all stages of a lifetime and makes you look inside at yourself after its all said and done; great stuff.
21. The Road
John Hillcoat's adaptation of Cormac McCarthy's Pulitzer Prize winning novel is a haunting and terrifying tale of survival, family, and the bond between father and son that follows said pair as they try to survive after some undeclared apocalyptic phenomenon. Humans are the most terrifying creatures in this world and there are moments that will have your heart racing through out this picture as these two try and survive while coming across a number of untrustworthy patrons on the road. The look of the film, the tone, and the atmosphere Hillcoat creates is an amazing realized world that allows Viggo Mortensen to give yet another amazing performance in his already stacked resume. If anything holds this back it's a tad bit of chemistry issues between Viggo and Kodi Smit-McPhee though their relationship might play better the second time through and certainly works a number of times in the picture already.
20. Star Trek
JJ Abrams second feature film successfully reboots a stale franchise and delivers one of the most fun films of the year in Star Trek. The success of Star Trek can be attributed to the fantastic pacing, amazing effects, and an adventure filled plot played out by wonderful cast of young actors that are sure to give us a few more great films aboard the Enterprise. Abrams and company's ability to reboot the franchise so they could modify the story to their desires, while maintaining the canon of the series, was a brilliant move to keep Trekkers happy while also ensnaring a whole new audience in one of the most rewatchable films of the year. This film provides a magnificent base for potentially superior follow ups down the line.
19. Away We Go
Sam Mendes perfect anti-thesis to Revolutionary Road, Away We Go, is a wonderfully positive and hilarious romantic film that falls into zero clichés and is full of a great ensemble cast. Lead by Maya Rudolph and John Krasinski as a couple looking for a new home to start their family, we are lead on a road trip around North America visiting various people in their lives who are also at different levels of their parenting life. The movie never fails to be funny but is full of multiple sweet moments between the two leads that are endearing and believable while never being gag me or mushy. When I first saw this I thought it would be much higher on my list, and maybe it deserves to be, but was one of the few movies I saw this year that had me grinning ear to ear for nearly the entire films runtime.
18. The Informant!
Matt Damon and Steven Soderbergh's corporate crime comedy is a silly and offbeat spy film of sorts that will have you laughing at corporate greed. Marvin Hamlisch's score is one of the year's best and its silliness compliments the film's tone wonderfully. Upon first viewing I like the movie but was really thrown off by the tone and zaniness of it all, especially Damon's real life character Mark Whitacre who is such a fast talking voice of blurred truth that it demands a second viewing to really capture the brilliance of Damon's performance and the character. Full of great acting all around from a number of stand-up comedians in serious roles it gives the film's serious subject matter an injection of humor from deadpan lines that lasts through out the picture. Soderbergh proves again why he is one of the elite working directors and Matt Damon was robbed of an Oscar nom for his work here, arguably the best of the year. Whitacre's internal ramblings deliver multiple candidates for best line of the year; I think I give it to the polar bear one.
17. Hunger
Another directorial on this list and Steve McQueen has cemented himself as a name to watch with this true life tale about Bobby Sands, and Irish prison hunger striker in 1981. Featuring a few minor stories wrapped into one picture, it is a while before we meet Bobby Sands in this picture but leading up to that we get a look at the life of a guard and inmates during the turbulent times between Ireland and England. Full of beautiful camera work, intense moments, and some incredible work by Michael Fassbender (Inglourious Basterd's British film critic spy) this is one of the finer prison films to ever be released and is an incredible portrait of what some lengths people will go to have their voice heard. Seek this out; it is not to be missed.
16. Public Enemies
Michael Mann teams up with Johnny Depp and Christian Bale to tell the story of the rise of the FBI as they try and stop the rise of criminals wreaking havoc like John Dillinger. Depp is wonderful as always as the infamous Dillinger full of charisma and charm as he breaks in and out of jails, pulls off heists, and struggles to survive as his world begins to crumble around him. Marion Cotillard and Christian Bale also lead the way of the great supporting cast that features a bevy of great actors. The film works so well in that its lead character is just so interesting and following him through his ups and downs is a ride that is as compelling as most pieces of fiction put into cinemas every year. Throw in some amazing work by Mann and his team and you have one of the finer pieces of cinema this calendar year.
15. Up in the Air
Jason Reitman's third film is his best and is a timely reflection on America and our psyche's as we are stuck wandering aimlessly in this rut that our country is in and we can't do anything about it. Worse of all many people are becoming lost in themselves with no direction and no goals as there are forced to reassess their lives and George Clooney captures this perfectly in Ryan Bingham. An adaptation of Walter Kirn's novel, it is one part sad, one part humor, one part romance, and one part coming of age and is played wonderfully by its great cast, especially the two females in Ryan's life played by Vera Farmiga and Anna Kendrick. The film pull your emotions in every which direction, leaving you with not as much hope as you would like, but it is one of the many fantastic endings in film this year.
14. An Education
This original coming of age tale follows an about to be of age girl in 1960's London that meets an older man who shows her a more fun way of life compared to her upbringing of constantly studying and working on her resume for university. The film is full of twists and turns and many life lessons along the way for Jenny who is played wonderfully by Carey Mulligan. Mulligan is supported by some great work by Peter Sarsgaard and Alfred Molina as her beau and father, respectively, and some brilliant writing and direction by Nick Hornby and Lone Scherfig, again respectively. The film feels fresh, is funny, is fast paced, and you will find yourself completely wrapped up in Jenny's world.
13. A Serious Man
The Coen Brothers latest is an intentionally undecipherable trip that allows you to analyze it and interpret it in a million different ways as you bask in its oddity and "embrace the mystery." That quote is the secret to this film, embrace it, don't try and figure it out, it will only frustrate and confuse even further. Take the whole picture in and then try and draw conclusions on what happened and why because there is nothing to "get" or figure out while watching. Also, the films is quite hilarious and the more lost and frustrated you might get wrestling with what it all means you are just missing some many brilliant bits of Coen Brothers magic that you should be eating up. The film that is most benefited by a second viewing in the 09 year is this one, so give it a 2nd shot if you were a bit lost the first time.
12. (500) Days of Summer
Mark Webb's unconventional story about love uses a disjointed structure to take us all through 500 days between Summer and Tom and the results are marvelous. Summer doesn't believe in love all that much, while Tom is all about it and the ideas behind it. Full of wonderfully original scenes like Expectations/Reality, the musical number, and great work by Zooey Deschanel and Joseph Gordon-Levitt as the young lovers there is quite a lot to fall in love with in this tale. Don't expect a love story though, as the narrator warns, this is a story about love and all its ups, downs, and the in between.
11. A Prophet
This epic prison/crime film is an Italian import that might deserve to be higher on the list but I have only recently seen it and it hasn't full set in. With that said, it is already sitting pretty, pretty high on the list and for good measure. Tahar Rahim is amazing as Malik a young half Arabic, half Italian man who comes to prison illiterate and without any connections to the outside world and finds himself rising in the ranks of the prison crime scene and outside its walls as well. Malik is allowed to do this under the tutelage of César, an old Corsican crime lord, who more or less runs the prison his way. The film is full of twists and turns, suspense, and will have gripped form start to finish; an amazing film by Jacques Audiard that you should seek out in theaters now.
10. Watchmen
Zack Snyder has created probably the most literal and best adaptation of the legendary graphic novel possible and will go down as one of the top comic film adaptations of all time. Flipping the genre on its head, playing off the original texts subversion of the medium, this film makes as much of a statement about comic films and plays better every time you watch it. Amazing work by Jackie Earl Haley as Rorschach, Billy Crudup as Dr. Manhattan, and Jeffery Dean Morgan as the Comedian are the standout of a great cast that captures their characters perfectly off the page. The problem with the film though is its almost complete inaccessibility to anyone that isn't familiar with the source material, luckily I am, and you should be too so you can enjoy this comic book film masterpiece to the fullest.
9. Observe and Report
The best straight comedy of the year, the film is irreverent, over the top, and pulls no punches. Seth Rogen goes completely against type for director Jody Hill, who introduced us to Danny McBride in The Foot Fist Way and Eastbound and Down, and the results pay off in spades. Michael Pena steals the show here though as Rogen's best friend/2nd in command and delivers lines of gold one after another. The fore mentioned, in the opening, drug montage is incredible on multiple levels and the film is full of talented comedians making the most of their short screen time. The film continues to get funnier every time I see it and I urge people to seek this one out as it is a criminally under seen gem, though, don't check your dark humor at the door.
8. Where the Wild Things Are
An incredible achievement by Spike Jonze to create a "children's" film for adults that touches the inner child in all of us. Anyone can relate to Max in this film, played by the awesome Max Records, and you can't help but get lost as you run around with the wild things in their world. Jonze also gets some amazing voice work out of everyone starring as the wild things, with James Gandolfini leading the way with Catherine O'Hara not that far behind. The design behind the monsters and the choice to shoot them as puppets was brilliant and really makes the film more believable compared to if they were added in later as CGI. This film is also one of the saddest of the year as I was incredibly affected in the end; though you wouldn't know it watching the trailer, which was the best of the year, so don't say you weren't warned.
7. District 9
Neil Blomkamp's original and thrilling sci-fi vision shows that you don't need 100's of millions of dollars to make an incredible effects driven film. As we follow around star Sharlto Copley, who makes an incredible debut performance, we dive deeper and deeper into the aliens' world, which have been stranded on earth in camps in and around Johannesburg for years now. We even become compassionate for a pair aliens who become as central to the plot as Copley and we root for them even more so than the human's. Not afraid to use it's R rating there is plenty of intense and gory action and while it never feels gratuitous it feels right in the context of the picture. District 9 is one of the most original films of the year and an instant sci-fi classic for years to come.
6. Inglourious Basterds
Quentin Tarantino's latest is an insane and tense revisionist history of WWII that focuses on five specific points in a trio of story lines that converge in the explosive final chapter. Sold as a Brad Pitt movie, it is pure ensemble at its heart and it's the other leads in these chapters that make the film work as amazingly as it does. Christoph Waltz deserves every ounce of praise he is receiving but his co-stars Diane Kruger, Michael Fassbender, and Mélanie Laurent almost match him, as does Pitt, and it's this combined excellence in acting paired with Tarantino's insanely brilliant script that has cemented this film along side the director's other greats. Though biggest warning going in, there is no action, none, don't let the trailers fool you as that is the only mindset that can damper this experience.
5. The Cove
This documentary is one of the most affecting pieces of cinema I have seen in some time and you can't help but feel like you have to do something to help this cause. Covering the attempt to infiltrate and record the actions of this secluded cove in Taiji, Japan where they are slaughter dolphins not only serves as an anti slaughter film but informs and educates us on the history of dolphin captivity, mercury poisoning, and the corrupt nature of the Japanese government. The film's non-informative elements plays out like a espionage thriller as they plan out and strategize how they can infiltrate this cover and place cameras without being stopped by the incredibly tight security. The movie will have you on the edge of the seat and disgusted by the slaughter and don't be scared that the fill will be too tough to watch. While there are a couple tough moments to endure it is necessary and could have been far worse and you will be prepared for the moment when it comes.
4. A Single Man
Tom Ford makes his directorial debut in this stunningly beautiful story about over coming loss and moving on with your life. Colin Firth stars as the grieving lover who decides that today is the day he is going to move on with his life and we follow him through many deliberate and not so deliberate paths along his way to peace of mind. The film is probably the most beautifully crafted visual feast of the year with shot after stunning show filling the screen. There are also brilliant moments of dark humor sprinkled through out to balance out the more serious side of things and I love every ounce of it except the ending; the films only misstep if you ask me. Regardless of said misstep seek this out on video later this spring as it is an amazing achievement in acting, direction, and style.
3. Fantastic Mr. Fox
Wes Anderson's latest is another "children's" movie that is just as much for adults as it is for kids and is told wonderfully through a purposely old school stop motion technique that gives the film so much extra character. George Clooney is hilarious as the title character and his charisma and charm pours through his on screen puppet to capture a wonderfully realized and flawed hero. While the film is stop motion it still features countless Anderson trademarks and fits nicely into his wonderfully little carved out film world. There are countless other bits and gags worked wonderfully by Anderson and co-writer Noah Baumbach, the spiral eyes, the "cuss"-ing, the awesome tracking shots, I could go on and on. Fox is another animation classic in a banner year for the medium and how great this film was and it isn't the best of the year goes to show how strong a year it was.
2. Moon
This old-school sci-fi film is an instant cult/sci-fi classic that is based around the sole idea of what makes us human. Featuring only one actor for 90% of the movie, Sam Rockwell stars in that role and gives arguably the best performance of the year. Duncan Jones also makes another stellar directorial debut here in 09 and shows such confidence in his craft here that he is almost guaranteed to be one of the next big things. Clint Mansell churns out another beautiful score here as well that perfectly accompanies the films look and atmosphere that was created mostly with models rather than CG effects shots. The films mysteries keep unfolding one after another and you will be caught up in the whirlwind of revelations all the way till the end. This is one of the least seen films on this list and you should really do yourself and this film a favor by changing that.
1. Up
Yes, Pixar, again, Pete Docter's second directorial effort at the impeccable studio is a classic for the ages and it does so by pulling at the heart strings, rousing adventure, and making us laugh all with incredible ease as we fall in love with these characters over the run time. From the brilliance of having talking dogs without them actually being talking dogs, the flying house, the pitch perfect characters, the incredible score by Michael Giacchino, and creating humor inside incredible tense moments, the film is full of wonder. The film flies along at a break neck speed, never once drags even when it slows down and breaks your heart with almost every moment devoted to Carl and Ellie. The film will bring you to tears on more than one occasion and the ending to the film is about as perfect as one can get. A masterpiece in everyway and instantly a part of the upper echelon of Pixar films and luckily for us it is getting crowded up there.
Thanks for playing again this year folks and keep checking out new reviews on the site by me and everyone else who contributes and maybe you can figure out this list ahead of time next year.