DVD Review – Sugar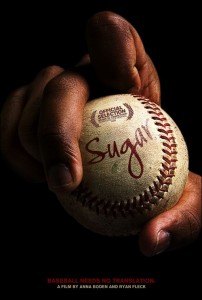 Anna Boden and Ryan Fleck's second picture is another low budget indie effort that is all at once a fantastic portrait of both the Dominican baseball path, the pressures of the minor leagues, and immigrant life in America.
Sugar is a member of the Kansas City baseball school that farms players into their minor league system with hope of finding the next big star.  We get a brief look at his life and relationships in the Dominican before he is called up for spring training and is given a chance to make it into the minor leagues.  Where he is comfortable and familiar back home Sugar and most of his Hispanic speaking transplants are instantly thrown into a life of poor communication and awkwardness that is an almost unimaginable burden to even imagine.  Making it by on French toast at the local diner Sugar is called up to the Single A team in Iowa leaving behind all his friends that came to the States with him and becoming even more of an outsider in as foreign of a place as he has ever been.  Paired up with a host family and one of two rookies to make it to Single A out of spring training Sugar is not only given a chance to prove his worth at a high level of play but there are a lot of people that believe in the talent of his pitching arm.
Boden and Fleck give the film an almost documentary feel to the proceedings and make this story as real as honest as one can imagine.  The small budget and part of the story feel really allow you to connect to Sugar when most viewers couldn't even begin to relate to his situation.  We feel his struggles, we want to help him, and it's a little sad while inspiring to watch him make strides and struggle with the situations around him.  The film also does a fantastic job of not only profiling the struggles of amalgamation to a foreign society, but the awkwardness of personal interactions, the social pressures of a potentially un-accepting environment, and the subtleties of both the game of baseball and the pressures to succeed in the cut throat world of the minor leagues.
The film actually still looks quite good for its small budget and really does a great job of capturing the baseball action and the beauty of a ball field that the game can have.  I also applaud the filmmakers for not really pulling any punches by romanticizing the game and Sugar's situation.  The film is fairly light affair, with plenty bits of humor, but Sugar's journey and world is full of struggles and he isn't go to always succeed.  Showing how these Dominican players' lives pan out and seemingly bringing in a lot of real faces to show where there paths ultimately go really gives the film a sense of authenticity.  These men are coming to America to give a better life to their families, many times very uneducated, and whether it is baseball or something else they will do anything to help out their lives they left behind which is truly courageous of them; well most of the time.
The actors in the film are also unknowns from pretty much top to bottom.  Algenis Perez Soto plays Sugar and brings a really likable charm and charisma to the kid both on and off the field.  He is believable in both his frustration and his desperation at times but never lets us forget that he is in this for good reasons and to feed his competitive edge.  Soto pretty much carries the picture on his own but Andre Holland is quite good in his limited screen time as, Johnson, the hot shot prospect that befriends Sugar as they move up to Iowa.  Rayniel Rufino is also good as an "older" player, Jorge, struggling to keep his job that befriends Sugar as he is one of the Hispanic players on the team.  Jorge's struggles and mindset are perfectly captured by Rufino who captures the part to near perfection.
In the end, Sugar is another winning picture from Anna Boden and Ryan Fleck who have successfully captured two low budget and poignantly personal films on the screen now.  Sugar is filled with fine acting, a wonderfully honest story, and a look into a way of life few of us have ever seen or could even realize.  The film says a lot about immigrants and baseball and will open the eyes of the viewer to both worlds and is an accessible film for any fan of film and you shouldn't be scared away if you don't like baseball.  A great little tale and I can't wait to see what this filmmaking duo does next.
Sugar is a B+