'Stuck in Love' Trailer and Poster (Greg Kinnear, Jennifer Connelly, Kristen Bell, Logan Lerman)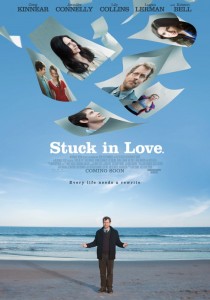 My first thought upon seeing the trailer for Stuck in Love was, "Haven't I seen this before?" That's because it looks like every other "sincere" adult romantic comedy of the past ten years. It shares elements of Crazy, Stupid, Love, The Kids Are Alright, and numerous other "indie" hits. That isn't to say it doesn't look entertaining. In fact quite the opposite, the quirky characters look like a lot of fun, if not at all realistic. The problem with these films is that they seem to act as alternative programs to the slapsticky rom-coms we've become so accustomed to in our lifetimes. The problem is they are no more realistic than any Gerard Butler vehicle, they just appeal to a slightly more intelligent audience. Regardless of all this, Stuck in Love still looks like a great date movie, and might possibly be more than it looks.
Synopsis:
Three years past his divorce, veteran novelist Bill Borgens (Kinnear) can't stop obsessing over, let alone spying on, his ex-wife Erica (Connelly), who ignominiously left him for another man. Even as his neighbor-with-benefits, Tricia (Bell) tries to push him back into the dating pool, he remains blind to anyone else's charms. Meanwhile, his fiercely independent collegiate daughter Samantha (Lily Collins) is publishing her first novel while recoiling at the very thought of first love with a diehard romantic (Lerman); and his teen son Rusty (Wolff) is trying to find his voice, both as a fantasy writer and as the unexpected boyfriend of a dream girl with unsettlingly real problems. As each of these situations mounts into a tangled trio of romantic holiday crises, it brings the Borgens to surprising revelations about how endings become beginnings.
Cast: Greg Kinnear, Jennifer Connelly, Lily Collins, Kristen Bell, Logan Lerman, Nat Wolff, Liana Liberato, Rusty Joiner, Patrick Schwarzenegger, Spencer Breslin, Stephen King
Director: Josh Boone
Release Date: June 14, 2013 (Limited Release)