Stan Lee Talks About His Cameo in New "Spider-Man" Film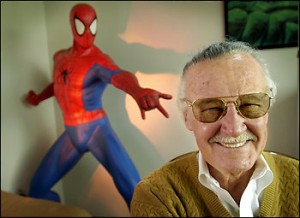 I think it's awesome that Stan Lee pops up in every Marvel film.  The man is a legend.  Why would you not include him?  Well the man recently got details about his cameo in the next Spider-Man film starring Andrew Garfield and Emma Stone.  He was so excited that he went straight to his Twitter.  I think it's awesome that the man knows how to use Twitter.
It's been an exciting week for me, but I got a phone call last night that really flipped me out! I'm bustin' to tell you about it. My pal Avi Arad, producer of the new Spider-Man movie, called to tell me how excited he is about the film. Then came the surprise—Avi told me my cameo is all set for Spidey 4, and when he described it, I realized it's the best, most unusual one yet!I wish I could tell you what my cameo is, but that would kill the surprise. But I'll tell you this much—I'm finally in an action scene.
What is your favorite Stan Lee cameo?  Let us know in the comments below.