ST. LOUIS, WE HAVE A ROSTER!!!!!
The St. Louis Rams have trimmed the roster to the final 53 men we will have on the sidelines to start the season next week.  The Rams put 2 players, strong safety Kevin Payne and tackle Eric young, on injured reserve ending their seasons.  This left 20 more players to be cut to make the final roster.
Of the players cut, there were a few "name" players that were shown the door. In addition to temporary linebacker Bobby Carpenter, QB Craig Null, RB Chris Ogbonnaya, and Defensive end Victor Adeyanju were cut Saturday morning.
The complete list is as follows: 
Offense
 QB Keith Null
 RBChris Ogbonnaya
FB Dennis Morris
WRsDanario Alexander, Jordan Kent, Brandon McRae
TE Darcy Johnson
GRoger Allen, C Tim Mattran, T Ryan McKee, C Drew Miller, T Eric Young (IR).
Defense
DEVictor Adeyanju, DT Ernest Reid
LBsDevin Bishop, Bobby Carpenter, Cardia Jackson
CBs Quincy Butler, Marquis Johnson, Antoine Thompson
Ss Brett Johnson, Kevin Payne (IR)
This didn't mean the end of the line for a few of these players. Every NFL team is able to sign up to eight players to a "practice" squad, these players run the other teams plays during practice. The advantage to the Rams they are able to keep a few player that showed some progress or are nursing injuries around to learn the playbook and provide depth during the season if injuries arise. The RAMS have signed Danario Alexander (WR Missouri) was added as expected to the squad while he rehabs his knee and learns the offense. The practice squad also welcomed wide receiver Brandon McRae (Mississippi State) and center Drew Miller (Florida). Look for Ogbonnaya and Null to find their way there also.
Someone tell Ken Darby not to be so fast to unpack his bags. he is on the roster backing up Steven Jackson for now, but there are players being released from rosters around the league that make Darby look more and more expendable. The Redskins have sent "fast" Willie Parker out the door and he may stop by the Lou' for a visit.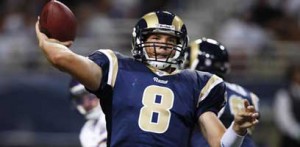 As expected following a flawless pre-season against two of the better defenses in the NFL, coach Steve Spagnuolo named rookie and first overall draft pick SAM BRADFORD the Rams starting quarterback against the Arizona dead-birds!
Arizona limps in with an injured Larry Fitzgerald and Early Doucett, second year running back Beanie Wells and Derek Anderson veteran quarterback that is also enrolled in AARP!!!!!
I smell a home opener win!!!!!
As for other news around the league, any thoughts on having disgruntled wide receiver Vincent Jackson in a Rams uniform week 5 are gone after Jackson refused the invitation to come talk to Coach Spags. Good riddance.
The roster will keep evolving right up to game day and I will try to keep you up to date. If Bradford is still there in your fantasy football leagues you may want to pick him up this week.
I am RAM MAN and I will see you at the Dome and partying in the big lot at 6th and Cole and as always in the end-zone!