St. Louis Cardinals Baseball – The First Third of the Season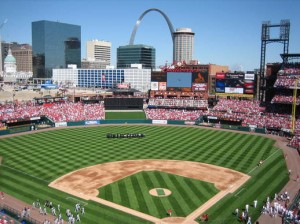 Wow, has it really been that long since I've posted on here? Eesh. Seems like the season just started a while ago.
I do apologize for the neglect of my writing. I haven't really had a lot of free time with my first season coaching an Atom 2 baseball team (two ties count as a win, right?). Once that season ends, you'll be subjected to more of my mediocre writing. 🙂
As of Sunday night, the Cardinals just wrapped up a nine game road trip with six victories, putting them at 32-22 for the season and 2.5 games in first place ahead of the Brew Crew. The truly astonishing part of this is that they've done it without relatively significant contributions from their best player, Albert Pujols, who claimed he wanted no negotiations during the regular season so he could focus on his production.
About that…
1/3 of the way through the season, Pujols has had thus far mortal contributions, hitting .257 with 8 HR and 28 RBI. His percentage line is .326/.395/.722. His defense has been somewhat questionable, as he has had several mental lapses that have contributed to unearned runs.
Still.
It's Albert. He has 108 games left to turn things around, and I don't think there's any reason he won't. There are countless analyses out there as to "what's wrong" and what he can do to fix things, so I won't really write about them. You won't find a player more dedicated to finding out what's wrong, and I think he could still put up a solid year. Will this be the year he breaks the streak of .300/30/100? More likely. But there's no reason he can't end the year at .290/25/100.
Now, the question is…can the Cardinals keep this up and finish in first place? My answer? Yes.
Why? A few reasons.
– They're winning without the long ball.
Many of the Cardinals' best teams of the 2000's pretty much thrived on the home run. The MV3 trio of Pujols, Jim Edmonds, and Scott Rolen, in their prime, each hit between 25-45 HR while driving in 100 runs. This 2011 version has three traditional stud hitters in the likes of Pujols, Matt Holliday, and Lance Berkman, yet these guys have yet to really get the long ball going. Sure, Lance has 11 home runs, but that puts him on pace for 33. Pujols is on pace for 24, Holliday for 18.
Instead, the team is counting on guys getting on-base and hitting in clutch situations. The team is second in the majors in runs scored (264) and leads the majors in average (.285), on-base percentage (.360), and on-base plus slugging (.785). They have hit into the most double plays in the majors, yes, but they've also scored the most runs with RISP (runners in scoring position) and have the highest average with RISP with two outs (.293). The top two hitters in the NL are Berkman and Holliday, respectively. Colby Rasmus recently snapped out of a slump and is posting career high numbers in average, OBP, and slugging. He wrapped up the series against Colorado by going 6 for 12 with four RBI and slugging 1.083 against the Rockies.
– Starting Pitching is in Beast Mode
Yesterday's aberration aside, the Cardinals' rotation has been among the best in the majors. Expected to be a question mark after Wainwright went down in spring training, the rotation has posted elite numbers. Cardinals starters have the ninth best ERA in the majors (3.30), have the seventh most quality starts, and are tied for the second most complete games. Even the bullpen has stepped up. The beginning of the regular season was an absolute mess until Ryan Franklin was relieved of his closing duties, but the hot-hand method has been working so far, and the Cardinals now have the second most saves in the league. Had the Cardinals converted even seven of their ten blown saves, they would be 39-15 and absolutely running away with the Central division.
– The Young Guns are Stepping Up
In years past, it seemed like the Cardinals were essentially a stars-and-scrubs team: four or five superstars trying to carry an anemic supporting cast. This year, though, the infusion of young players has not only bolstered the stars, but at times carried the team. To wit:
– Jon Jay has hit like he did during his hot streak last year. He's hitting .346 and slugging .510.
– Allen Craig has hit his way into the discussion of starting him as a second baseman, far removed from his natural position. Tony inserted him in the lineup at second as a bit of a novelty, but he's hitting .321 and slugging .476, and his 17 RBI have helped solidify the lineup.
– Daniel Descalso has acquired the nickname D-Money for his ability to come through in clutch situations. Although he doesn't have enough at bats to qualify for the batting title, he's tied for fourth in the league with 11 RBI with RISP with two outs, and he's hitting .389 (7 for 19) in these situations. He's also played superlative defense at second and short. He does have a low season average of .233, but he did just wrap up a six-game hitting streak during which he went 10 for 26 (.384).
– The bullpen is loaded with young flamethrowers who have for the most part shut down other teams. Fernando Salas, Jason Motte,  and Eduardo Sanchez have all contributed consistently this season. Mitchell Boggs was recently demoted after struggling, but even so carries a 3.66 ERA. These four, combined with Trevor Miller and Miguel Batista, have a collective ERA of 2.41 in 112 innings to go with 101 K and 46 BB. They've also surrendered just five home runs.
Questions do remain, however. Whether these guys can keep up their early season statistics has yet to be seen. The defense continues to be somewhat unstable, although the rate of errors in recent games has slowed significantly. For me, the biggest question that will directly affect the Cardinals' playoff chances has to do with Kyle McClellan. He has thus far pitched better than almost anyone could have expected. He's 5-1 and has a terrific 3.11 ERA, but he hasn't pitched more than 100 innings since 2004, before he had to have reconstructive surgery on his elbow. The workload will be an issue. You might recall last year that Jaime Garcia was essentially shut down at the end of the season; expect a similar discussion to come up as the season carries into August and September. If  his workload is eased, the question of who will take his place will have a significant impact on whether the Cardinals can maintain their momentum into October.
Finally, unrelated note, have a happy Memorial Day. Seems like a lot of times, we don't really pay attention to what these holidays are or what they're for. I've had many family members and friends serve in the Armed Forces, and I'm ecstatic that most of them escaped serious injury while serving. Many others, however, have not been so fortunate, and I cannot express my gratitude for the sacrifices they made.
Those whom Memorial Day honors will never get the chance to read my words, but I'll say it nonetheless. This nation owes you a debt that can never truly be repaid, and I thank you out of the bottom of my heart.