Sprint's New HTC EVO 4G Looks Amazing!
Ever since the iPhone came on the market companies have been searching for the "iPhone Killer". First it was the PalmPre, a nice phone, but didn't have a chance at slowing the roll of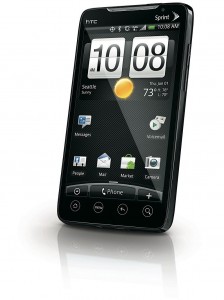 Apple's iPhone. Lately we've seen a number of Android phones flood the market from Motorola, Samsung and HTC. The platform seems to be picking up more steam, and the release of the Droid on Verizon was a highly touted smart phone. Now it seems that we have the most powerful phone of them all, the HTC EVO 4G.
Features of the EVO 4G:
480×800 4.3″ TFT LCD
Snapdragon QSD8650 1GHz processor (same processor as HD2 and Nexus One)
1GB of built-in memory
512MB RAM
Longer battery life than competing models
8 megapixel camera with flash
Front facing 1.3 megapixel camera
802.11b/g WiFi
8GB MicroSD Card
HDMI out
Android 2.1 OS
Sprint's First 4G Phone
This phone combined with their new $69,99/month Any Mobile, Anytime w/ Everything Data Plan make me think I'll be switching to Sprint pretty soon once my contract with Verizon is over.  This looks pretty similar in specs to the Nexus One, with a few improvements. Biggest improvement of them all is adding the WiMAX support which means it has 4G support. Too bad where I live it probably won't be rolled out for some time.
What do you think of the phone? iPhone Killer? Let us know in the comments!