Spotify Comes to America!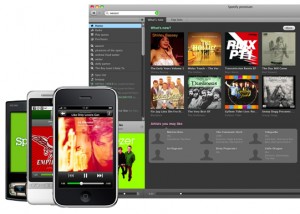 Unless you're a techie, a geek, or know somebody who is, you've probably never even heard of Spotify. So you'd be pleased to know that Spotify is a music streaming service that has become insanely popular in Europe. Based out of Sweden, Spotify is a service that takes the best features of services like RDIO, MOG and Apple's upcoming iCloud and brings it together with a very rich interface and excellent social features.
Spotify will be offered in three different ways: Free and two subscription levels priced at $4.99/mo and $9.99/mo. The free service will allow instant access to Spotify's library of over 10 million songs and the ability to create and maintain playlists over multiple computers. It will also allow users to share songs and playlists with others. However, as with any free service these days, users will be subject to periodic ads.
For $4.99/mo users will be able to listen ad-free and take your music abroad for 14 days at a time, even if that country does not support Spotify.
The real features come with the $9.99/mo plan. For $9.99, users will be able to sync their iTunes and Windows Media Player files and playlists through Spotify to any capable smartphone, which include iPhones, Android devices, Palm, Windows Phone and Symbian phones…sorry Blackberry. Users will also be treated to increased bitrates and offline accessibility for when you want to have a party in the middle of nowhere.
The big question is will American audiences take to Spotify like the Europeans have. Spotify, like most other streaming services rely on a high volume of users to offset the low profit margins associated with all-you-can-eat access to their content.
What do you think? Would you pay $10/mo for unlimited access to music even if you don't actually "own" any of it when all is said and done? Let us know below.