Someone Stabbed In Hall H at San Diego Comic Con? Don't Believe Everything You Hear!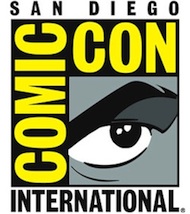 Right now the internet is all abuzz about the recent "stabbing" that happened a Hall H at the 2010 San Diego Comic Con.  In the internet reports a man wearing a Harry Potter t-shirt stabbed another attendee in or around the eye with a pen. The squabble was apparently over a seat.
The incident took place in the large hall used for many of the movie panels, Hall H, where over 6000 people were waiting for the Marvel Studios and Universal Panel's to hear about upcoming films like Cowboys & Aliens, Captain America: The First Avenger, Thor, and The Avengers.
The scuffle apparently took place when an attendee had claimed a seat for a later panel, and an incident took place in where a man was apprehended by security, and escorted out in handcuffs.
At least this is what is going around the internet currently. Premiere movie site, IMDB.com, however says that things might have gotten thrown out of proportion with bloggers stating, "The 'stabbing in Hall H' might turn out to be a scuffle between two friends that wound up with one of the men going to the hospital with a 'scratch' over his eye."
Got any info on this? We'd love to hear it! Let us know in the comments!