Shaun White Wins Halfpipe Gold at 2010 Olympics in Vancouver – Double McTwist Video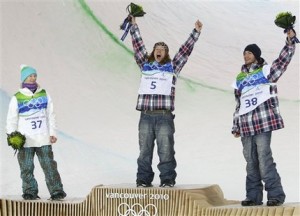 When you think of snowboarders, one of the first names that comes to mind is Shaun White. You know him – the young guy with the long red hair, often times roped in with Carrot Top. Well, this redheaded snowboarder is not messing around. Since 2002 he has won 9 gold, 3 silver, 2 bronze medals in the X-Games, and has now won gold medals at both the 2006 and 2010 Winter Olympics.
White scored a 46.8 on his first run in the halfpipe finals, which was enough to win the gold medal alone. But taking a second run, which he ended with the Double McTwist 1260, he earned a 48.4. That put him 3.4 higher than the silver medalist from Finland, Peetu Piiroinen.
Congratulations to Shaun White for bringing home the gold at the 2010 Winter Olympics in Vancouver!
Watch video below from January 22, 2010 of Shawn White, learning the "Double McTwist" just
in time for the final Grand Prix before the Olympics:

Video of Shaun at the Grand Prix, where he earned a 49.5 out of 50 on his firs run: