Seth Rogen Tells Jimmy Kimmel that Megan Fox Turned Down His Kiss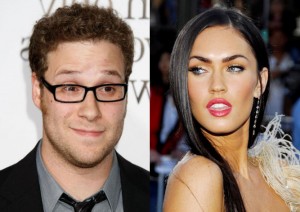 Thursday on "Jimmy Kimmel Live!," Seth Rogan told Jimmy that he and Megan Fox both appeared on Jimmy Kimmel's show a couple of years back, and that Fox had walked into his dressing room out of nowhere.
Rogan says, "she literally came in to my dressing room in like, sweatpants and a T-shirt, and everyone in the room stopped talking and stared. Everyone thought I had won a prize or something." He recalled that Fox was nervous about her first talk show appearance, and asked him to sit with her during her interview. Rogan says that, "often the male guest takes it upon himself to plant a small kiss, perhaps, on the cheek of the female guest as they come out," and decided to take it upon himself to do so while opportunity knocked. "So I tried to do it," he said. "And to my memory, she physically stopped me from doing it and basically rejected me on television."
Check out the video of Seth Rogan recalling the experience:

It didn't seem to ruin the actor for life or anything, as Rogan's career has only gotten bigger and better. Way to not let it get you down Seth!