Saved By The Bell Reunion Photo, No Dustin Diamond on Cover of People Magazine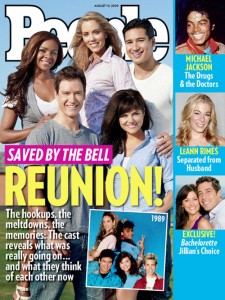 Saved By The Bell fans all across the internet are talking about the new cover of people magazine, featuring a year reunion photo of the Bayside gang. But there is something missing… the Saved By The Bell reunion does not include Dustin Diamond, who played Screech on the show!
The word on the street is that Dustin Diamond was banned from the Saved By The Bell reunion for a few different reasons. One of the major culprits is his new book that is soon to be released, which is said to talk a lot of trash about the cast members. His total meltdowns on "Celebrity Fit Club," and his sex tape scandal did not help either.
In June, Newsweek interviewed Mark-Paul Gosselaar, who played Zach Morris on Saved By The Bell. The star of the classic show was not afraid to tell the truth about Diamond. From Newsweek:
"What is he going to say?" Gosselaar asks. "We were banging groupies at 14? I can't wait to read his book, because I don't have a memory of a lot of the shows. Maybe it was because I was doing lines off of the audience members' asses. I'm sure he's going to write something crazy like that. The truth is─the reason why the show worked and why it's still on today─we were good people and good to each other. We were innocent, naive kids. We were not jaded. So him writing a book, I'm not really afraid of what he has to say. There are not too many skeletons in my closet."
Pretty crazy stuff. Looks like Screech wasn't saved by the bell this time…