Save $10 on The Princess and the Frog Blu-Ray/DVD Combo Pack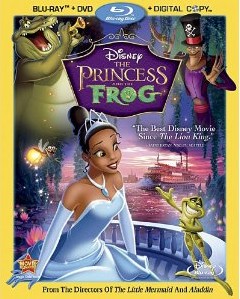 Hey there home video fans.  Disney is great at giving out coupons for their new releases and this week is no different.  The Princess and the Frog, the studio's return to its hand drawn roots, is coming to DVD and Blu-Ray and you can get the title on both formats for 16.99 with this coupon. (That is cheaper than the DVD or Standard Blu-Ray by themselves!)
All you have to do is hit this link to Disney's Magical Savings, select the US coupon, and print it out.  Take it to your local retailer, Best Buy and Target are both selling it for 26.99, and buy the Combo Pack that includes the Blu-Ray and the DVD.
Now you might say to yourself, but I don't have Blu-Ray?  Well its called future proofing as this coming Christmas the upgrade to Blu should be incredibly reasonable and you will already have one of the best looking title on the format in your collection.  Plus you will still have the DVD for the kids to use, or take it on the road, or use it as a coaster; whatever you choose.
So head here and get your coupon and make sure to select the US version if you are from the States, the Canada one if you reside in a province.