Saturday Night Live Digital Short: "Lazy Sunday 2" Marks Sequel to First Viral Video
I can't believe it has been almost 7 years since "Lazy Sunday," the second digital short ever on SNL, was posted on YouTube and became the first viral video. Since then, over 100 digital shorts have been produced by Andy Samberg and his crew, and this season marks his last on the beloved Saturday night sketch show.
Last night on Saturday Night Live, a sequel to the video that started it all aired – "Lazy Sunday 2."
Watch "Lazy Sunday 2" Digital Short Below:

Samberg isn't the only cast member said to be leaving; Kristen Wiig and Jason Sudeikis are reportedly packing their bags as well. With successful film and television careers blossoming outside of SNL, it's the same cycle that repeats itself time and time again.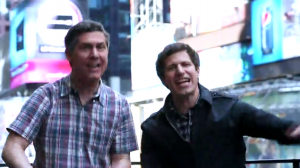 This won't be the first time that we've asked ourselves how the show will go on. But this certainly, in my opinion, has been one of the most talented casts that we have seen on the show in a long time. Kristen Wiig has obviously outgrown the restraints of the show, having starred in and written Bridesmaids, which brought in over $288 million worldwide and was nominated for best original screenplay. Sudeikis has become quite the movie star himself, having starred in Horrible Bosses, A Good Old Fashioned Orgy, and Hall Pass all in 2011.
But I think the real star they will be losing is Andy Samberg. His Digital Shorts, a weekly collaboration between himself and "Lonely Island" partners Akiva Schaffer and Jorma Taccone, have seen well over 1 billion hits on YouTube. They are also one of the funniest parts of the show. Which begs the question – when Samberg leaves, are Digital Shorts leaving with him?
What do you think about "Lazy Sunday 2" and Samberg leaving SNL? Tell us in the comments below!