Sandra Bullock Divorces Jesse James and Adopts Baby Boy, Louis Bardo Bullock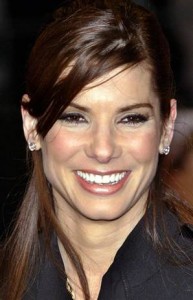 Sandra Bullock has had multiple life changing moments so far this year. The veteran actress picked up her first Oscar nomination and win this year for her smash hit, The Blind Side. The actress thanked bad boy husband Jesse James who was shown crying in the audience.  Bullock and the rest of the media watching world were then blind sided by the revelation that James had cheated on Bullock with the white supremacist, Michelle "Bombshell" McGee. It later came to light that James had four other mistresses as well.  The actresses life went from one of the highest of highs, to the lowest of lows.
It appears that Bullock is trying to put her life back on track. People Magazine has the scoop that Bullock has recently filed divorce papers against husband Jesse James due to his infidelity. The actress has been very quiet about the whole situation, but actions speak louder than words.
Bullock also made the big jump to motherhood in the wake of the crisis. She has adapted three month old Louis Bardo Bullock from New Orleans. All reports say that Bullock is planning on raising the cute bundle of joy as a single parents. Congrats to Sandra!
I'm going to spout my opinion a little now. James deserved to be dropped to the curb, and I'm glad that Bullock didn't think it would look bad if she did something like that. It is one thing to have one lapse in judgment, but this guy had more than one.  I don't really get how you can have a beautiful woman like Sandra Bullock, and then cheat on her with common trailer trash? It baffles me.