Rosie Huntington-Whiteley Confirmed Replacement for Megan Fox in Transformers 3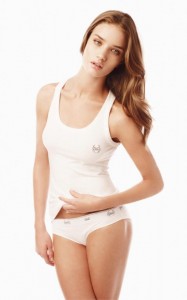 Megan Fox and Michael Bay's feud came to a head as she was unceremoniously booted from the third Transformers film. The actress had criticized the director on multiple occasions, and apparently Bay's fragile ego couldn't withstand the blows. As soon as this was announced, blogs lit up about who would be replacing her. Rumors quickly circulated that Rosie Huntington-Whiteley, a Victoria Secret model, would be her replacement.
The news has now been confirmed that she will indeed replace Megan Fox as the love interest for Shia LeBeouf's Sam Witwicky in the Transformers franchise. She will be joining Josh Duhmel, Ken Jeong, John Malkovich, Frances McDormand, Tyrese Gibson, and more in the third Transformers film coming out July 1, 2011.
As much as I hated Transformers: Revenge of the Fallen, I can't help but feel a little sad that Megan Fox will be leaving. It doesn't seem natural to the storyline. How are they going to explain her away in the third film after she has had such a prominent role in the first two? I'm willing to bet they are just hoping no one will notice on the account that Rosie Huntington-Whiteley is so hot.
What do you think? Let us know in the comments.