Win Tickets – River City Rascals Baseball Games Are Great For The Family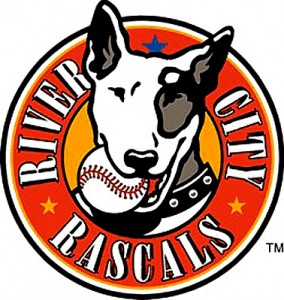 In an economy where the times are tough, and you want to go out and have fun with your family, a Rascals game is a perfect choice! Every seat is near the action, and the price is right! I have attended many Rascals games this year with my wife, my five year old, and other friends and family. We always leave with smiles on our faces, having had a great time. After most of the games, our kids end up leaving with a baseball that they got from a foul ball – or even from a player themselves.
The Rascals have a great stadium, TR Hughes Ballpark, where you feel like part of the action in any seat! They do great promotions throughout the nine innings – my favorite being "Sumo Wrestling." On different nights of the week they have special events as well. An example is on Sundays and Mondays, which are "bring your pooch to the ball park" days. This is where you can bring your special friend and sit in the grass on the third base side of the field. On Thursday it is "Buffalo Wild Wings dollar beer night." On Friday nights they have Fireworks after the game. Pretty much every day of the week there is something a special going on at the ballpark.
The kids will also enjoy meeting Rascal, Ruffy, and Buffy the mascots of the River City Rascals. These guys love to play with the kids and never shy away from a photo or signing an autograph. For the price of seats that can be as high as $13.00 to as low as $6.00. Where else can you go watch a great baseball game in St. Louis and not spend a hundred bucks just getting in? After you go to one River City Rascals game it will become a repeat occurrence.
As a Family event here in town I would definitely rate my experience an A…. If you have never been to the Rascals Game now would be the Time to go.
Check out the Petropolis Playoff Push going on Sunday, August 9th!
Here's Your Chance To Win A Day at the Ballpark from ReviewSTL!
We're giving away three four-packs of tickets to any 2009 regular season Rascals game! Just leave a comment below with your favorite baseball memory, and you will be entered into the drawing! Winners will be randomly drawn and notified via e-mail!
See you at the ballpark!