Ricky Gervais Discusses Hosting The Golden Globes With Ellen Degeneres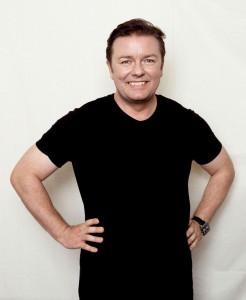 I love Ricky Gervais.  I think he is hilarious.  Yes, maybe his jokes fall flat occassionally, and things are awkward.  But I usually I am laughing non-stop.  So when I heard that he was asked to return to host this year's Golden Globes, I was ecstatic.  I thought he was great last year, and it seemed that all the celebrities in the audience were responding well.
Well the big show is this Sunday so Mr. Gervais is out and about talking to various talk shows about the experience.  Tomorrow he will appear on The Ellen Degeneres which taped today.  So who will he be targeting this year to attack with jokes?
Well, Charlie Sheen has obviously put his head above the power pit. Like last year, Mel Gibson was a gift from the comedy god. So yeah, that'd be two good people out of the audience. Mel Gibson. Charlie Sheen. OJ Simpson.

I only go for the weak and the feeble. I'm not going to have a go at Russell Crowe or Mickey Rourke. Mickey Rooney maybe. Betty White, I'm not scared of her. You've gotta to choose your targets wisely.
For the full interview tune into Ellen tomorrow, and don't forget the Golden Globes this Sunday.